I have debated and argued on all sorts of subjects with friends, family, and online strangers. One debate in particular that comes up more often then twice is about what format each of us watches movies. I have rarely had to lay the digital smack down as luckily MOST have answered correctly and watched movies in widescreen (or WS) as opposed to fullscreen (or FS). So I thought I would use this entry to educate everyone on WS vs. FS and give you the straight dope.



I know some of you are sitting there thinking, "Cleric, What does it matter? There is no difference beside the little black bars". Well those of you with that frame of thinking are where you are misinformed. Personally, I can't stand FS and I will not watch a movie in FS for ANY reason. The thing is with FS you are losing SO much of the picture, up to 50% although more websites say it's mid to high 40's, but still that's a LOT of picture to be missing. I am all about proof, logic, facts, and examples to back up my side, so here is some pics from this website.






Each comparison is clickable to see a larger version.
All of those were actual screenshots taken from their respective DVDs without alteration. As you can see there is a huge amout of visuals missing in the FS version (bottom shots) compared to the WS screens. You do not have to be a Star Wars fan to see the difference, so that is not an excuse. Want more proof how WS is a better decision. How about this LotR screen taken from
here
?
Click for larger version
Perhaps you're a Harry Potter fan, well
this
site had some comparisons as well: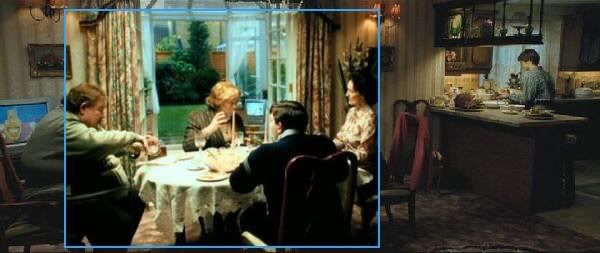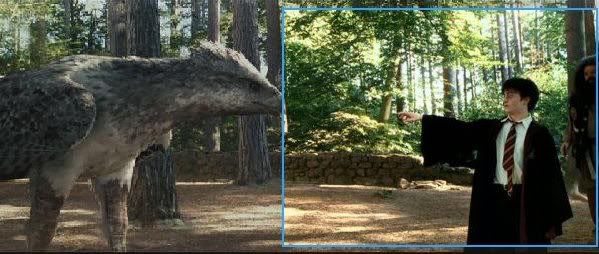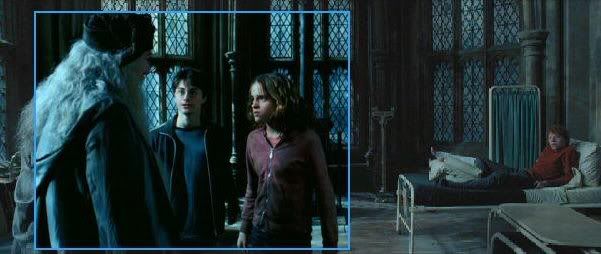 Click for larger version






Now you might be asking youshelf who am I to say what format is the best for watching? You're right, maybe someone with come street cred like Leonard Nemoy will convince you. I found
this
site which is really informative with all kinds of great resources. I hope they don't mind me linking to their stuff, I am just trying to help them fight the good fight, hehe.
"When you watch a movie on your television screen, you're not necessarily seeing it the way it was originally intended. As a director, when I set up a shot and say that there are two people in the frame, with the wide screen I can hold both with one person on each end of the frame. When that shot is condensed to fit on your TV tube, you can't hold both [actors]..and the intent of the scene is sometimes changed as a result."

— Leonard Nimoy, Commentary for the Director's Edition of Star Trek IV: The Voyage Home
That is a paraphrase of an audio clip you can listen to by clicking
here
and see the video of this and a perfect example of what he's talking about
here
. This clip is from the "Star Trek IV: The Voyage Home" DVD and the VHS Director's Edition. Or how about:
"With pan and scan, as much as 50 percent of the original picture is lost. It's simple math, folks, something has got to go. And sometimes what is lost is very important. Now how about this scene from 'The Graduate.' Where have you gone Mrs. Robinson? You've been panned and scanned right out of the scene." — Jack Lemmon
Still not enough to convince you that WS is the only way to watch a movie? Maybe this will help:
Martin Scorsese
explains how widescreen movies suffer greatly from the pan-and-scan process and how the widescreen version of movies preserves what the entire film making crew wanted you to see. See part 1
here
and part 2
here
.
Damn you people are stubborn! Maybe these guys don't know what they are talking about, maybe someone like the American Movie Classics' can convince you with their great examples and explanations of why the widescreen format is the best way to watch movies which was used during their Fourth Annual Film Preservation Festival.
Here
is the high quality version,
here
is the low quality version.
If you wanna get old skool,
here
is an explanation of the roots of WS. All of these examples were found
here
.
The straight dope is watching WS shows you the picture the way the director, writer, everyone involved in making a movie wanted the viewer to see it, a "full screen" does not mean a full picture. My kids also know that WS is the right choice. Like when they pop in something like Toy Story or A Bug's Life that give you the option upon start, they know to choose WS.
sniff
My babies.. all grown and choosing the better format.
So now I ask you, what format do YOU watch movies in, widescreen or fullscreen?