Well it's that super awesome time of year again. No, not the start of a new year and not even tax season (even though that is close). I am of course excited because it is nearly WINTER-EEN-MAS! Never heard of it? Well you're in luck because luckily I have and am here to spread the word. Lots of things are celebrated that people enjoy, why not the one thing that crosses all races, ages, religions, or genders? That thing I am talking about is of course video games!
From Wintereenmas.com
What is Winter-een-mas?
Winter-een-mas is a holiday of sorts. More specifically, it is a celebration of video games and the people that play them. Video games allow us to do things, go places, see stuff, that we couldn't do in real life. They can be an escape from reality, a release after a long day, a fun activity with friends, or just an enjoyable way to pass time. They give us a lot of entertainment. So why shouldn't they be celebrated?

Where did Winter-een-mas come from?
The Winter-een-mas holiday was created and maintained by Ethan, from the comic strip Ctrl+Alt+Del. What started as a break from reality has grown in size and scope to become a holiday celebration that gamers can call their own.

What does 'Winter-een-mas' mean?
The name Winter-een-mas has no hidden meaning. It is a made up title for a made up holiday that originally started as a gag, and as become something very real. The origin of the holiday can be found here, though the dates and spirit of the holiday has become more refined since then.

How do you pronounce it?
Phonetically you would pronounce it 'Winter-een-muss'. The holiday can also be abbreviated in text and speech with 'WEMas'.

I live in Australia (or some other place with opposite seasons). When do I celebrate?
You celebrate with everyone else, during the month of January, specifically on the 25th through the 31st. Winter-een-mas is just a title, just a name. The holiday itself is a celebration of video games. The word 'winter' in the name is just a throwback to the holiday's origins.

When exactly is Winter-een-mas?
Winter-een-mas lasts for a whole week, which is always the very last week in January, the 25th through the 31st. The entire month of January constitutes the Winter-een-mas season, very similar to the "christmas season", where people begin to gear up for the holiday, and get into the spirit of things.

Do I have to play video games or be a gamer to celebrate Winter-een-mas?
Of course not! Much like you don't have to be religious to enjoy christmas, you can celebrate the spirit of Winter-een-mas even if you aren't a gamer. You can celebrate in your own way, be it with Anime, computers, tabletop gaming, whatever. Just wish some people a Happy Winter-een-mas and support the nature of the holiday!

Interesting isn't it? I've been following it for a couple of years as it is a great comic with a heavy video game influence. The
first comic strip
about WEMas in '03 was just aother one of the main characters
Ethan's
moments. Here is that strip that started it all:
*
Please note that each image is clickable for a larger version, and click on the

link at the bottom right to advance the comic / story.
The fanbase grew and in the next year and 2004 brought us this comic: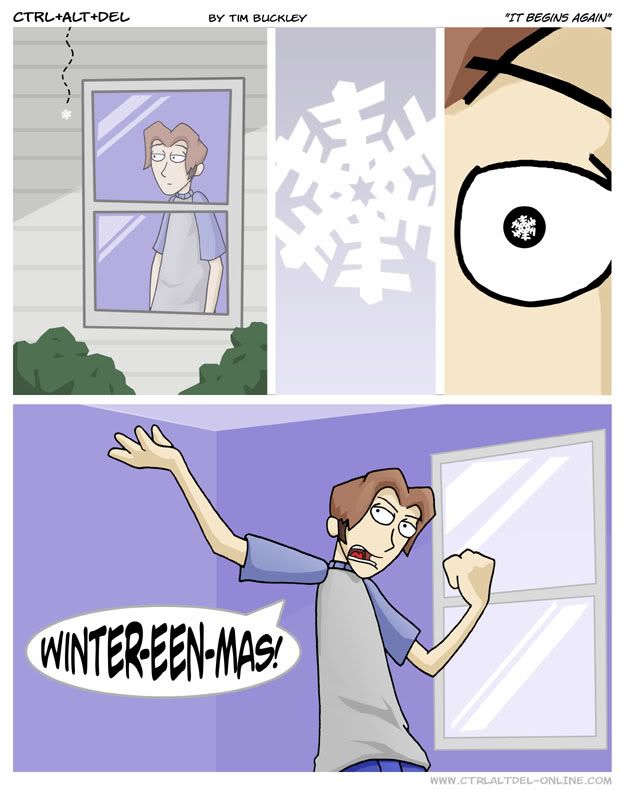 Fans dressed up, made their own staffs and crowns, arranges LAN parties, (when people get together to play the same computer video game with or against each other) even dressed up and send in
pictures
. This made up holiday was accepted by numorous people and the theme behind it helped it to grow as the video game industry was seeing tremdous growth. Following suit were his fans and in 2005 the story took a twist as with anything fun, the crator Tim Buckly added "corporate greed" to the mix. And of course the holiday grew too. If you notice in
these
pictures from '05 there are more group shots signaling that it's not just one person here and there all over the world buying into the fun idea, it's groups of people really getting into it! Last year's story started with this comic:
Of course this year is no different. There is not a dedicated
website
,
clothing
,
posters / flyers
, all kinds of fan interaction and participation. This year, this comic began WEMas:
I'm sure some of you out there are shaking your heads saying "what a bunch of idiots" or something similar. But you know some people say that about some religions too. hehe

This year I am going to do my own celebrating with the kids should they have their homework done and attitudes/ behavior in check. As WEMas is seven days long, I thought it would be fun to spend each day with a system. I will be doing the following:
1/25 - Gameboy Micro
1/26 - PS2
1/27 - Gamecube
1/28 - Dreamcast / N64
1/29 - NES / Saturn
1/30 - PSP
1/31 - Xbox
I will try to squeeze some SNES and Game Gear on the weekend but I didn't want to list them for fear I'd get sucked into a game and not be able to keep my schedule. I will most likely be short on posts during this time of celebration, so plesae be understanding, lol.