Over on JB's page she asked about your dream job which was kind of ironic as I had been working on a post dealing with a job I always thought would be fun, even though it is not my "dream" job. I always thought it would be fun to be a journalist or new anchor. My inspiration of course is none other then Ron Burgundy.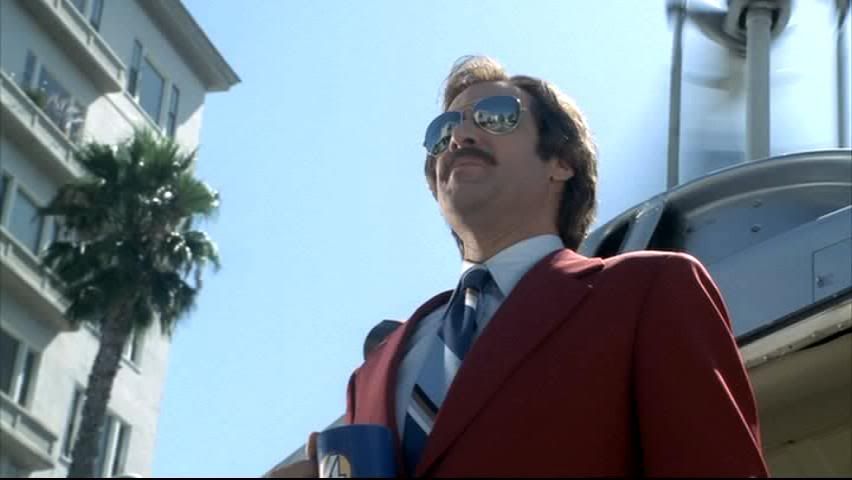 Ron's a man people can trust. His integrity is so solid, he could say the sky was falling and people would run for cover.
He did a hard-hitting segment that really inspired me, it made me want to see how I could do with an interview of sorts. His segment was called "Rip the Lid Off" even though he would say "of it" at the end, lol. But not even
Chuck Norris
can correct that man that is Ron Burgundy.
So I thought about whom I could trick...I mean ask nicely to be my first victim…GUEST! I mean guest. Anyhow, I thought about it and ever since I was a commenter here, I have always looked forward (until all those food ones that made me crave so many things, lol) to now fellow blogger
CJ's
page for something else I didn't know. I sent her an email and she said she'd humor me and my silly request. So now let's get to interview that will change the world as we know it today as I present the first of maybe an ongoing series of:
RIP THE LID OFF OF IT!!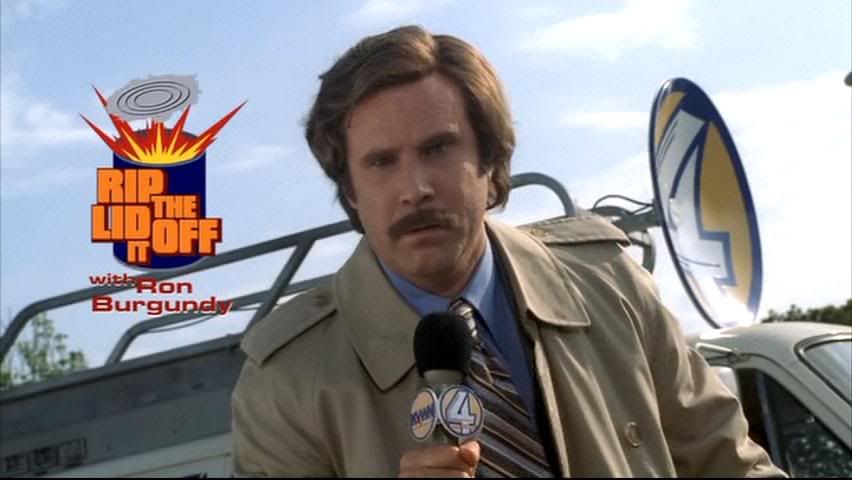 Hello CJ, thank you for taking the time to talk to me today. I know you're busy with all of your accordion lessons, sweet ramp jumping, and falling from your snowboard and I appreciate it. Now if you don't understand a question, feel free to ask or use a lifeline. Make no mistake, these may get very personal and difficult to answer. Ready? Here we go...
Me: What is your favorite cereal?
CJ: I used to like Trix but that really does a number on the roof of your mouth, it tears it up. So now I prefer Cinnamon Toast Crunch, but the Target store brand, it causes less destruction.
Me: Paper or Plastic?
CJ: Paper
Me: What is the last movie you saw in a theatre and did you like it?
CJ: I rarely go to the theatres to see a movie. The last one I saw I'd rather not say because I don't want to lose any more respect from my readers. One of the last movies I went to see in a theatre was Napoleon Dynamite and I liked it. Although I didn't like the guy sitting behind me who quoted the entire movie word-for-word. That is just annoying. I wish I had a steak I could have thrown at him.
w00t! She gets 100 bonus cool points!
Me: What band has the stupidest name?
CJ: Goo Goo Dolls. What the heck is a "goo goo doll"? Or how about that candy called a Goo Goo Cluster? That is disgusting, who would want to eat something with such a horrible name?
Me: Speaking of dolls, what was your favorite doll / toy growing up?
CJ: This Mickey Mouse stuffed doll my parents bought for me. I still have it, it's nearly 30 years old.
Me: What song so you sing along to that you're embarrassed to admit?
CJ: Hmm... I can't say because I don't ever sing along to anything. I'll just jump up and down and mosh alone, which is the saddest sight ever.
cue "Everybody Hurts" by REM
Me: Were you ever in a school play and if so what role were you and what play was it?
CJ: In the first grade I was in an on-stage production of "There Was an Old Lady Who Swallowed a Fly." I was a bird.
Me: Did you take the red or blue pill?
CJ: I don't even know what that means
DISHONOR!!
BOOOOOOO!!! Loses eleventy billion cool points!
Me: Are you afraid of heights? Any other fears / phobias?
CJ: I am afraid of tornadoes, germs and clowns.
Me: What was your favorite cartoon growing up? To make it easier I'll let you choose 3.
CJ: Danger Mouse, Muppet Babies and Transformers
Me: w00t! Do you mean that or are you trying to earn some of those cool points back?
CJ: Would you doubt the biggest Optimus Prime fan?
Me: Why would I doubt my own word as I am the biggest Optimus fan!
CJ: Really? I pegged you as more of a Computron fan.
Me: Well Prime kept what protected? The Matrix! It was like a prophecy for my current obsession.
CJ: Haha!
Me: hehe, well what do you think about these new Star Wars Transformers?
CJ: Sell-outs
Me: Tell me how you REALLY feel! lol. So DangerMouse eh? I am glad you liked him. Did Penfold go visit you? lol
CJ: Should he be here?
Me: Well didn't you see him all packed and ready to go? I told him about your blogs about different awesome foods and he was ready to try some.
CJ: LOL
Me: Now Muppet Babies, I really liked that show too. Did you like the movies?
CJ: I don't think I ever saw them, I had more of a social life as a child than I do now. And that's not saying much.
Me: haha, Well I don't have much of a social life BECAUSE of my kids! lol But that's OK, I love it that way. But if you had seen the movies I was going to ask you about 'The Muppet Movie'. I was driving home form work yesterday and on my satellite radio I had it on 'Cinemagic' which is a channel that plays music and sound clips from different movies. They did a couple songs from that movie, one from Kermit and Rolf - I Hope That Something Better Comes Along, and another by Dr. Teeth and the Electric Mayhem Band - Can You Picture That
CJ: Aww
Me: Now in the first with Kermit and Rolf, Kermit is heartbroken and Rolf can tell and says, "That's why I live alone. I go home drink a couple beers..." and I was like WTF! Have you ever heard that?
CJ: Oh, you mean the Muppet movies? I thought you meant the Muppet Babies movie....I saw all of the Muppet movies, my parents would take me.
Me: hahaha sorry for the confusion. Yes, the Muppet movies like this one, Muppets Take Manhattan, The Great Muppet Caper, etc.
CJ: Oh yeah, I saw them all.
adds more cool points to your score
Me: So have you heard or do you remember that movie saying that?
CJ: No I don't, lol. I just remember Big Bird being lost or something. Wait, my bad, wrong puppet movie.
Me: OK, Moving right along (another song from the Muppets, hehe)
Me:
giggles
The snowboarding incident, what happened and who's taking the picture?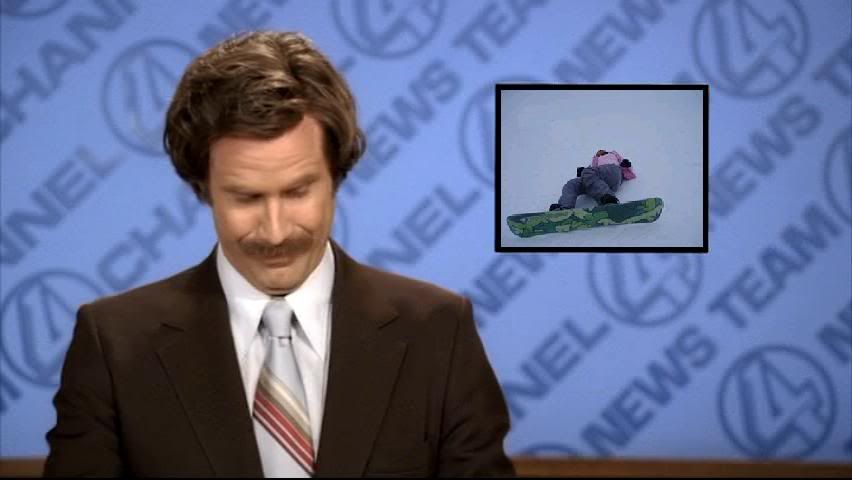 CJ: Not much to tell, I fell down and my husband took the picture, lol.
Me: Oh come on...DETAILS! I'm trying to be a journalist here, give me the scoop! Is it just because I'm not Hern Berford? lol
CJ: That's kind of obvious, but really there is no Nixonesque cover-up involved here. I just fell down, many, many, many times.
Me: Were you just standing there or were you at a good speed?
CJ: I really don't remember what happened that time. I fell down so much that by that fall captured in the photo I probably was suffering from a mild concussion. I could smell colors and taste sounds.
Me: BWAHAHAHA! I won't ask what "yellow" tasted like then, lol. Well I only laugh so much because 1, I'm jealous I couldn't try and 2, I was the same if not worse trying to waterski at Lake Travis years ago.
Me: What restaurant serves the best nachos?
CJ: I never really eat nachos in restaurants. If I want an appetizer I'll order something fancy or something that I can't just make at home.
Me: Like what from where?
CJ: Fries from McDonalds. Bwahaha, just kidding. Here's the thing, I hope I don't come out sounding like the Unabomber but I rarely go out to eat. With my job I can't just take off into town to have lunch like I did before and on the weekends I usually just stay home. I try to avoid town. I buy all of my clothes online and if I could buy groceries on the Internet I'd do that too. That aside, when I do go out I'll order an awesome blossom or something like that. Now that you mention it, I never order appetizers much. The main meal is it for me.
OH MAN!! I concur with the groceries thing. You know when I lived in Carrolton (North Dallas) this company called PeaPod was doing really great and would do that. They had a great website, you could shop by commodity or by "aisle" and even look at the back nutrition label. They only charged either 3% or 5% or some really affordable amount like that on top of your bill. You could choose when they would deliver it and you could add notes to each item in case they needed to pay attention to something like that. It really was awesome cause the egg donor didn't have a car and I would be out of state with work and we'd buy groceries like that for them. You know I've actually thought of doing something like that for the elderly / lazy around here? Not with the website, just give me your list and I'll go shop and deliver for you.
CJ: That is a cool idea, please also make sure that you can accomodate those of us who don't live in the city limits. Maybe deliver to those within a radius of 15 miles and charge them extra for mileage.
Me: Most definately!
adds CJ and fam as first customer to yet made business
Me: As this is question 13, do you think 13 is an unlucky number? Do you believe in luck?
CJ: No to both


Me: Good, cause if 13 was unlucky, so should the letter B cause it looks like a squished together 13.
Me: (last question) Would you like to add or say anything?
CJ: Are you really going to post this?
haha Yes I am, you just wait... I bet Lifetime will be emailing you for rights to the movie, "The Life and Times of CJ: The Untold Story" lol
Awesome, I want to thank you again for all your time and not filtering my mail to your spam, lol. And thank everyone for reading, I'm sure you had better things to do like counting the number of steps from your kitchen to the living room so I really appreciate it. Stay classy Victoria.
Fade to commercial*