Summertime always brings to mind visions of my childhood. Afternoons were filled with me running outside reenacting my favorite episodes of CHiPs with the neighbor kids and arguing about who had to be "Ponch."

As dusk would ascend, our legs tired from riding on bikes all day, Dad would walk out to the backyard to light up the barbecue pit in preparation for that evening's dinner. A bag of charcoal was a staple in our garage, and for those special ocasions, logs of mesquite were always handy.

Even now I can still remember the aroma of that mesquite burning, the crackle of the fire, and more importantly the taste of the country style ribs, fajitas, or brisket my dad would make. I would stand there watching my dad, listening as he showed and shared with me his barbecue secrets.

After dinner was over, our stomachs full from a feast of ribs, sausage links, tortillas, Spanish rice, potato salad, and roasted corn on the cob, we would drag ourselves over to the living room. My grandfather was usually sitting there watching some Cantinflas movie, and we would join him and laugh over warm cups of coffee and bowls overflowing with butter pecan ice cream. For me barbecues are so much more than a meal, it's something that brings family together.

Just as as pickup trucks and tractors are status symbol in Texas, barbecue grills or pits are just as important.

Nowadays you have your fancy, schmancy propane grills. I admit they are easier to clean, and even I have one. But I tell you what, there is nothing like cooking something over a hot charcoal grill. That "whoosh" as you throw the match in over the briquettes, the smell of the smoke, all signs that summer is here.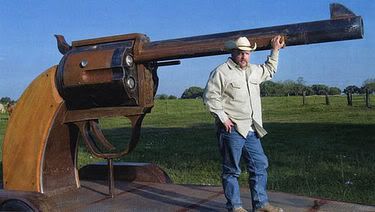 Joe Wood of Weimar built this 6 foot-11 custom barbecue pit in his home metal shop. Courtesy of The BBQ Report.