October is Breast Cancer Awareness Month and Target is helping out with a campaign to raise money for cancer research. Target is offering a line of products called Target Pink and 100% of net profits go to The Breast Cancer Research Foundation.

I went to the local Target yesterday and saw the display with some of the items.

As you walk in to the store, the display is located on your left, right where the snack bar ends and the juniors clothing section begins. It's a small display, with items that include a pink polo shirt for $10, and then several smaller items for $1 such as a deck of cards, pens and sticky notes. The smaller items would make great gifts. I bought a pen and a block of sticky notes, each for $1. I'm going back to get more.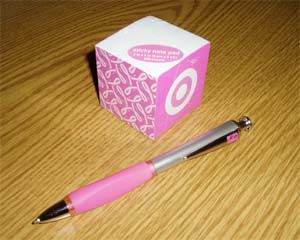 Items I purchased: pen and sticky notes.
(The pen writes very smoothly, not bad for a dollar.)
Whenever I can I always try and donate to cancer research. It is something close to my heart because I have family and friends who have been affected by cancer.
Just go and check it out, it's for a good cause. Like there was never a good reason to shop, right?
(FYI-the blogs are acting a little funny now, server problems. So the comments section may not be working properly. Server problems are also to blame for all and any of my typos.)