Many of you have probably seen or read about Apple's latest ipod. What's the big deal?

Well this one plays video.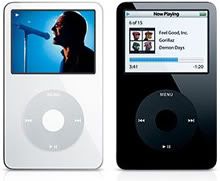 From Engadget:
It has a 320 x 240 pixel, 2.5-inch, 260,000 color display, 20 hours of battery life, and supports playback of H.264 and MPEG4 at 30 fps. Has TV out and will come in both 30GB and 60GB versions, with the 30GB version being 31% thinner than the current 20GB iPod and the 60GB version being 12% thinner than the current 20GB iPod. The 30GB will hold up to 75 hours of video and retail for $299. The 60GB version will hold 150 hours of video and sell for $399. Both will ship in one week.

Who wants to watch movies, tv shows, or music videos on a tiny screen you may ask? A lot of people. And if you don't care for squinting at the small screen, this iPod has video out, therefore enabling you to plug in to a TV or laptop.
In addition Apple also released a new version of iTunes with new features that include
downloadable TV shows
and music videos, and the ability to send music and videos as gifts. Entire episodes of such shows as ABC's Lost are available for $1.99 each. To find out how it works,
click here
.
I think the
new iPod
is pretty neat, however I'll just have to stick with the iPod
I have now
. Seems like every other week Apple comes out with something new. I'm holding out for the iPod that does your homework, laundry, dishes, washes your car, let's you communicate with the space station, and makes PopTarts.