It's amazing. Today I actually had to wear a jacket. Then again if you know me, I always wear a jacket. But today I had a reason to wear it outside thanks to the cold front that blew in yesterday.

Speaking of the cold. Sometimes here in the office it gets so cold it makes it difficult for me to type. That's why I make so many mistakes in this blog (hehe, yeah, blame the temperature).

You know what I could use in those circumstances?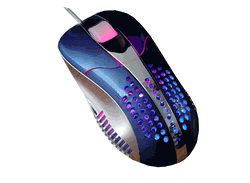 A heated mouse
Ignore the fact that it looks like something Liberace would have designed or that a person with a glue gun and a box full of sequins had their way with.
Here are the specs listed on
the website
:
The mouse can heat up to 102 degrees and has an on and off heat switch located on the right side. It comes with a poly dura fiber heat sheild to protect the electronics inside the mouse. This mouse can run continously 24 hours a day all year round. It is $59.
I think I'll just wear gloves.