Today we highlight the marvelous, the tasty, the messy food that gets you cheesy all over: nachos.

Definition: Nachos in their simplest form are tortilla chips covered in melted cheese.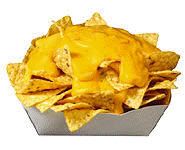 Use a napkin
A little history about nachos:

San Antonio Express-News
By Karen Haram

A fried tostado. Yellow cheese. A slice of jalapeno. So simple. So delicious. So monumental. Back in 1943, Ignacio "Nacho" assembled the first he had no idea that 60 years later, this appetizer would have made his nickname a household word.

At that time, the senior Anaya was working at a restaurant owned by Rudolfo De Los Santos, the Victory Club in Piedras Negras, Mexico, just across the border from Eagle Pass, says his son Ignacio Anaya Jr. of Eagle Pass.

As Anaya Jr. recalls the story, Mamie Finan and a group of 10 to 12 officers' wives, whose husbands were stationed at Fort Duncan Air Base, traveled across the border to eat at the Victory Club. When the senior Anaya couldn't find the cook, he went into action.

"My father was maitre d' and he said 'Let me go quick and fix something for you.' He went into the kitchen, picked up tostados,' grated some cheese on them - Wisconsin cheese, the round one - and put them under the Salamander (a broiling unit that quickly browns the top of foods). He pulled them out after a couple minutes, all melted, and put on a slice of jalapeno." - The name of the snack, Anaya Jr. says, came from Finan, who called the plate of cheese- and chile-topped chips Nacho's Especiales.

The name was later shortened to simply "nachos." Anaya Sr. went on to work at the Moderno, which is still in business today, as well as his own Nacho's Restaurant in Piedras Negras. In 1960, Anaya Jr. looked into helping his father, who died in 1975, claim ownership of the nacho.

"I talked to a lawyer in San Antonio. He said there's not much you can do after 17 years. It's in the public domain," Anaya Jr. says.
More facts about nachos:
The first professional sports team to offer nachos in the concession stand was baseball's Texas Rangers.

Nachos were cast into the spotlight by Monday Night Football. Howard Cosell had purchased some nachos before a game and quickly used the word "nachos" to describe a spectacular play.
Nachos are still my favorite. It was a great snack to make after school, easy to make and quick. All I need now is a nacho hat like Homer Simpson.