It has always been part of my culture, my heritage, but for so many years I denied it. I did not understand nor did I care for its sound, colors and what it represented.

I'm talking about Tejano music. I hated it. Couldn't stand it. Did not want to have anything to do with it.

I mean how could music created by a band that consisted of a couple of accordions, clarinets, trumpets and a synthesizer be even remotely cool?

I laughed at the same repetitive beat, the silly musical instruments that were totally un-hip and don't even get me started on the costumes.

I would ask my dad to change the station every time he tuned in to a Tejano station. On long road trips I would take my Walkman and immerse myself into my own world, with my own music. At that age everything had to be cool. My music had to be loud, the more electric guitar the better. The more angst and rage that was spoken in my music, the happier I was. I was young, too cool for school. I just didn't understand.

I didn't understand that Tejano music involved much more than just some instruments and funny looking costumes.

The music represented something else, something big. It represented this mezcla, the mixture of the corridos from Mexico, and the music from the Czechs, Bohemians, Moravians, Germans and Italians.

It's the music my Grandpa R. would sing as he played his guitar for us. It's the music that reminds me of trips to my grandparents house in Big Wells, Texas. It's the music that is played at every wedding, graduation party or gathering I go to. It's the music I first learned to dance to. It's the music I first danced to with a boy I really liked and later married.

It's the music that will forever be a part of my memories. I cannot deny it.

The roots of Tejano music started with musicians like Narciso Martinez and Flaco Jiménez.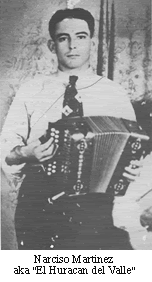 Do the names sound familiar? Ever heard the song by the Texas Tornados called "Hey, Baby, Qué Pasó?" Flaco Jiménez was a part of that band. Jiménez also worked with famous musicians like Bob Dylan and Ry Cooder and even appeared in film with Woody Allen. How's that for cool?
Tejano started to appeal to bilingual audiences later on thanks to artists like Selena y Los Dinos. Her music and sadly, her death, made her popular with people all over the world. Unless you have been living under a rock here in Texas, you must know someone who saw the movie "Selena" in which Jennifer Lopez was launched into stardom thanks to her portrayal of the Tejano star.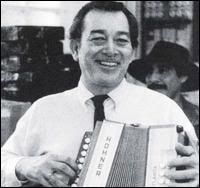 Flaco Jiménez
I know I just touched lightly on some of the aspects of Tejano music. I'm no expert on Tejano music, heck I don't even like all of the music, but I'm learning to accept it as part of my heritage. To deny Tejano music is to deny who I am and where I came from, and I can't do that any longer.
For more history on Tejano music go to these links:
Wikipedia
– actually has a good history of Tejano music.
The roots of Tejano and conjunto music
– from the University of Texas
Narciso Martínez
– The Handbook of Texas Online
CJ's Glossary of Terms

Mezcla - mixture

Corrido - a popular narrative song and poetry form of the mestizo Mexican cultural area