If you haven't had the chance to check out Google Earth yet, do it now. Or at least wait until you finish reading this entry, then go and download the program, which is free. Before you install it read this first.

What is Google Earth? It's only the best thing ever! If you enjoy looking at maps and satellite images then Google Earth is your new best friend. Google Earth is a standalone satellite imagery and mapping application.

We can start all these conspiracy theories about how Google gets their images and then that would lead to a discussion about lack of privacy, spying, and other cloak and dagger stuff. Here's what I think: if you haven't gotten used to the fact that in this day and age you can't eat cornflakes in your pj's without some guy in Fort Meade knowing about it, then you may as well start working on your collection of tinfoil hats now. It doesn't bother me, I know some people aren't happy about it, but hey did Pepsi listen to me when they got rid of Clear Pepsi, NO! Anyway that topic is for another post, in a galaxy far, far, away from this blog.

Back to Google Earth.

After you download the program your initial screen will look similar to this: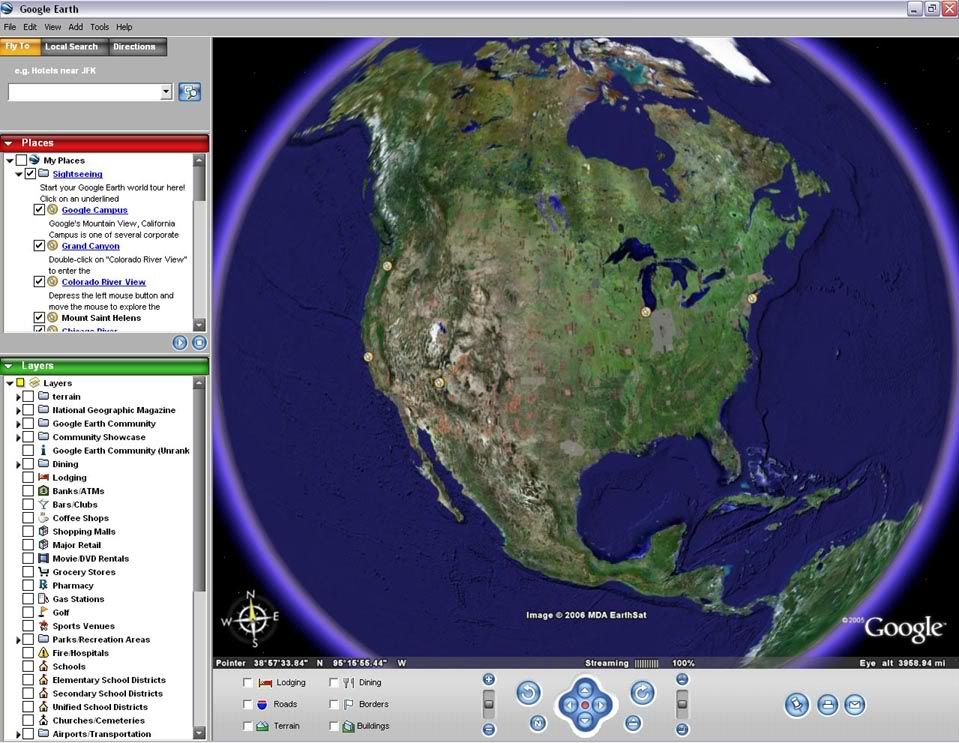 Click on the images listed in this entry to see larger versions of the images.
While the earth image of the program is loading up you may feel like you are flying through space. Or like you are playing a demo for a flight simulator game. Once the earth settles in, then we are ready to "fly" or find locations!
Next, on the top left corner of the screen, under the
FLY TO
button, type in a location of your choice. For this example I am going to type in New York City.
After you type in your location and press the enter key, you notice the earth moving or "flying" to your location. Then you will next see an image of your location.
Here is what I see when I typed in New York City as my choice.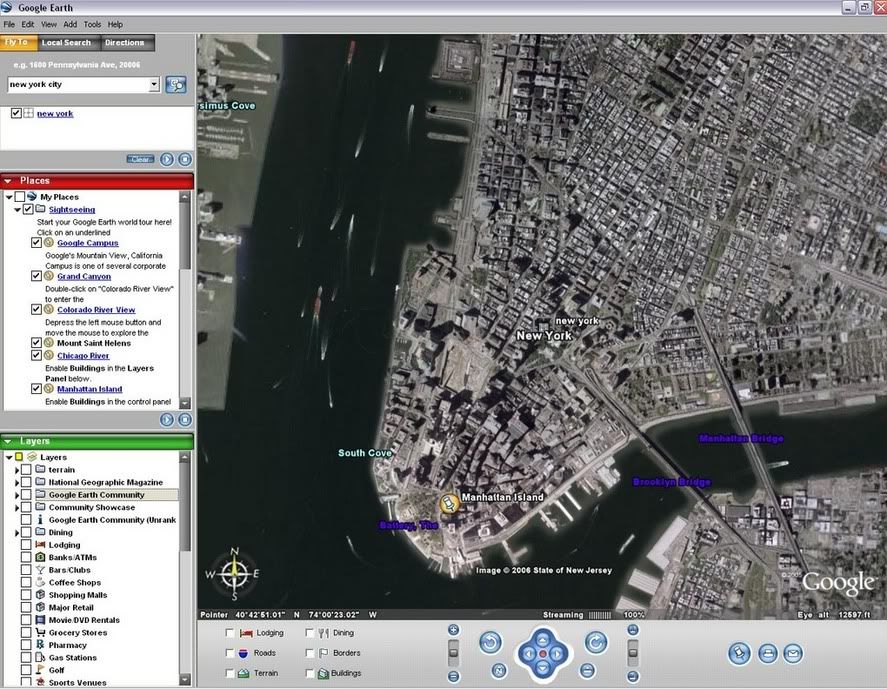 If you look at the options to the left under the
Layers
section you will see many listings with checkboxes next to them. These are the options for the different layers you can add to your image.
What are Google Earth layers?
From Google Earth help file:
The Layers feature in Google Earth provides a variety of data points of geographic interest that you can select to display over your viewing area. This includes points of interest (POIs) as well as map, road, terrain, and even building data.

The most commonly used layers are available on the Navigation pane, and the full list of layers is available in the Layers pane.

You can use the layer data feature of Google Earth to:

Display and save points of interest

Display map features such as borders, roads, and terrain

Display 3D Buildings
So let's say I want to see where the restaurants are in Manhattan. Let's zoom in a little, you can do that by using the scroll wheel on your mouse(if you have a scroll wheel mouse)or by using the zoom feature on the navigation panel. I'm going to also put a checkmark in the
Dining
box and the restaurants should show up.
In this image you see all the restaurants. You can always zoom in to get a better view.
Next let's do a little sightseeing. Want to see the Statue of Liberty?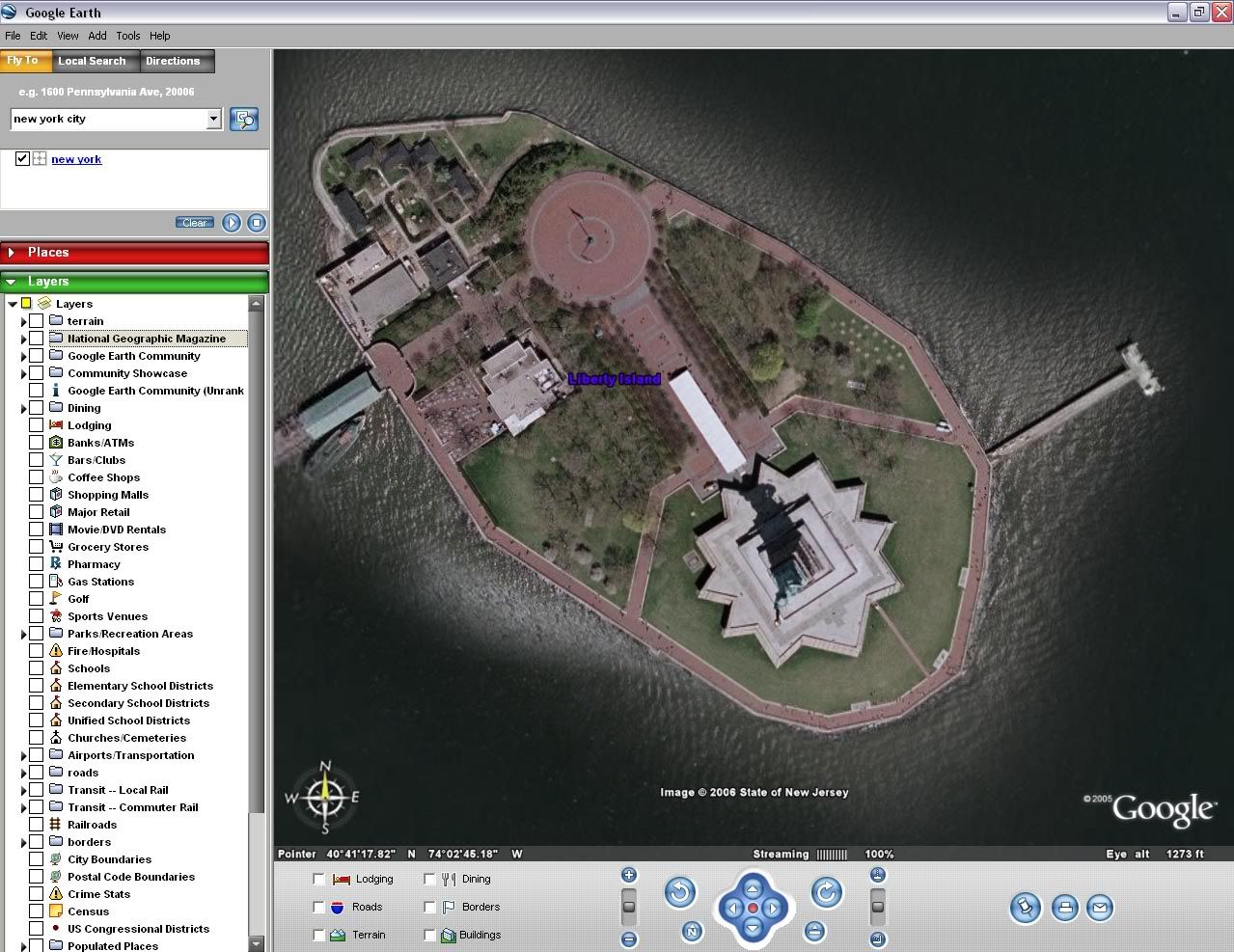 After turning on the layers and viewing all the places to eat, shop or visit perhaps you see a place you want to go to. This program has a feature that allows you to easily find directions from one place to another.
In this example I will use the Ed Sullivan Theatre on Broadway as my starting point. This is a real life example, when we went to NYC last summer we walked from the theatre over to the Dakota building and Strawberry Fields in Central Park.
If I just want to find the place on the map without typing in a search I can turn on the
Community Showcase
layer and find the location that way.
Once I find it I click on the marker for the Ed Sullivan Theatre and click on
From here
and then go and find the Dakota (where John Lennon lived) building on the map. Then once again I will look for a placemark if it is there, and click on it, choose
To here
and then the program should map a route for you.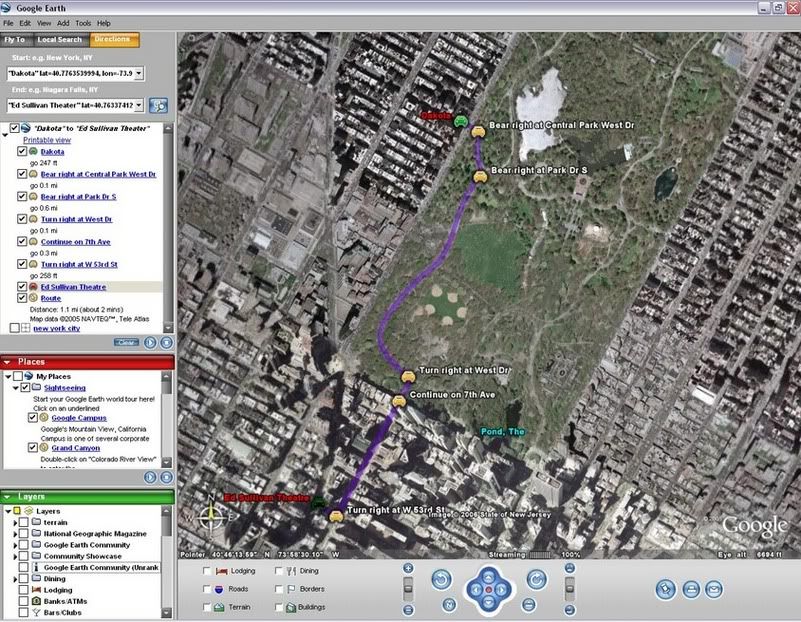 Ok, so I'll leave you now so you can go and discover the world of Google Earth.
POP QUIZ!
Which one of you can identify this city?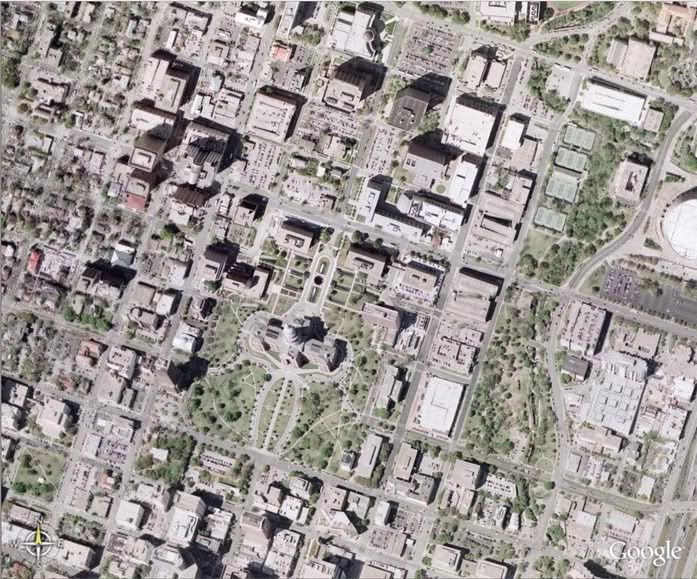 The winning guess will get a picture of my cat Mango. Lol. Not really.