Nostalgia reigns strong this week on my blog as I introduce you to another great Web site for both kids and kids at heart.

Before I begin, a quick message for you younsters out there. When you hear us old people talk about LPs, 45s, or vinyl, we are not talking about siding, the Libertarian Party, or some card game.

Let me school you. We are talking about this: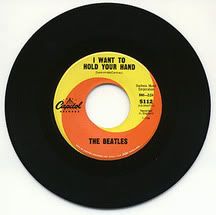 This is a record.
Records are sometimes called vinyl, LPs, or 45s.
Now that we have that out of the way, let's go on with the show.
When I was a kid, along with reading, another favorite pastime of mine was listening to records, but just music records, I also enjoyed listening to children's story records. I had a variety of children's records such as Cinderella, Snow White and Robin Hood.
Imagine my excitement when I found a Web site that is devoted to these type of records.
Kiddie Records Weekly
celebrates the golden age of children's records. Their mission is to give these records "a new lease on life by sharing them with today's generation of online listeners."
Each recording has been transferred from the original 78s and encoded to MP3 format. A new record is added every week and all the artwork associated with the recording is included. You can either download the record or listen to it via an audio stream.
For you parents out there, it may be a good idea to download the MP3s and put them on your iPod or MP3 player, great for those long trips in the car!

This record, The Adventures of The Lone Ranger, will be available next week on Kiddie Records Weekly.