Victoria East's Logan Garis did not appear to have much chance of an athletic future.
He weighed 56 pounds in the seventh grade and coaches weren't exactly begging him to play for them.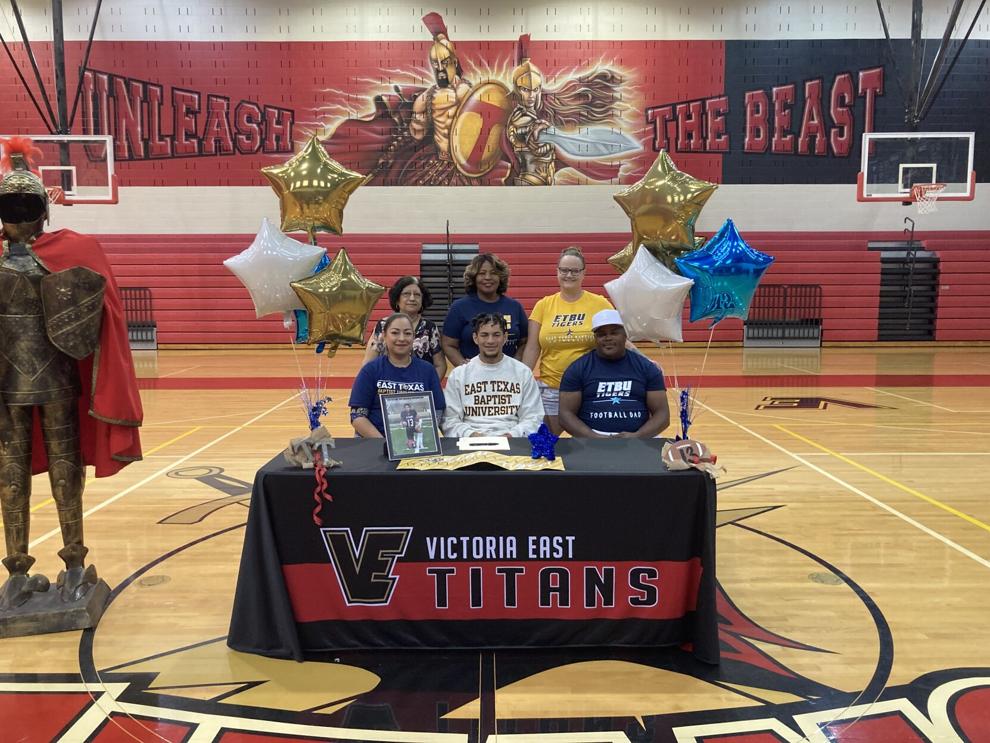 But Garis persevered, and the hard work paid off Thursday when he signed a letter of intent to run track at Texas A&M-Kingsville.
Garis was joined in a ceremony in the East gym by Terrance Terrell, who made his commitment to play football at East Texas Baptist University official.
Garis started his East track career as a distance runner before becoming a sprinter.
He had a time of 10.51 in the 100-meter dash this season and qualified for the regional meet in the 100- and 400-meter relays.
"This means a lot to me to show that I put that work in and proved everybody wrong," Garis said. "I completed one of the goals on my dream list."
Garis has never been to the Texas A&M-Kingsville campus or Javelina Stadium.
But he emailed Texas A&M-Kingsville coach Ryan Dahl after checking out the school's engineering program and received an offer.
"I'm pretty happy," Garis said. "I have to prove myself at the next level right now. I proved myself here, and I've got to prove myself there. It's like restarting. I've got to work hard and build it back up, and hopefully, one day, I'll be the top athlete there."
Terrell played wide receiver for the Titans and had 43 receptions for 551 yards and eight touchdowns last season.
He had received interest from out-of-state schools but wanted to stay in Texas and began emailing and direct messaging NCAA Division III schools.
"I sent a message to East Texas Baptist, and the next morning they messaged me," Terrell said. "I had a visit (to Marshall) about a week and a half ago, and I fell in love with it immediately. It was a beautiful campus."
Terrell was disappointed East didn't make the playoffs last season but is thankful for his high school career.
"There were a lot of ups and downs," he said. "But it was a great learning experience. It was a great place, a great home, and great friends and family with a lot of brothers."