Universal Studios' plans for a new theme park in Texas are already attracting attention from amusement park competitors.
Comcast's  (CMCSA) - Get Free Report Universal Studios is not only known for its movies and excitement, but also for its fantastic theme parks. Universal already has three theme parks and a waterpark in the United States, within an earshot of its major competitor Disney's  (DIS) - Get Free Report theme parks.
Universal also has theme parks in Singapore; Osaka, Japan; and Beijing, and the theme park operator is building a third gate, Epic Universe, at its Universal Orlando Resort, which is scheduled to open in 2025.
Now, Universal Studios just got city approval to build a new theme park in in Frisco, Texas, Universal Kids Frisco. It is expected to be unlike any of its other theme parks.
Universal Studios is used to the tourism competition with Disney parks, as Disney has parks in Anaheim, Calif., to compete with the original Universal Studios Hollywood, as well as the Universal Orlando Resort. Both theme parks are competing overseas as well, since Disney also has theme parks in Shanghai and Urayasu, Japan. 
However, Disney isn't Universal Studios only big competition. Not too far away from both Disneyland and Universal Studios Hollywood is Cedar Fair's  (FUN) - Get Free Report Knott's Berry Farm in Buena Park, Calif., and Six Flags Entertainment's  (SIX) - Get Free Report Magic Mountain in Valencia, Calif. When Universal began plans to expand into Texas, it purchased roughly 100 acres to build its new theme park, and there were already some established theme parks in the area.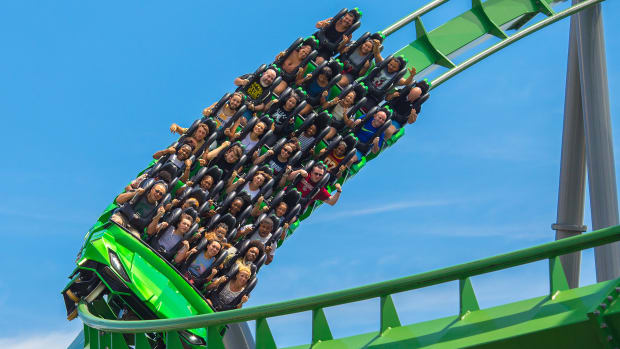 Universal and Merlin Stake their Claim
When considering where to build, Universal Studios opted for Northern Texas for its new theme park. More competition decided to put stakes up in the area as well. Theme park operator Merlin Entertainments is already building a new park.
Merlin Entertainments, the second largest visitor attraction operator in the world, is expanding in the Dallas/Fort Worth area only a mere 30 miles away from Frisco. Merlin Entertainments is building its second standalone Peppa Pig theme park in the U.S. after its park in Florida.
The Peppa Pig Theme Park in North Richland Hills, Texas, which opens next year, is geared toward a younger crowd, preschoolers and their families, while Universal Kids Frisco targets children ages are 3 to 9 years old.
While you might not know the name Merlin Entertainments, but rest assured that you have heard of some of its theme parks. Merlin Entertainment has two other theme parks in the North Texas area, Legoland Discovery Center and Sea Life Aquarium.
"North Richland Hills is known for its family-friendly amenities and activities and we could not be more thrilled to add Peppa Pig Theme Park to the mix. This will be a great addition to our community," Mayor Oscar Trevino of North Richland Hills said in a statement.
The Texas Draw
When considering where to build a new theme park, both entertainment companies liked Northern Texas not just the warm weather, but its growing market. 
"There are 10 to 15 markets in the United States that could support this kind of project and North Texas is one of them," Dennis Speigel, founder and CEO of International Theme Park Services, told CoStar News. "Theme Park owners are looking to create an entertainment critical mass in the area to capitalize on the bodies coming into and around that area."
"Parks are exploding all over the world. We are getting two to three inquires for locations every week from all over the world. Everybody wants to be entertained," Speigel said.  
With more than one Merlin Entertainments theme park in the North Texas area, it is possible that tourists may have the ability buy ticket combo packages. Merlin Entertainments already offers combination tickets to the Peppa Pig Theme Park and Legoland Florida and Legoland Water Park in Florida. 
The new Peppa Pig Theme Park in Texas has an expected daily ticket price of only $34, a much-reduced price compared to Universal Studios other theme park regular ticket prices that are over $100. The combination tickets of Peppa Pig Theme Park and Legoland Florida Water Park one day combination tickets are $110 each for adults and children, while a two-day combination ticket prices are $131. Ticket prices for the Florida Peppa Pig Theme Park are as low as $34, but are more expensive during peak days of the week and season, according to the park's website.
Get investment guidance from trusted portfolio managers without the management fees. Sign up for Action Alerts PLUS now.