Aplomado falcons are on the rebound after Hurricane Harvey seemingly crashed recovery efforts of the endangered species.
This year, researchers observed about 65 aplomado falcons along the Texas coast, down from the 100 observed the year before, but still far more than before recovery efforts began.
And the U.S. Fish and Wildlife Service says of those, there were three nesting pairs and nine chicks on Matagorda Island, a barrier island important to their recovery because of its remoteness and grassland habitat.
"This is a small, but positive improvement," said Andy Stetter, supervisory wildlife biologist at the Aransas National Wildlife Refuge, which includes Matagorda Island.
Aplomado falcons do not build their own nests. They prefer to use nests built by other raptors, crows, ravens and magpies and sometimes evict those birds if they're still using them, so the U.S. Fish and Wildlife Service and the Texas Parks and Wildlife Department have partnered with The Peregrine Fund to help the falcons along.
They've built artificial nesting structures on the Gulf Coast that have bars on them that only the falcons can fit through. The bars keep out one of their biggest predators, the great-horned owl.
Harvey destroyed or blew over the structures on Matagorda Island, so the government and the nonprofit have righted them as well as tried replacing them with structures made of aluminum rather than wood.
And the falcons are good parents.
They dive-bombed Brian Mutch when he recently reached inside an artificial nesting structure to pick up chicks.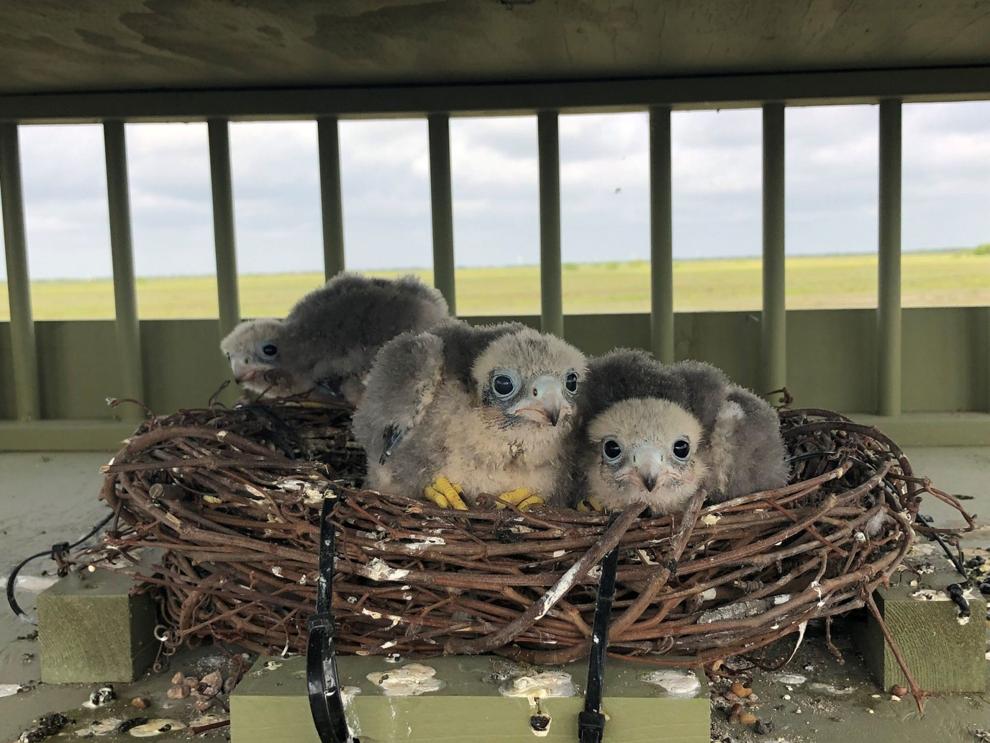 "If they have three young, it takes us about 30 minutes to do everything we need to do and get out of there. Then, the parents come back and check on the young, usually before we're even 100 yards away," said the senior biologist with the nonprofit.
This summer, he and his colleagues banded their 500th chick since banding began in 1995.
The Peregrine Fund's band is on the falcon's left leg. It is black with an alphanumeric symbol etched into it that is visible with a spotting scope when the falcon is a little less than two football fields away.
Mutch and The Peregrine Fund field biologist Paul Juergens use the bands to document their observations of the falcons, hoping to learn about their mortality and other aspects of their life, such as whether they are monogamous.
From 1993 to 2013, The Peregrine Fund released in Texas aplomado falcon chicks it produced in its captive breeding program at its headquarters in Boise, Idaho.
The chicks Mutch and Juergens are banding now were literally born out of that effort.
"I've worked on a bunch of different projects for The Peregrine Fund, but I've been involved with this one almost from the very beginning, so it was really rewarding," Mutch said about banding the first and 500th chick.
All involved think that seeing this species continue to survive – and even thrive – is just a matter of keeping up what habitat they have and clearing the way for more.
"And we'll do that through whatever means necessary, mechanical, chemical or prescribed fire and not just for aplomado falcons, but other grassland birds like whooping cranes, bobwhite quail and mottled ducks. All these species benefit from a healthy grassland," Mutch said.
Stetter said that's in part why the refuge burns between 10,000 to 15,000 acres each year.
"The coastal prairie is one of the most threatened habitats on the face of the earth," he said. "Fire is what naturally occurred here, and it's very cost-effective and efficient and it's got multiple purposes. It rejuvenates the whole system."