Three wrecks near Point Comfort on Thursday morning caused traffic jams extending for about 5 miles into the neighboring city of Port Lavaca.
"I was in the left-hand lane ... when the fire truck, EMS and everything flew by," said Formosa Plastics employee Haley Harper, of Port Lavaca. "It was 5:30 a.m., and I didn't get to work until almost 8 a.m."
About 5:30 a.m., a 2002 Dodge pickup slammed into the rear of a tractor-trailer on Farm-to-Market Road 1593 near the Gate 2 entrance at the Formosa Plastics plant near Point Comfort, said Sgt. Ruben San Miguel, spokesman for the Texas Department of Public Safety. The pickup's driver, 20-year-old Edna resident Zane Michael Strickland, was taken by helicopter to Memorial Hermann Hospital in Houston.
DPS investigators were still determining Thursday why the crash occurred, San Miguel said.
A Formosa employee said he recognized Strickland and the tractor-trailer's driver as fellow plant employees.
He also said he witnessed Strickland, who suffered a leg injury, being cut from his pickup by emergency officials.
The crashes reported Thursday occurred in an area – locally known as the Formosa 500 – that has become notorious for heavy traffic and regular crashes during morning commutes.
Although some local residents and public officials say many of the commuters are Formosa employees and contractors, most blame the impatience and inattention of bad drivers, regardless of their employer, for the traffic chaos.
After the initial farm road crash, traffic was stalled across the Lavaca Bay Causeway for miles into Port Lavaca, said Hector Rodriguez, 31. Rodriguez said he watched the already slow traffic become even worse while selling tacos from his co-owned food truck, Mari's Taquitos, which was parked adjacent to the causeway.
In fact, Rodriguez and his mother wear illuminated, reflective vests to avoid being injured by bad drivers, he said.
Two subsequent minor wrecks on the Lavaca Bay Causeway and SH 35 then occurred in traffic backed up by delays from the crash, said San Miguel. No one was injured in those crashes, he said.
Port Lavaca Police Chief Colin Rangnow said traffic was stalled in his city all the way to North Virginia Street – about 5 miles from the Point Comfort side of the two-lane causeway.
"That's a significant distance," he said.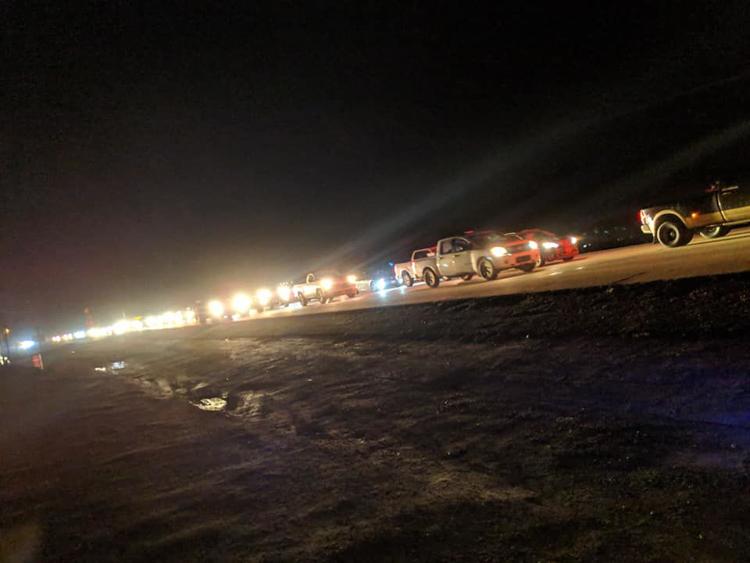 That jam required Rangnow to dispatch all three of his morning patrol officers to help direct traffic, preventing them from patrolling other important areas like school zones, he said.
Rangnow said losing his officers' availability to the traffic was worrisome.
But other than expanding the two-lane farm road and state highway, he had few solutions to volunteer. He asked other than asking drivers to practice more restraint and respect.
"If everyone stayed patient and waited, it would actually move a lot quicker," the police chief said.
One possible solution, a traffic light at the intersection of the farm road and state highway, has yet to be completed.
Texas Department of Transportation officials could not be reached for comment.