POINT COMFORT — Board Chairman Randy Boyd floated the idea of the Calhoun Port Authority not collecting taxes during a meeting on Wednesday.
Some taxpayers are upset that Blake Farenthold is on the port's payroll.
Earlier this year and within a month from him resigning as a congressman amid an ethics investigation, the port hired Farenthold as its first full-time lobbyist in Washington, D.C.
Boyd's idea also comes after the Victoria Advocate reported in October that Boyd and his fellow board members deposit checks each year from the port for their service.
They are paid $400 for attending meetings such as the one that lasted about an hour and a half Wednesday. The Calhoun Port Authority is also the only port on the Gulf Coast to give its board members, who are elected, a retirement pension.
Some said after the meeting that they thought Boyd floated the idea not because it would lessen the taxpayers' burden but because he thought it could get him and the board members out of having to be transparent with the public.
But Joe Larsen, a Houston attorney who serves on the board of the Freedom of Information Foundation of Texas, waved off their worries.
"The port authority is a political subdivision of the State of Texas. That won't change, even if it eliminates taxes and sustains itself through fees or other means," he said.
Luis De La Garza, a 59-year-old Port Lavaca resident who plans to challenge Boyd the next time he's up for election, said his poor opinion of the board and its recent activities doesn't change even if the amount the port collects in fees from customers dwarfs what it collects from taxpayers. He said the public still has a stake in what the port does with the fees it collects.
"The money that comes into the port is ours. We elected these guys to represent us and do the right thing and spend the money wisely. Taking trips to Chile, in my opinion, is not spending it wisely," De La Garza said about some board members' recent trip there to attend an American Association of Port Authorities' conference.
Wayne Allen Tippit Jr., who ran unsuccessfully as a Democrat for Calhoun County judge, agreed. He said hiring Farenthold is still a mistake that the port must answer for.
Others, such as Richard Meyer, the Republican who ran against Tippit and won the judgeship, were less sure.
"I really don't want to comment on that until I find out more about what exactly is going on," he said.
Meyer said the port was important and that all elected officials should be transparent, though.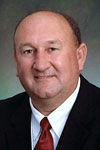 Boyd floated the idea of not collecting taxes after hearing from the port's auditor, Stephen Van Manen.
Van Manen praised the board's fiscal conservatism, which he said led to a $2 million profit in fiscal year 2018, which ended for the port on June 30.
"Now that is on top of investing over a million and a half dollars in capital assets," Van Manen said.
Van Manen said the port's financial position would not be hurt if it were not to collect taxes, but it could make getting a bond a more cumbersome process. He said the port collects about $20,000 in taxes annually.
"Those are things that I would want to get briefed on again to understand," Boyd said, "but my point in this is that in my mind, $20,000 versus a $2 million profit is insignificant. It's so insignificant that I don't want the taxpayers to think that we're doing anything with taxpayer dollars that are coming in. We are doing things with taxpayer revenue that is made by this port. This port is a net profit center."