The Calhoun Port Authority spent about $19,000 to send three board members and their wives to an October conference in Chile.
By comparison, a similarly sized port 90 miles east along the Texas coast, Port Freeport, sent its port director and one board member to the international conference. The much-larger Port Houston sent no one to the same conference.
The Calhoun Port Authority board members who attended – Randy L. Boyd, Dell R. Weathersby, and Shields A. "Tony" Holladay Sr. – have not shared with the public much of what they learned from the conference that could help the port. Neither they nor Port Director Charles Hausmann returned calls for comment.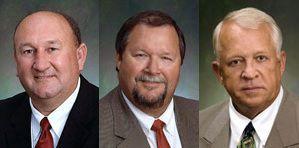 "I would think that a far better trip to take would have been to Washington, D.C., to say, 'Hey, you're giving all this money to the Corpus Christi port, but what about us?'" said Paul Lauterbach, a Port Lavaca resident.
Lauterbach was referring to the Monday announcement by the Port of Corpus Christi that the federal government had allocated $59 million to widen and deepen its ship channel. Those in Calhoun County have long dreamed of doing the same for the Matagorda Ship Channel.
To report this story, the Victoria Advocate filed a Texas Public Information Act request for any receipts, invoices and requests for reimbursements the port received for this trip.
The port returned an invoice that shows it paid a $1,000 conference registration fee for each board member who attended and a $350 registration fee for each of their wives.
According to its program, the American Association of Port Authorities 107th annual convention included presentations with titles ranging from "good practices to improve port and city relations" to "port development strategies and cases of success."
The wives' registrations provided them with tours of the cities of Valapraíso and Viño del Mar one day and of Isla Negra, the home of Chilean poet Pablo Neruda, the next day. They also got to dine at the Restaurant Río Tinto, which has a separate room for patrons to buy wine and other handcrafted goods.
The only time the public could have heard about what the board members learned in Chile is if they had stuck around after the Oct. 17 board meeting adjourned.
Then, Boyd said every big dredging company in the world seemed to have had a booth at the conference and that he had been inspired to raise the port's rental rates.
"It was very much worth it to go and learn what the international market is and what goes on and realize how valuable this property is. A deep-water property has value," he said.
The board members' requests for reimbursement also show they claimed to be on port business for longer than the three-day conference.
Specifically, Boyd said he was owed four days of board service fees, Weathersby five and Holladay six. According to the request for reimbursement, the board service fee is $250 per day.
Although a meeting of a majority of board members could trigger a state open meetings requirement that the public be notified, there is an exception for conventions where no formal action is taken and any discussion of public business is incidental, said James Hemphill, an attorney and vice president of the Freedom of Information Foundation of Texas.
"Sometimes, conferences like this are useful in providing information so that public officials can be better at what they do, and so that's kind of the purpose of this. Now whether it's a good policy or not to spend that much money going to a conference is a different question that I don't think I can answer," Hemphill said.
James Quintero, the director of the Center for Local Governance at the Texas Public Policy Foundation in Austin, tried to answer that question when the Advocate contacted him next. To do that, he turned to the port's newly redesigned website but came up empty.
"Seeing as it's a political subdivision of the state, the public should have no problem finding past budgets, financial audits or its check register. Yet that information seems to be in short supply, which is unfortunate considering that the port authority's top stated goal is 'fiscal responsibility,'" Quintero said.
Later, he added, "I guess no matter where the money comes from, it certainly begs the question, 'Should taxpayers be sending spouses on trips?' and in today's day and age where property taxes are through the roof, I would think most people would say, 'No.'"
"It does have a lot to do with reforming districts, but I don't recall whether the report specifically touches on reforms that would be relevant to district spending on trips like the one you're writing about," Briggs wrote via email.
Quintero said reform was desperately needed.
"These governmental entities – oftentimes referred to as invisible governments – are a key driver of taxes and debt," he said.
The records detailing the port's spending on the trip to Chile come at a time of unprecedented public scrutiny for the public entity.
In May, the port received criticism for hiring former U.S. Congressman Blake Farenthold, who settled a sexual harassment complaint against him with taxpayer dollars, as its first full-time lobbyist.
In August, the Advocate reported Farenthold's office had helped Boyd get a meeting with the Army Corps of Engineers years earlier. During the meeting, Boyd tried to get the Corps to hire his dredging company to work on the Houston Ship Channel, which was not in Farenthold's district.
In October, the Advocate reported on the board members' many perks. Among them were the board service fees and a retirement plan, the latter of which no other port on the Gulf Coast offers its board members.
Catherine Maldonado, a 60-year-old who owns property in Magnolia Beach, immediately called the port and emailed Hausmann after Farenthold's hiring was reported.
"I also called the DA in Port Lavaca to see if there was anything we could do, but he said we'd have to wait for things to just play out," she said of this newspaper's subsequent Texas Open Meetings Act lawsuit against the port.
Like Lauterbach, she said she wasn't sure what the board members could have learned in Chile. Both also said it wasn't easy to get information from the port. Maldonado wanted to know who had made the decision to hire Farenthold, while Lauterbach wanted to know when the next election for a place on the board would be and whether he was eligible.
The next election is on May 4 for board members representing Districts 2, 3, and 4, represented now by Weathersby, J.C. Melcher Jr. and Boyd. Residents of these districts may file for a place on the ballot between Jan. 16 and 5 p.m. Feb. 15.
"I just think something really dirty is going on there," Maldonado said.