A Calhoun High School employee deleted a photo on Facebook that the district said violated policies regarding political neutrality.
Ashleigh Wood, a history teacher at the school and one of its drill team and cheerleading coaches, posted a photo of a group of students with a "Trump 2020" political campaign flag to Facebook about 2:15 p.m. Monday, when the school was celebrating 'Merica Monday as part of its homecoming spirit week.
Krystal Stringham said her son, Levi Stringham, brought the flag to school to participate in 'Merica Monday. He is a 17-year-old senior at Calhoun High School and captain of the cheer team. In the photo, which she said was taken during school hours, he is holding the campaign flag.
Stringham was upset to hear that the teacher was asked to take the photo down, she said.
"I think it is violating the kids' rights to express themselves and makes the teachers afraid to speak up and express themselves," she said.
Should public school teachers be allowed to promote a particular political candidate or cause?
Wood did not respond to requests for comment, but Kelly Taylor, Calhoun's assistant superintendent, said the photo was deleted from Facebook about an hour after it was posted. She declined to comment about whether the teacher received any sort of retribution for posting the photo.
Even though a student brought the flag to school, the photo violated policy because the teacher tagged the Calhoun Cheer Facebook page in the post "and employees cannot associate the school or a school-sponsored group in political matters."
Students are encouraged to read, think and develop their own opinion, but employees are not allowed to take political stances with students regardless of the candidate or political party, she said.
"It is not the role of a teacher to impose political opinions on children," Taylor said. "Political views are to remain private."
Jeffery Molands, a father of two children who lives at Magnolia Beach, said he disliked seeing so much disagreement and "bashing" on Facebook, where the Advocate's article received hundreds of comments and shares.
Molands is a self-described die-hard Trump supporter, but said he still does not think school is an appropriate place for political campaign messages.
"It would have been a whole lot better if they had a banner that said, 'We Love our Country,' or 'We Love our President,' but not something futuristic," he said. "I don't think your teacher, your principal or even fellow students should be able to influence your political decisions … people should be able to sit down with information and facts, and form their own beliefs."
Taylor stressed that students are encouraged to be politically involved and express their ideologies, but Stringham said she disagreed. Her other son, Jax Stringham, who is also a senior at Calhoun High School, was recently told he needed to paint over his parking spot.
Seniors at Calhoun High School were given the option to pay $40 to decorate their parking spots for the school year.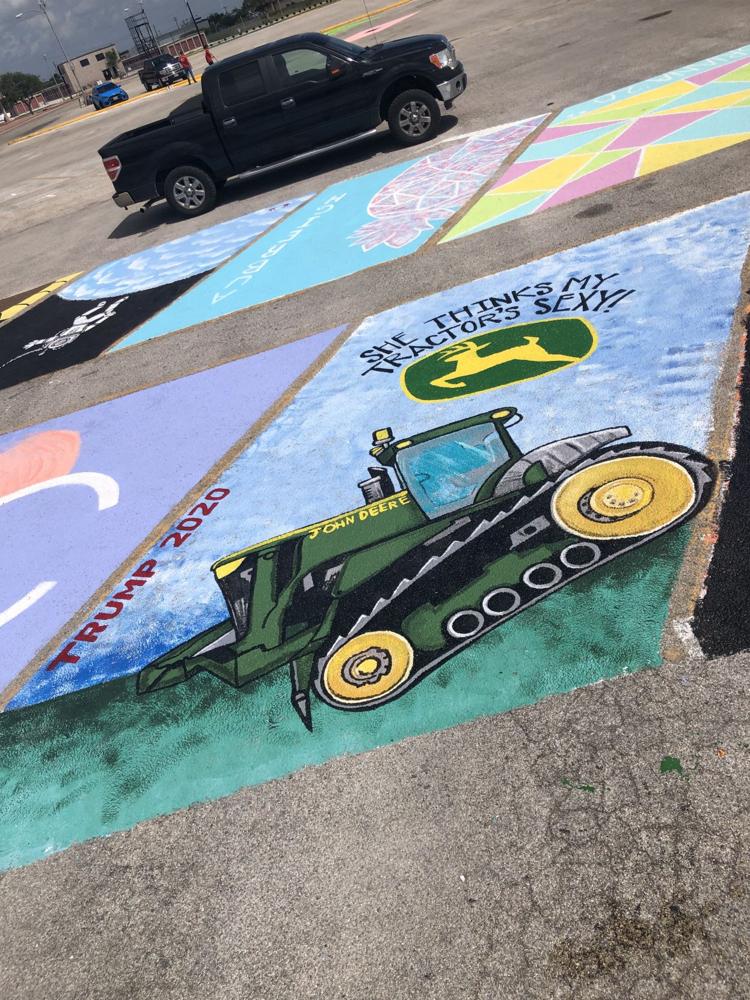 Stringham said her son was called into the assistant principal's office on Tuesday after he painted "Trump 2020" on his spot. He was told he had to cover up the political message because it was not allowed, she said.
"We have not painted over it yet, but it is wrong on so many levels," Stringham said. "We spent well over $100 painting the parking spot to begin with and now they are wanting him to paint over it."
Taylor said the student was asked to paint over the message because it was on school property.
"Children can wear T-shirts, can have a hat, can have bumper stickers on their cars sharing their political views, but the parking lot cannot and the parking lot is part of CISD," she said. "Schools are neutral zones where children can learn, but political advertising is not something the school district can promote."
Stringham still disagreed. He paid to paint the spot temporarily and had a right to share his views, she said.
"It is his parking spot that they're allowing them to express themselves on and he was expressing himself," she said. "He is a very opinionated kid and put the 'Trump 2020' on there because that is what he believes in."