SEADRIFT – Texas Game Wardens scanned a nippy Lavaca Bay on Friday morning for oyster boats they had yet to check.
On opening day of oyster season, which runs through April 30, everyone gets checked, said Weston Burris, a game warden with the Calhoun County District.
About 30 oyster boats harvested a portion of Lavaca Bay on Friday that was closed last year by the Texas Department of Parks and Wildlife because of sustainability concerns. Another 60 to 80 boats harvested in San Antonio Bay, where law enforcement was also stationed, said Game Warden Chelsea Bailey.
"There are so many different areas open now because they're meeting conditions, so there are other boats just spread out now," she said. "We had to concentrate and watch at a certain point last year because Lavaca Bay was closed most of the year so now we're going to be spreading out this year."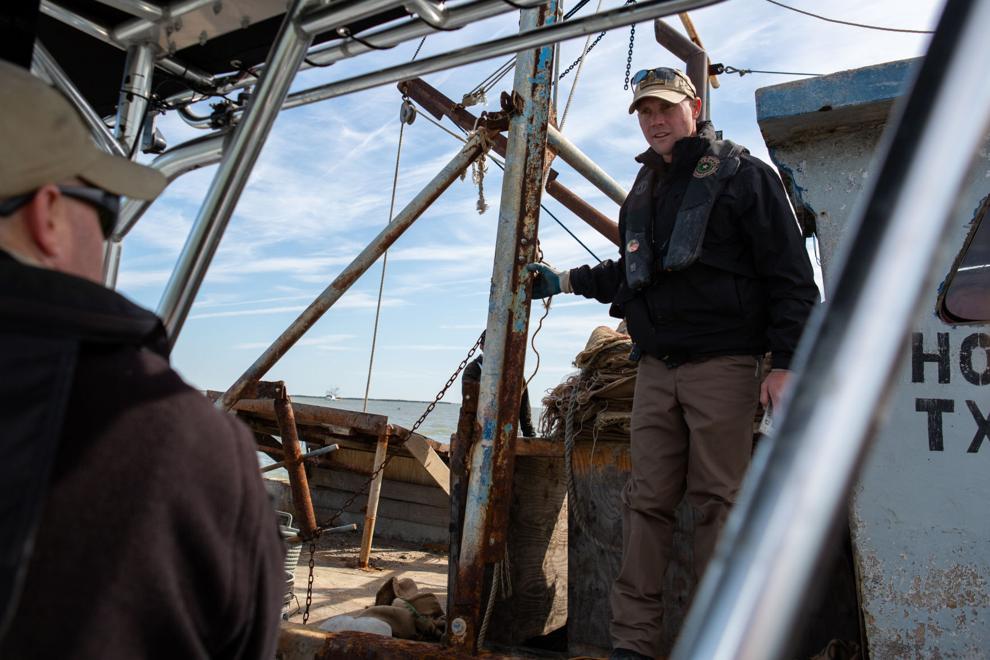 Texas Game wardens have been protecting the state's oyster resources since 1895, when the Fish and Oyster Commission was established by the Texas Legislature.
The goal is to sustain the limited resource, which is both a foundational species of coastal ecosystems and livelihood for many anglers along the coast.
"These guys are just out here trying to make a living, so if it is not sustainable to harvest, then they don't have a job," Burris said. "We're the only state that is open right now, so we'll see Gulf boats from some of the other states like Louisiana or Alabama."
Compliance with regulations is typically high at the start of oyster season, said Capt. Chris Bird, of the Calhoun County Texas Game Warden District.
"But as more oysters are dredged out of the bays and the reefs thin out, you'll start to see more citations for size violations," he said.
Small oysters, called spat, have to be cleaned off of each legal-sized oyster before they are sacked in a bag that is sealed with a tag that the state's health department uses to trace the origin of each oyster. If someone gets sick, the oyster they ate can be tracked all the way back to the location it grew and the boat that harvested the animal.
Anglers clean oysters with hammers, which can kill some of the spat if they strike their hinge.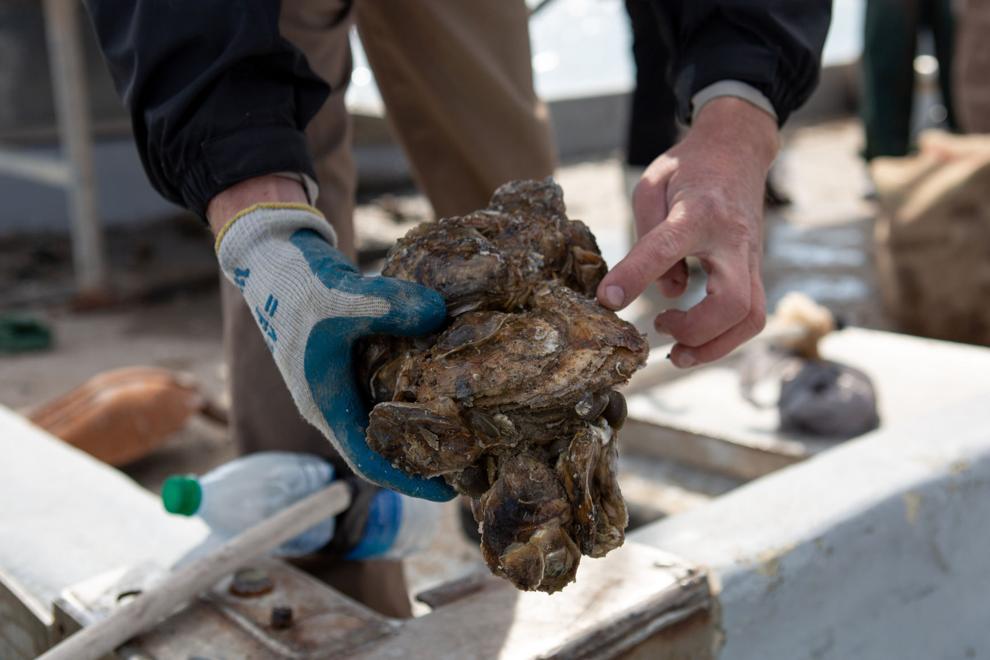 "It depends how the clusters grow. The really flat ones laid on top of the legal oyster are almost impossible to save," said Texas Game Warden Scott Holly.
As the season progresses and the harvested oysters get small, game wardens will do more counting to make sure no more than 5% are undersized, per regulation.
One sack has to be counted per every 10 on the boat, Bird said.
The country's oyster supplies have rapidly increased, while those in Texas have declined because of multiple factors, including hurricanes and fishing pressures. Texas was the only state on the Gulf of Mexico not engaging in mariculture oyster production until Gov. Greg Abbott gave his signature of approval for the practice in 2019.
The hope is that the new industry will help grow the oyster industry because anglers will not be stripping as much from current reefs, Bird said.
Gallery: Oyster Season Opening Day
The Department of Parks and Wildlife announced closures Monday for much of Matagorda Bay's oyster harvesting zones because of low abundance of legal-sized oysters.
The department, as well as the state health department, samples oysters throughout the season to determine which areas will remain open and close. The health department announced closures for a few zones across the Texas Coast because of water-quality issues related to rainfall, including a portion of Tres Palacios Bay.
Department of Parks and Wildlife closures help protect undersized oysters so they can reach the legal size limit of three inches, said Julie Hagen, an information specialist for coastal fisheries with the department.
"That allows us to have oysters that can be harvested," she said. "That is the whole point. We want you to be able to go out there and keep these oysters and sell them or eat them if you're doing it recreationally."
Those areas could reopen if the size and percentage of legal-sized oysters increases to meet standards, though that usually takes time, Hagen said.
"It is not something typically with an oyster bed that takes one or two weeks and everything will be fine," she said. "It usually takes a lot longer than that."