POINT COMFORT – Months after he was struck by a hit-and-run driver, a Calhoun County deputy still was struggling with injuries – not all of which were physical.
On his first traffic stop after returning to patrol duty, Deputy Trenton Ballard found himself overwhelmed by the sound of traffic behind him.
"I was literally shaking to where I had to tell the guy, 'Look, don't do that again,' and I walked back to my (vehicle)," Ballard said. "It was just the (sound of the) traffic moving and the idea of somebody coming behind me."
About 5:45 a.m. Feb. 8, Ballard, a 24-year-old rookie to the office, was directing traffic along a notoriously dangerous stretch of SH 35 near the Formosa Plastics plant at Point Comfort when a pickup veered around a line of stopped vehicles, entered the shoulder and struck the deputy, tossing him into the roadway, according to a crash report.
Although Ballard said he has no memory of the impact or even that morning, his body camera captured him screaming and writhing on the pavement, sheriff's officials said.
Sheriff's officials also say they disagree with the charge given to a man suspected of hitting Ballard, saying a more severe charge was appropriate.
Unconscious, Ballard was flown by helicopter to Memorial Hermann Hospital in Houston, where he spent days recovering from a severe concussion.
Six hours after the crash, authorities located a man who is charged with striking Ballard and then fleeing the scene. It wasn't until 12 days later that Texas Department of Public Safety troopers arrested Port Lavaca resident Louis Paul Purswell, 57, charging him with accident involving injury, which carries a potential sentence of two to 10 years in prison.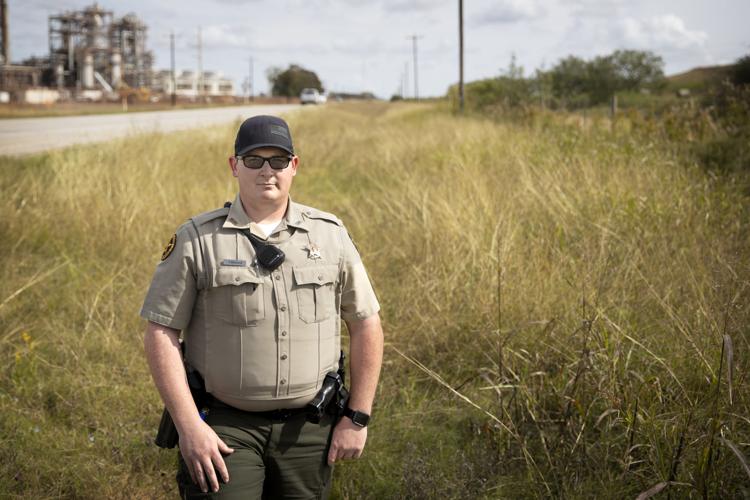 He has pleaded not guilty. He is represented by attorney Jerry Clark, who did not respond to requests for comment.
But some sheriff's office officials say Purswell should have received a more severe charge, such as aggravated assault, which carries a potential sentence of two to 20 years in prison.
Hours after the crash, troopers confronted Purswell after Palacios police located his pickup parked at Palacios Medical Clinic. When asked whether he had struck anyone, Purswell told authorities he had struck a deer and reported the crash to his insurance company.
Troopers then interviewed Purswell and took forensic samples from his pickup, according to a warrant affidavit. One of those samples included hair suspected to be from a human, which was stuck in the pickup's broken mirror.
"It should have been the more serious charge," said Chief Deputy Johnny Krause, of the Calhoun County Sheriff's Office. "If I hit a road cone or small animal, I always get out and check the damage on my vehicle. He didn't stop ... He didn't even get out to see what he'd hit."
"If you don't take responsibility for a (crash) like that, I don't think you should be given the lesser charge," Krause said.
But Calhoun County's First Assistant District Attorney Shannon Salyer disagreed, saying the lesser accident involving injury charge is more appropriate.
"You need to have some intent for an aggravated assault. You need to want to kill somebody or hurt them pretty bad," he said. "And I don't think that is the facts here. I think it was an accident."
He also said the accident involving injury charge originated from DPS, which investigated and arrested Purswell.
"They charged it. We indicted it," Salyer said.
Victoria attorney Eddie Wilkinson said both accident involving injury and aggravated assault charges could apply to hit-and-run crashes depending on the circumstances.
According to the Texas Transportation Code, a driver is required to stop when a crash results or is reasonably likely to result in an injury.
According to the Texas Penal Code, a person causes serious bodily injury by acting recklessly.
Determining whether Ballard suffered serious bodily injury would likely require a medical expert to testify that his injuries either created a substantial risk of death or caused protracted loss or impairment, Wilkinson said.
Since the crash, Ballard said he suffers from painful headaches and back pain, which has remained despite visits to a physical therapist.
"I have locking muscles, so there's, like, knots," Ballard said. "With all this gear on, it's almost living hell trying to stand up."
Whether or not Purswell's alleged driving on the morning of the crash constitutes recklessness is a nuanced question and comes down to whether Purswell knew the risks of entering the shoulder, Wilkinson said.
Simply violating a law does not necessarily mean a person has acted recklessly, Wilkinson said.
After all, many people illegally drive in roadways' shoulders without causing injury, he said.
He said attorneys may want to look at Purswell's actions before and after the crash to illustrate his state of mind at the time.
But perhaps more importantly, Wilkinson said, prosecutors should always choose to pursue charges that best fit the alleged crime.
Charging a person with a crime simply because the charge is more severe, he said, is unethical.
"Overcharging always gets you in a jam," Salyer said. "I just try to do the right thing."
But Krause wondered about the results that could come from undercharging a person.
"There's no deterrent to crime if people think there's no consequences," he said.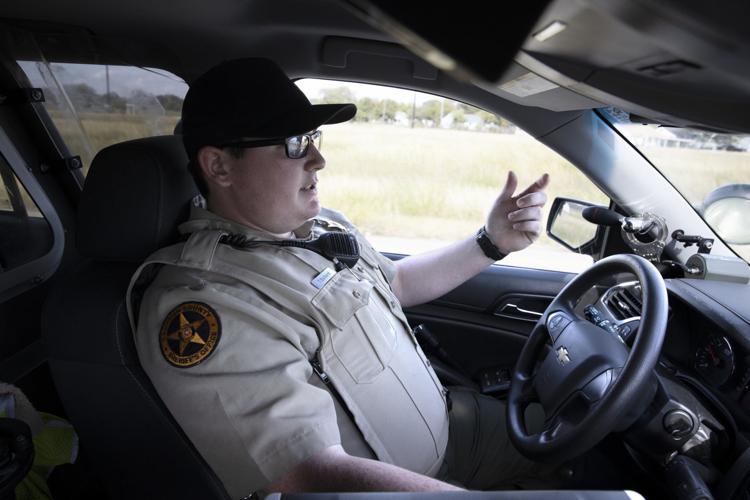 Additionally, he worried about the message that might be sent to deputies such as Ballard.
Ensuring deputies feel the sheriff's office, community and legal system have their backs is essential, Krause said.
"There's nothing more important than knowing you are supported," he said, adding, "We are all doing a job that is very dangerous ... We hope that the victim and their rights and needs are paramount."