Judge Bobby Bell denied on Wednesday the Calhoun Port Authority's latest motion to dismiss a Texas Open Meetings Act case filed by the Victoria Advocate.
The newspaper claims the port should have written on the agenda for its May 9 meeting that it was going into closed session to discuss hiring former U.S. Congressman Blake Farenthold as a lobbyist for a $160,000 annual salary.
The port instead wrote it was going into closed session to deliberate "the appointment, employment, compensation, evaluation, reassignment, duties, discipline or dismissal of a public officer or employee."
Friday, the port's attorney, Bill Cobb, argued the motion to dismiss. One of Cobb's arguments was that Bell couldn't nullify Farenthold's hiring because port director, Charles Hausmann, hired Farenthold, not the board.
Bell disagreed after reading the minutes from the May 9 meeting, which state that after adjourning the closed session, "Board Chair Randy L. Boyd directed the port director to proceed with hiring the person discussed."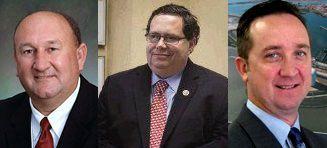 The board will meet at 9 a.m. Thursday at the port's office, 2313 Farm-to-Market Road 1593 in Point Comfort.
The case's next hearing will be by telephone on Sept. 4. During that meeting, the newspaper's attorney, John Griffin, will ask Bell to review the notes that the port, like all governmental bodies, is required to take when it goes into closed session, specifically the notes from the port's May 24 meeting. At that meeting, the port board went into closed session several times, ultimately voting 3-3 to fire Farenthold.
"We believe that those notes do not adequately explain what went on during the closed session at that meeting," Griffin said on Wednesday.
Bell already has ordered the port to give him its notes from its May 9 closed session.
Cobb could not be reached for comment on Wednesday.
"The public has a right to know what their government does and the port has attempted to conceal that for the past two to three months. Open government is the law, and the port should comply with it," Griffin said.