PORT LAVACA – Thirty-five years.
It's not a lifetime sentence, but it's longer than what Lupe Garcia, 33, got in life.
"My brother didn't even live to 35," said Amy Ocanas in her victim impact statement. "I don't feel it's fair."
A jury sentenced two men Friday to 35 years in prison each after finding them guilty Thursday of murdering a man in October 2017.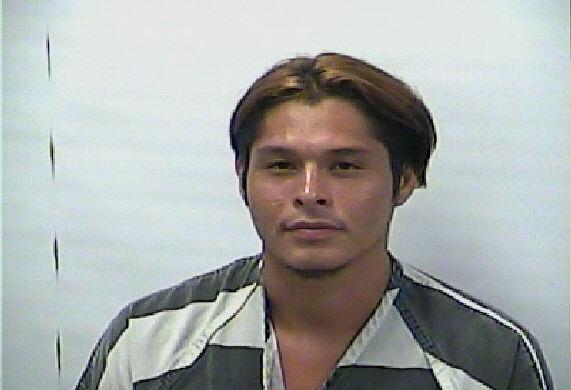 The jury deliberated for about an hour before returning the punishment verdict during the noon hour. They also assessed $10,000 fines for each man.
Andrew Ray Flores, 24, and Anthony Reyes Serena, 21, were convicted of murdering Garcia by a jury of five men and six women.
Five witnesses were brought in for testimony Friday morning for the punishment hearing. Flores and Serena faced a punishment range of 5 to 99 years or life in prison.
One of the witnesses Assistant District Attorney Shannon Salyer questioned was Patricia Resendez, Garcia's aunt. Resendez was tearful when Salyer asked whether she misses her nephew, with whom she was raised.
"Lupe had a way of always smiling – he couldn't be mad at you," Resendez said.
Serena's mother, Brandy Verdugo, testified as a witness for the defense.
Verdugo, who has been a single mother for most of her life, said her son is a generous person who sometimes helped her financially.
Verdugo said Serena would buy school supplies and clothes for his younger siblings and would also donate items to homeless people. He was also an aspiring musician.
"He loved music and would write his own music," she said.
Serena's paternal grandparents served as witnesses as well. Angie Patrick said Serena lived with her and her husband, Roger Patrick, for a few years. Serena worked in construction with his grandfather, Patrick said, and also helped the family. Patrick said Serena would help build piers with her husband, who was a contractor. She also said she didn't know Serena to be violent and that she had no reason to think he was involved in illegal activity.
Roger Patrick also said Serena was a dependable, hardworking young man who talked about getting in shape to join the U.S. Marines. Patrick said he thought "it was a joke" when he heard that his grandson had been charged with murder.
"He's not that type of kid," Patrick said.
Flores also worked under Patrick in construction for about a month, Patrick said. Flores was a dependable and respectful young man, he said. When Patrick would give Flores a ride to work, Flores would already be outside his home, waiting and ready to work.
When Salyer asked Patrick about both Serena and Flores' involvement with drugs and alcohol, Patrick denied that either of the two showed up to work under any type of influence.
"When you're using a chainsaw and tools ... when you're building a pier, if you're not paying attention, you can drown," Patrick said.
Joseph Garza, defense attorney for Flores, brought in Debbie Hamilton, the mother of one of Flores' friends who took his own life.
Hamilton said she knew Flores and her late son, Dubem Wright, used illegal drugs but said Flores was not violent. Flores helped her son frequently. Her son died in May 2018.
"Andrew was like a son in that if I needed him, he would help me just like my son," Hamilton said.
Hamilton said she also believes Flores will grow and mature into a better person for his children.
In their closing arguments, defense attorneys asked the jury for "compassion" in their sentencing. Both Garza and Merri Nichols, one of Serena's attorneys, said the two men could use their time in prison to mature.
Nichols, who said her own son also served 6 months in state jail, said she believes Serena can turn his life around and contribute to the community if given a chance.
"As they mature and get older, they could make better decisions and help others who are heading in a bad direction," Nichols told the jury.
Garza told the jury that the whole case was a "very sad situation involving two young people in their 20s." His client, he told the jury, is an intellectual young man who dropped out and returned to school to earn his high school diploma.
"You don't have to have a lot of formal education to be intelligent," Garza said. "Andrew will take academic courses and could possibly get a degree."
Salyer dismissed both defense attorneys in his closing statement and asked the jury how much compassion they could have for people who lie.
"Killing someone like that on the steps of their home is not tolerated in Calhoun County," Salyer said.
After the sentencing, Garza said he was disappointed by the outcome of the trial but respected the jury's decision. Garza said Flores intends to appeal the decision.
"We feel strongly that the evidence was insufficient," he said.
Nichols said Serena is also considering filing an appeal.
"The sentencing went as expected, I think," she said.
Calhoun County District Attorney Dan Heard said he was pleased with the verdict. He commended Salyer and second district attorney Sara Rodriguez for their work on what he described as a challenging case.
"I do think the jury sent a message, like Mr. Salyer said, to everyone that this kind of thing isn't going to be tolerated in Calhoun County," Heard said.