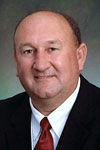 Calhoun Port Authority Board Chairman Randy Boyd has held the leadership role for more than a decade despite a rule that the chairman serve for only a two-year term.
Boyd has been accused of using his board position to further the interests of his private dredging company.
The board passed the term-limit rule in 1997. Minutes from that meeting show Boyd seconded the motion proposing the rule before it went to a vote. It was unanimously approved. The rule means a chairman must step down from the leadership role for at least two years before being selected again for the position.
The Victoria Advocate learned this after it sent a Texas Public Information Act request to the port Jan. 22 for "any record that shows how the chairman of the board is chosen, how long a term he serves, and when this procedure was adopted."
Jan. 28, the port responded with 51 pages of meeting minutes. The minutes show that, in 2007 and in 2009, the board unanimously voted for Boyd to be chairman, but a divide among the board emerged in 2011. June 15 of that year, after a board member nominated Boyd to be chair again, board member J.C. Melcher Jr. nominated board member Shields A. "Tony" Holladay Sr. to be chair. When the vote was called, there was a tie on the six-member board.
The meeting minutes show the board has taken four more votes on who should be chairman since then: once each Oct. 12, 2011, May 9, 2012, May 15, 2013 and May 13, 2015.
Every time, the vote ended in a tie, and the port's attorney, Wanda Roberts, said that meant Boyd remained chairman.
"This may be one of the more unique ways of circumventing your own rules that I've ever heard," said Curtis Kalin, a spokesman for Citizens Against Government Waste, a Washington, D.C.-based nonprofit. "I think it's pretty clear that there needs to be change however that has to come about."
It is unclear why the port has an even number of board members. The neighboring Port of Victoria has five board members.
The meeting minutes show that board members Dell R. Weathersby and H.C. "Tony" Wehmeyer Jr. always nominated and voted for Boyd to be chairman while Melcher, Holladay and Aron Luna always nominated someone else to be chairman.
May 13, 2015, appears to have been the last time the board has taken a vote on who should be chairman.
Boyd, Wehmeyer, Weathersby and Holladay could not be reached for comment. Melcher declined to comment. The board appointed Johnny Hernandez to replace Luna in September.
The divide on the board became apparent again May 24 when a vote on whether to fire former U.S. Rep. Blake Farenthold as the port's lobbyist ended in a tie.
Melcher, Holladay and Luna voted to fire him while Boyd, Weathersby and Wehmeyer voted to retain him. From that point on, the port paid Farenthold about $13,333 a month until he resigned Jan. 4.
According to minutes from the May 9 meeting at which Farenthold was hired, "Boyd directed the port director to proceed with hiring the person discussed." The port had never before had a full-time lobbyist on staff.
The Advocate has reported that Boyd contributed to Farenthold's campaign in 2015 after Farenthold's office arranged a meeting for him with top Army Corps of Engineer officials in Galveston.
Boyd wanted to meet with them to propose that his private dredging company, RLB Contracting Inc., work for the corps on the project involving the Houston Ship Channel. The corps rebuffed him.
Also during his time as chairman, the board has paid itself $400 for attending a regular monthly meeting and one special meeting and $250 for attending any meeting held in the same month after that. It's not clear when that payment was adopted. The Advocate has asked for proof of a board vote related to its pay, but the port could not provide one.
In 1953, state Sen. John Junior Bell, D-Cuero, wrote a bill proposing the creation of the Calhoun Navigation District, which is now known as the Calhoun Port Authority.
His bill, which passed unanimously, had six board members serving the port, but they were appointed by the Calhoun County commissioners. Two board members were to be appointed for a two-year term, two for a four-year term and two for a six-year term.
It's unclear when it changed from the board members being appointed to being elected, but the port is still a special purpose taxing district and that means only the Legislature can change its number of board members. Neither State Sen. Lois Kolkhorst nor State Rep. Geanie Morrison, whose districts include the port, responded to questions about the information the Advocate had found.
Kolkhorst declined to comment while Morrison could not be reached.
Kolkhorst will be filing a bill that increases what special purpose taxing districts have to disclose to the Texas Comptroller's Office for an online database, said Matthew Russell, Kolkhorst's spokesman.
During the past legislative session in 2017, state Rep. Wayne Faircloth, R-Galveston, filed a bill that would have required a review of all ports in Texas' governance, management and operating structure. His bill never made it out of committee. He was defeated in the March Republican primary by Mayes Middleton.
But last month, several things happened in Austin and in Calhoun County that could loosen Boyd's grip on the port. Middleton filed a bill last month that, if passed, would prohibit special purpose taxing districts like the Calhoun Port Authority from using public money to lobby the Texas Legislature. The Victoria Advocate reached out to Middleton to ask why he proposed the bill and if he saw it as being helpful in this situation.
The newspaper did not hear back by deadline. Stalwart Strategies Inc. is the Calhoun Port Authority's lobbyist in Austin for this legislative session. The board unanimously voted to pay Stalwart $7,500 per month, plus any expenses, during a meeting in November.
Stalwart lobbied for the port in 2017.
In Calhoun County, three people — so far – have filed to run against Boyd.
"What I've seen with Boyd is that he's stopped thinking of himself as a board member and started thinking of the port as his own property," said one of the candidates, Paul Lauterbach.
Another candidate, Roger Hochgraber, declined to comment, but the third candidate, Luis De La Garza, was quick to offer his thoughts on how Boyd has managed to retain the role of chairman.
"These guys are not following their guidelines, their policies, their procedures, their bylaws, and so it begs the question, 'What else are they not following?'" De La Garza said. "I've been on a bunch of boards where the chairman doesn't vote unless there's a tie."