Port Lavaca residents' water bills are expected to increase by at least $45 a month to pay for a new water treatment plant.
And that's if officials decide to go with the least costly of two options.
A new water treatment plant is needed to address growth and to cut down on what are called "disinfection byproducts." The Environmental Protection Agency says they can cause cancer and affect the reproductive system.
Lisa Kennemer, 36, wasn't aware of that.
"The water quality is not very good," she said. "If you don't have a filter and run water from (the) tap, you can see stuff floating in it, and at times, when they are flushing the pipes with chlorine, it's so strong that you don't want to shower."
Kennemer has four others in her household. She said her bill ranges between $64 and $84 per month. She said her family would have to cut back on having friends over on the weekend to eat and watch sports if the bill increased, but it might be worth it if it would improve the water's quality.
The first, least costly option would be to build a new plant at the site of a current one on SH 316, while the second option would be to build a new plant farther inland.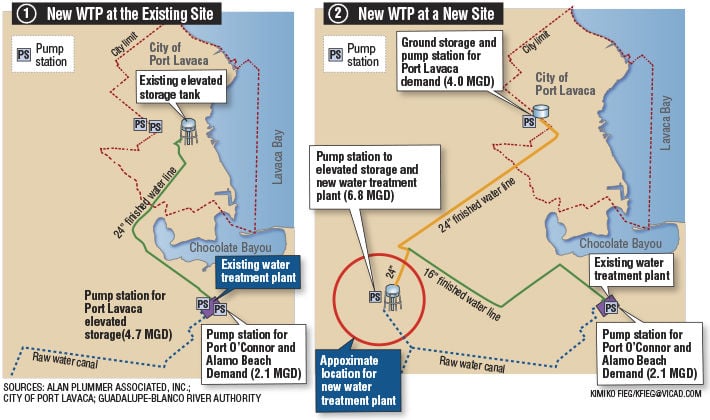 In a recent workshop with the City Council, Charlie Hickman, the project manager for the Guadalupe-Blanco River Authority, which owns the plant, and Allan Davis, an environmental engineer who consulted with him, recommended the inland option.
The current plant on SH 316 is within a Category 3 hurricane storm surge zone; Hurricane Harvey was a Category 4 storm. The brackish water table there has corroded the pipelines over the years. Moving the plant farther inland also could put it on a more reliable electrical grid.
Port Lavaca purchases and uses about 65 percent of the water at the plant, City Engineer Jody Weaver said, so it must pay 65 percent of the cost to build a new plant regardless of which option is chosen.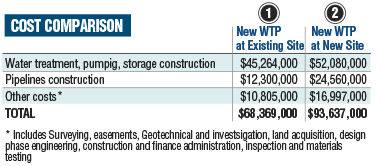 She said the second option could increase residents' water bills by $61 a month if, like the first option, the cost is spread evenly among Port Lavaca's current 4,588 water customers.
City Council members balked at both increases.
City Councilman Tim Dent, for example, tried to see whether decreasing the proposed new plant's capacity from 6.8 million gallons per day to 6 million would lower the cost, but it only chipped off a few dollars.
"We have a lot of senior citizens on a fixed income where they don't have an extra $45 to pay. What are we going to do with those people?" Councilman Kenn Barr said.
Amy Jordan, the administrator of the Calhoun County Community Ministries, told the Port Lavaca Wave last month that it has helped 252 families this year with emergency services, such as paying rent, electricity, gas or water.
"I have a lot of mixed emotions on what is the best thing to do for our citizens who pay taxes. I'm one of them, and money don't just fly in our pockets," Councilman Jerry Smith added.
Weaver said the city could "also do a stepped method kind of like what we do with our water customers now so that $45 turns to $42 or $41 for residential, but what it does is to some of the commercial is it may jump like $100."
Later, she said, "Understand that these are conservative numbers. I wouldn't think it would be worse than this, but I didn't want to get rid of the contingency because we didn't want to deceive anybody."
Darrell Nichols, the senior deputy general manager of GBRA, told the council that if the GBRA were to go to the Texas Water Development Board to finance a new water treatment plant, it could get a favorable interest rate and the debt would be reflected on the GBRA's books, not the city's.
"We've been lucky that we got 50 years out of the plant, and we're probably going to get a little over 50 years when it's all said and done because it's going to be a couple years for the new plant to get online," he said.
Nichols and Davis said a new plant would give Port Lavaca room to grow.
Earlier this year, Port Lavaca was fined for not having the required amount of water stored for its customers. The Texas Commission on Environmental Quality said the city should have had 1.078 million gallons, but it only had a million.
When council members pressed the GBRA on why the current plant couldn't be renovated, Davis said it wouldn't be cost-effective because there were corroded and leaky pipes as well as structures there that "don't meet code for a windstorm of any significance."
Tour the current water treatment plant in Calhoun County
Davis said at a new plant, chlorine and ammonia could be added at the end of the water treatment process rather than the beginning.
The EPA says chlorine and ammonia react with organic material to create cancerous disinfection byproducts.

Also earlier this year, the TCEQ found that Port Lavaca went over the allowable amount of disinfection byproducts in its water. Already, the city has agreed to pay $138 with $34 deferred, documents show. And the agency has said it would waive an additional $1,380 of the fine if Port Lavaca meets several requirements. One of the requirements is that it have the allowable amount of disinfection byproducts within three years.
Documents show that the TCEQ found the GBRA also went over the allowable amount of disinfection byproducts, but in 2015.
Oct. 22, the same day the workshop was held, the GBRA wrote to the TCEQ that renovating the plant as initially discussed, especially after Harvey, is not possible. The GBRA said although it has not gone over the allowable amount of disinfection byproducts since 2015, that risk still exists and it needs a three-year extension to comply, enough time to build a new plant.
The TCEQ is considering the GBRA's request, TCEQ spokesman Andrew Keese said.
The workshop lasted two hours and concluded with no consensus on which option to take.
City Manager Bill DiLibero said afterward that the City Council wants to hire its own consultant.
"Bottom line is we've got to take care of our citizens and provide them water that they are used to, not like what's going on in all these peripheral areas that are having trouble with their water right now," Councilwoman Jan Regan said.