The leaders of Seadrift didn't know Mother Nature would leave them such a big mess when they decided to take on picking up trash alone.
They decided to end their contract with Waste Management because the company would have charged residents $25-$27 a month. They thought the city could handle the work itself for $20.50 a month and, so far, it has.
"The program was pretty much in progress before Harvey, so there was no turning back," Mayor Elmer DeForest said. "The truck had been ordered. We'd already advertised for employees, and we'd already gotten some applications."
Aug. 25, the day Harvey made landfall, a tide gauge in Seadrift measured the storm surge at 5.52 feet.
The wind, meanwhile, was blowing about 110 mph, and during the next week, about 15 inches of rain fell there, according to the National Weather Service.
Some of the town's 1,547 residents are still recovering, DeForest said, so it is nice to give them extra savings.
"People are still living in houses with roofs leaking," he said. "We're also not charging fees for permits for any Harvey-related work. It's a small thing that we can do to help those who are struggling."
At 8 a.m. Tuesday, Seadrift's three solid waste employees started the first of three routes they do each week.
Tuesdays, they collect trash from residents who live east of 6th Street and south of Broadway Avenue or S.H. 185.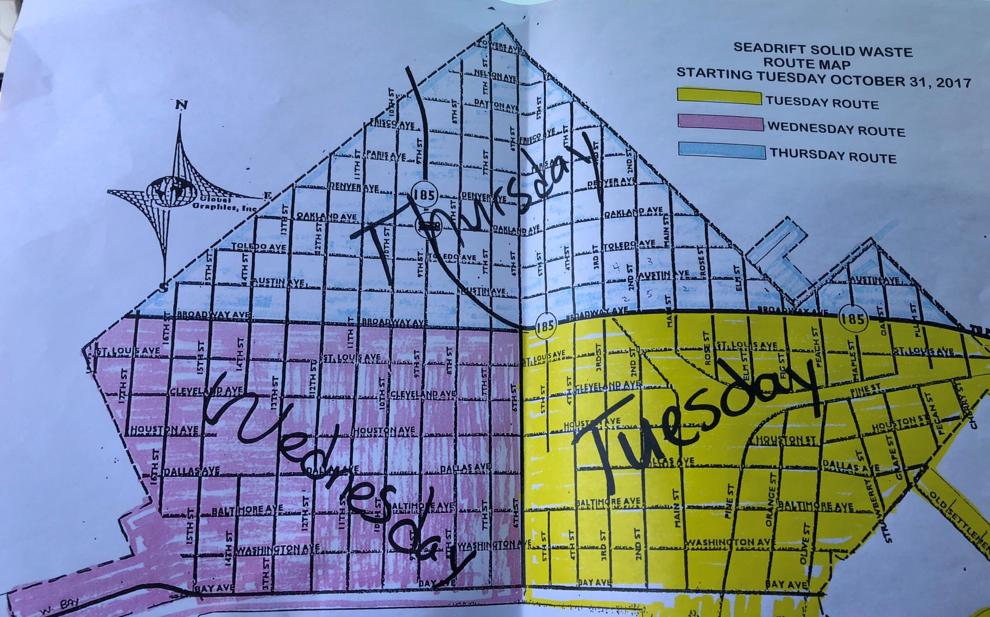 Their truck is smaller than those used by Victoria. The two workers took turns wheeling 96-gallon totes to the back of it.
They popped each lid open, and the truck's hydraulic arm picked it up and dumped its contents.
"A smaller truck is better on our streets," said City Councilman Kenneth Reese, who is in charge of the Solid Waste Department.
He said Seadrift hopes whatever is saved by doing this in-house can be used to purchase another truck in five years.
When the truck lumbered down Cleveland Street, Sue Amason, 78, came outside to greet the workers.
"They always smile," she said. "It's just little things like that that make you feel good."
Amason is still waiting for her roof and ceiling to be repaired. After Harvey, she picked up roof tiles that were scattered in her yard and Sheetrock that had fallen down.
She didn't know why the city stopped using Waste Management but liked that the company picked up items that didn't fit in a tote such as a couch or a broken TV. The city does not.
"Thank God I had gotten all my stuff cleaned out before Waste Management left (on Oct. 30)," she said.
But overall, she said, she's not bothered by the change.
"When things change, they change. There's not much you can do about it. ... Well, you can gripe about it, but I don't know if that'll help," Amason said, chuckling.
DeForest said if the city had signed a new contract with Waste Management, the company would have stopped picking up items that didn't fit in the tote as well. He said residents can buy an additional tote at City Hall for $5 a month.
Solid Waste Worker Terry Maddux spoke from experience when he praised the way the city helped residents clean up after Harvey.
A Seadrift resident himself, he used one of the dumpsters the city set up near the baseball field to dispose of 10 loads of Sheetrock from his house damaged by the hurricane.
"It was nice not to go all the way to Bloomington or Victoria to do that," he said.
Seadrift joins 293 cities in Texas that collect their residents' trash themselves, according to the Texas Municipal League.
But in the Crossroads, a city Seadrift's size doing this on its own is unusual.
For example, in Yorktown, which has a comparable estimated population of 1,668, a company called Texas Disposal picks up residents' trash for $29 a month.
DeForest said he doesn't regret the change, even as he faces new challenges, the most pressing being getting reimbursed by Federal Emergency Management Agency for the estimated $200,000 the city spent from its reserve funds in the three weeks after Harvey.
He said the town heard FEMA decided to reimburse Seadrift in January. But FEMA hasn't received a check, so the city had to suspend doing street repairs in the meantime.
This week, he'll be with other mayors in College Station talking to FEMA and Texas' Office of Emergency Management about how it can better respond to the next hurricane.
"I'm sure folks will get an earful up there," DeForest said. "I wish I could point fingers, but I have no idea what the holdup is. Congress has twice appropriated billions of dollars, once in September and again in December. My question is, 'Where is the money?' It's very frustrating."