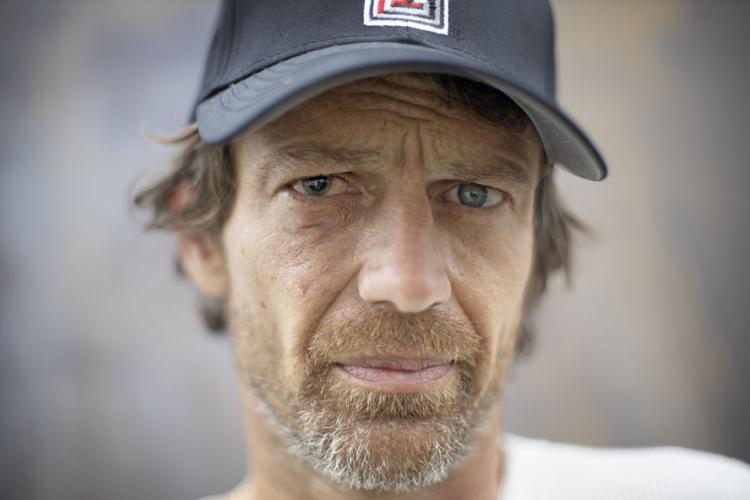 THOMASTON – Despite a history of run-ins with the law, Daniel Gibson said he didn't deserve to be blinded after his most recent encounter.
"I had my troubles before, but I got rights just as much as any other man," the Thomaston man said.
In November, 42-year-old Gibson, who has numerous nonviolent convictions stretching back to 1997, found his right eye completely blind after a DeWitt County deputy fired a less-than-lethal pepper gun while arresting him.
Almost two months later, Gibson, who is awaiting surgery, said his vision in the eye remains dark.
"It's not improved," he said. "In fact, it's gotten worse."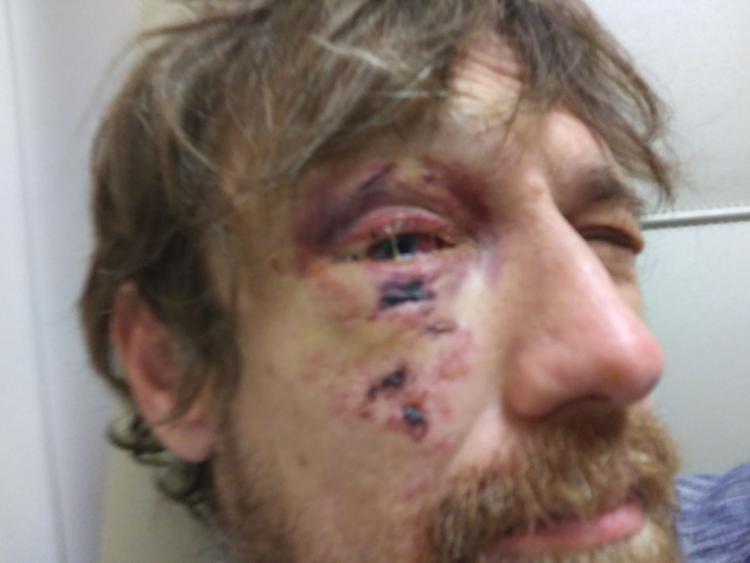 The unexpected severity of that injury prompted DeWitt County Sheriff Carl Bowen to pull from service the Defender, a handheld device that fires a highly pressurized stream of fluid containing capsaicin, the active chemical in pepper spray, tear gas and chili peppers.
The sheriff said he will not allow deputies to use the device until he is sure it was not responsible for causing Gibson's blindness.
According to a news release issued by one of the device's U.S. distributors, JPX East Coast, the device "is one of the safest, most cost-effective less-lethal options on the market today ... being used in over 2,000 agencies across the U.S. and abroad."
Accelerated by a gunpowder cartridge, the Defender fires a jet of fluid that leaves its barrels at a speed of about 400 mph, according to a news release. That stream expands quickly and slows to about 270 mph at a distance of five feet.
In fact, the Defender's manufacturer, Swiss company Piexon, recommends that the device be aimed at a person's eyes from a minimum distance of seven feet, Bowen said.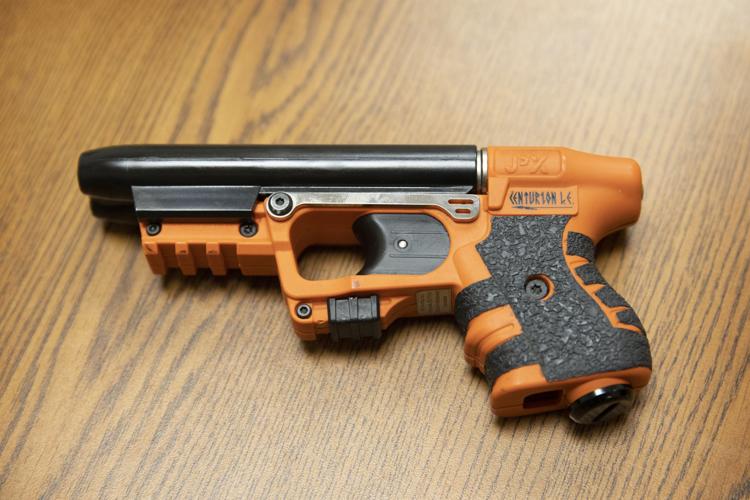 Bowen and Gibson agreed that the deputy was at least that far away, prompting questions about its safety.
"The bottom line is it's a new technology that acted in a way that we did not expect it to," Bowen said.
Blinded in an instant
On the morning of Nov. 12, Roscoe, an 8-year-old mutt that Gibson had rescued as a puppy, had gotten out of his fenced yard and had gone across the highway again.
"He's friendly as hell," Gibson said.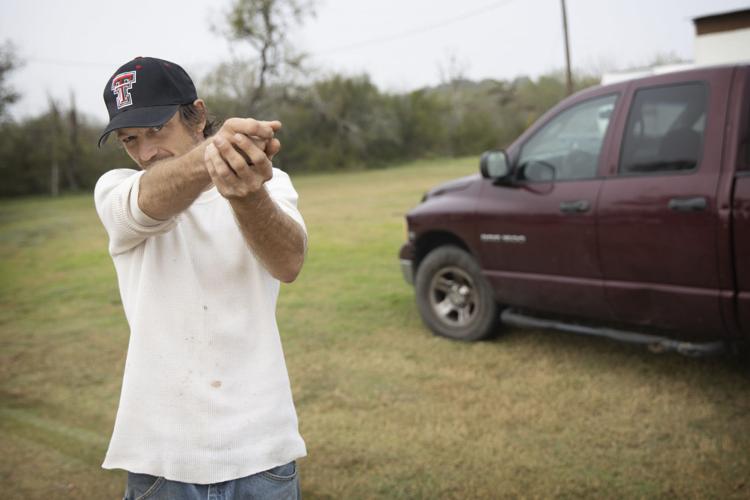 But it wasn't Roscoe that eventually brought Gibson in contact with a DeWitt County deputy that morning. A deputy was dispatched to Gibson's home when a passerby reported a man was standing in the middle of U.S. 87, which runs just outside his Thomaston home, Bowen said.
On body camera footage recorded by the deputy who responded to the call, Deputy Garrett Davidson explains to Gibson's father the reason for his arrival.
"We got called because he was standing in the middle of the road," Davidson said on the recording, which was obscured for almost its entire recording.
"I know he is high," said Gibson's father, responding to the deputy.
In an interview, Gibson said he had not been sleeping much and he had not taken any drug. He said he was standing in the highway because he was angry that day.
Just before their conversation, Davidson patted Gibson down for weapons and found none, but Bowen said the deputy had nevertheless used the less-than-lethal device legally and appropriately.
"When an officer arrives at a scene, it's to address an issue, and usually that issue is nonnegotiable," he said. "If you are standing in the middle of the road, you are in danger of getting hurt or hurting someone else."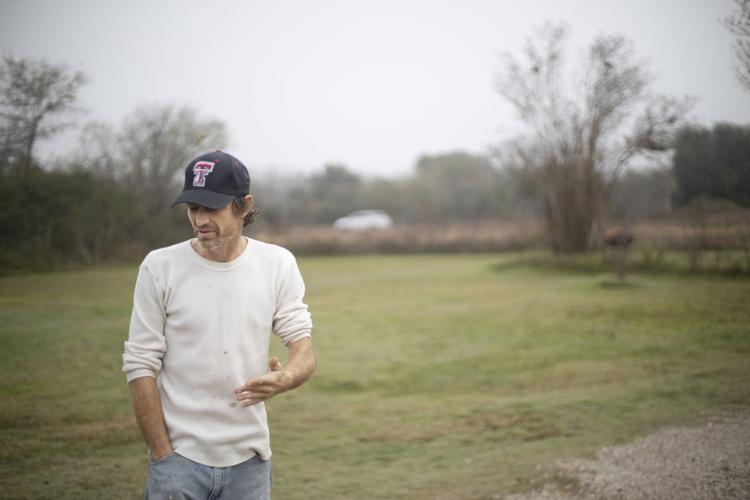 In the about 20 minutes of footage that precedes the firing of the Defender at Gibson, the deputy asked Gibson numerous times to get his father.
"I need to release you to someone sober. That's all I need to do," Davidson said on the recording. "My goal is not to arrest you."
On the video, Gibson continued to speak with the deputy, ignoring his requests, and Davidson finally orders the man to place his hands behind his back so he can arrest him.
"Stop fighting ... get on the ground," the deputy said, shouting.
Minutes later, a loud pop can be heard over the sounds of a scuffle, followed by sounds of screaming.
That pop, the sheriff said, was the sound of the deputy deploying the Defender against Gibson.
"It felt like I got shot in the face with a damn shotgun," Gibson said later, adding that from a 1-10 scale for pain, the shot felt like a "50."
Gibson was arrested that morning for public intoxication and resisting arrest.
Plunged into darkness
Lying on the ground just outside his home with his hands cuffed behind him, Gibson was writhing in pain, he said, recalling the morning of his arrest.
With the Defender's capsaicin fluid now spread to both eyes, he was in complete darkness.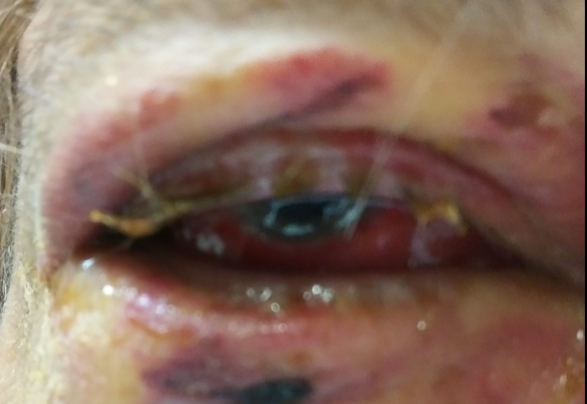 It wasn't until deputies applied a neutralizing agent to his eyes, that he began to regain sight in his left eye.
Sight in his right eye, he said, has yet to return about two months later.
"I can't see no light," Gibson said. "Nothing at all. Period."
After visiting eye specialists in Victoria and San Antonio, Gibson was recommended for surgery, he said.
Medical documents generated days after his arrest during a visit to the University Health System in San Antonio describe him as suffering from a ruptured eye, a break in one of the bones surrounding his eye and a detached retina.
A photograph taken by Gibson of his eye days after the injury show the area around his eye to be swollen, bruised and surrounded by scabs. The eye itself was bloodshot and sticky with puss.
Even in December, his right pupil is significantly more dilated than his left.
While Gibson said he was worried about his ability to continue working as a contracted construction worker, he said he was even more concerned about whether the blindness would be permanent.
"It's a beautiful world, and I'd like to see it," he said.
Under investigation
The Defender will remain out of service in DeWitt County at least until the office can determine the extent that it contributed to Gibson's injuries, the sheriff said.
In 2018, the office purchased about a dozen Defenders out of a need for a device that could force a suspect's compliance without posing a significant threat to life or limb.
"We always are looking for a more effective, less-than-lethal option," Bowen said.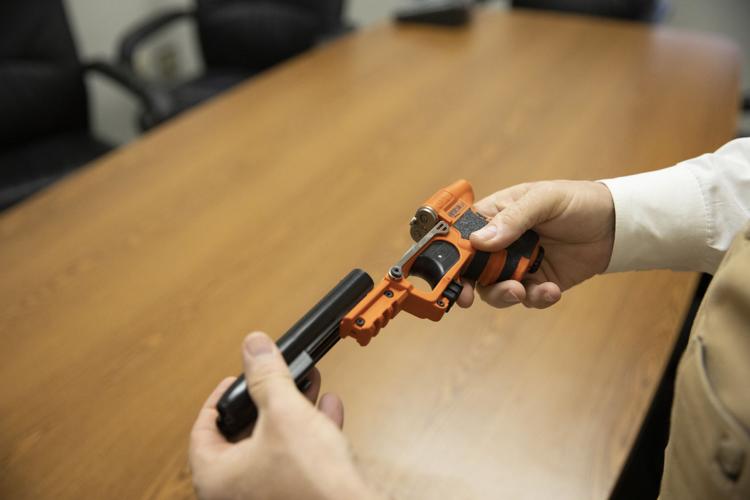 The sheriff counted the severe pain described by Gibson as an effective means of convincing a person to comply to a deputy's lawful orders.
Tasers, he said, have come under recent criticism for their ineffectiveness against intoxicated people.
He said their potential to ignite pepper spray aerosols and the possibly fatal risks they pose against those with heart conditions are deeply concerning. The DeWitt County office stopped using Tasers in 2005 because of those concerns.
With the Defender gone from DeWitt County utility belts for the time being, deputies still have several less-than-lethal options, including a baton and aerosol pepper spray.
But unlike the Defender, pepper spray, has a much shorter effective range and is likely to affect bystanders or even officers, Bowen said.
Sheriff's offices in Lavaca, Victoria and Calhoun counties also reported using batons and Tasers. No other law enforcement offices in the Crossroads reported using the Defender.
Port Lavaca Police Chief Colin Rangnow said JPX representatives offered his department a demonstration of the device months ago.
The department has not made a decision about whether to purchase the devices and instead still rely on Tasers, pepper spray and batons.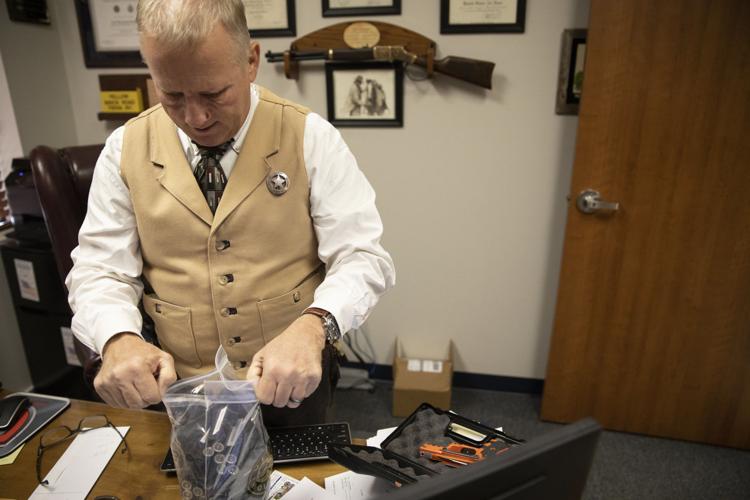 "All less-lethal options can cause injury," Rangnow said, adding, "The hope is that voluntary compliance is obtained. Unfortunately, that's not always the case."
While JPX representatives said that other less-than-lethal tools can cause deaths, they stand by the safety of their devices.
But Bowen said he has his doubts and needs to know more about the cause and severity of Gibson's injuries. He also said that he would like to hear more directly from the Defender's manufacturers.
"We want to make sure we are using the right product," Bowen said. "We just don't know. It's the unknown that is leading us to err on the side of caution."