GOLIAD — The city of Kenedy is running out of water.
"Every time we've drilled a well, we've always hoped, 'This will be the well. This will be the one to keep us afloat,'" City Manager Barbara Shaw said.
But ranchers who live near where Kenedy last pinned its hope for water on see things differently.
"For 20 years now or more, Kenedy has kept doing the same thing, the same way, expecting different results," Terrell Graham said.
"And that's the definition of insanity," his friend, Carl Hummel, added.
Graham, 54, and Hummel, 56, live in Goliad County and lead a group called Neighbors Against Destroying Aquifers, or NADA. They are concerned their water will be drained by the city of Kenedy, which they think is operating a slipshod and secretive system.
A little more than 3,000 people live in Kenedy, and they get their water from seven wells off Farm-to-Market Road 743. The water is treated with an arsenic absorber and a reverse osmosis system.
When the Texas Commission on Environmental Quality inspected the system in 2015, it found the city had violated nearly a dozen rules. One was that it couldn't operate at a minimum pressure of 35 pounds per square inch or even at 20 psi for emergencies such as firefighting. The TCEQ fined the city $18,758 and has worked with it since to bring the system back into compliance, records show.
2015 was also the year the city went into stage 3 water restrictions. Residents face fines between $200 and $500 for watering their lawns more than once every other week.
Shaw inherited this problem.
She's been the city manager only since January 2017, and since then, she's fixed out-of-whack water meters that allowed some customers to skimp on their water bills for years and got the City Council to approve raising rates for the first time since 2002.
She said the city was following its longtime hydrologist's recommendation by drilling a test well off County Road 130 last fall, which prompted the formation of NADA.
NADA members reported the amount of water in their wells dropped during the test and so were concerned Kenedy would drill more wells should the test be successful.
"And if my well goes dry, my property is worthless. I'm 61 years old, and I've put my entire life, everything I own into this property," said Tina Shearman, who raises cattle on 165 acres in the small community of Choate.
Shaw said the well wasn't successful, though. It produced neither the quantity nor the quality of water Kenedy needed.
She hopes raising the average resident's water bill by $20 will be enough to pay for exploring whether the northern end of Karnes County has fresh groundwater to pipe back to Kenedy.
"Karnes City just did it, but it's very expensive. We have to obtain right of ways and land," she said.
And NADA has made this task harder, she said.
"No matter how much we tell them that we're done out there, we're all liars. We're just out to get their water. We're hiding something. We're not transparent. That's all I constantly hear," Shaw said.
It's true that NADA members have filed multiple open records requests, but they say that's because they're trying to find out the scope of the problem and possible solutions.
They say they cannot rest easy until they know Kenedy's water problem has been addressed and their water is safe.
"By coming out here, Kenedy has made their water problem our water problem," Hummel said.
The open record requests filled so far have prompted more questions than answers.
For example, Graham asked, why does Kenedy have to provide a nearby prison water when that prison can buy water from the El Oso Water Supply Corporation, whose territory it actually lies in?
And if everything was above board, why would Kenedy claim it should be exempt from disclosing its hydrology study that prompted the test well because doing so would make its water vulnerable to terrorists?
Hummel, Graham and Shearman know where all of Kenedy's wells are. They say they'd probably be the first ones to notice anything amiss at them and call the sheriff's office.
One can also pull them up on a map on the TCEQ's website as well as the Texas Water Development Board's.
"That really started galvanizing opposition, just the secrecy. There's not a better way in Texas that I know of to galvanize opposition to something than to make it secret," Graham said.
Shaw said the city entered into a contract with the prison to provide water decades ago that it cannot break, and the city has followed the open records law "to a T."
She's also now fending off allegations that the city's current wells weren't permitted properly.
NADA claims the wells are not only too close together for the amount of water they are drawing but outside of where Kenedy is allowed to put them, using a type of permit that references their convenience and necessity.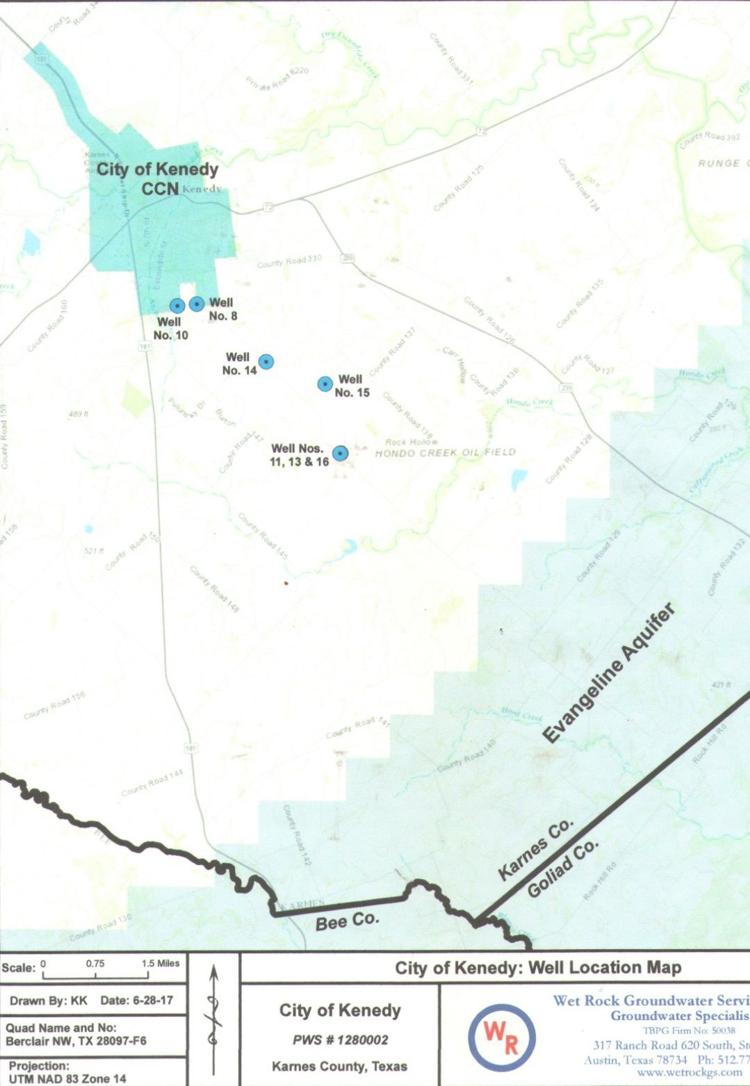 Nevertheless, it's led NADA members to think Kenedy was just being shortsighted and opportunistic when it chose to drill a test well near the county line.
The well would have drawn from the Evangeline Aquifer, which is part of the larger Gulf Coast Aquifer.
Most of the Evangeline Aquifer lies in Goliad County, which is stricter in some ways.
Specifically, the Goliad County Groundwater Conservation District does not allow wells to pump more than half an acre foot of water per 1 acre of land owned or operated annually, while the Evergreen Underground Water Conservation District does not allow wells to pump more than 2 acre feet of water per 1.5 acres of land owned or operated annually.
Heather Sumpter, the general manager of the Goliad County Groundwater Conservation District, said she learned about Kenedy's plans when NADA informed her.
"We had some testing done on the static level of the wells out in that area, and we definitely had some concerns," she said, "but being that it's now not in progress, we're not doing anything further with NADA at this point."
Jennifer Walker, the senior program manager for water at the National Wildlife Federation, said the fight playing out between NADA and the city of Kenedy is one that's likely to become more common as more and more people move to Texas and strain its water supply.
The Texas Water Development Board projects the state's population will increase by more than 70 percent between 2020 and 2070, from 29.5 million to 51 million.
And even in areas where the population isn't growing, fracking or the rate at which an aquifer replenishes can cause water shortages.
The solutions could be treating wastewater and reusing it, capturing rainwater and storing it underground or the desalination of brackish groundwater.
"Some cost less than others, but I think the first thing communities have to absolutely look at is 'Are we being as efficient with our water as we can?' You got to have that all sowed up before you start looking outside your community for water," Walker said.
In the meantime, NADA remains vigilant.
In the coming months, its members could file more open records requests and possibly complaints against the Evergreen Underground Water Conservation District, said Shearman, who serves as the group's secretary.
"Our goal is to protect our groundwater from being exploited," she said. "It's very fragile, and if we don't establish guidelines or have water districts that will follow their own guidelines, we have no protection."
The original version of this story was updated to correct the number of acre feet of water wells in Goliad County may pump per acre of land owned and operated.