GOLIAD – As American flags waved purposefully in the wind, Ronnie Primrose stood quietly at the Goliad County fairgrounds, searching through a list of more than 58,000 names.
Primrose, 70, was standing in front of the American Veterans Traveling Tribute Wall that will reside in Goliad through Veterans Day. When he saw it, he said, he was overcome with emotion.
"I can't stand by it too long or I break down. Standing out here and seeing this wall, it's …" he said before trailing off, speechless.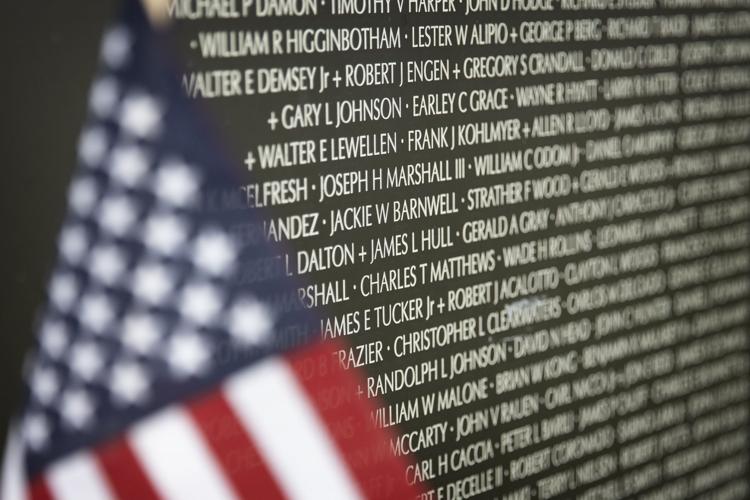 The Vietnam tribute wall is about 80% of the size of the original memorial that was completed in 1982 in Washington, D.C. The traveling wall stands about 8 feet tall and is about 300 feet long, and pays tribute to the more than 58,000 members of the U.S. Armed Forces who fought in the Vietnam War and were killed or missing in action.
It's the first time the traveling tribute wall has come to Goliad, according to Jimmy Schulze, the commander of Ewell-Pompton American Legion Post 193.
"To see this wall," he said Thursday, "it touches you."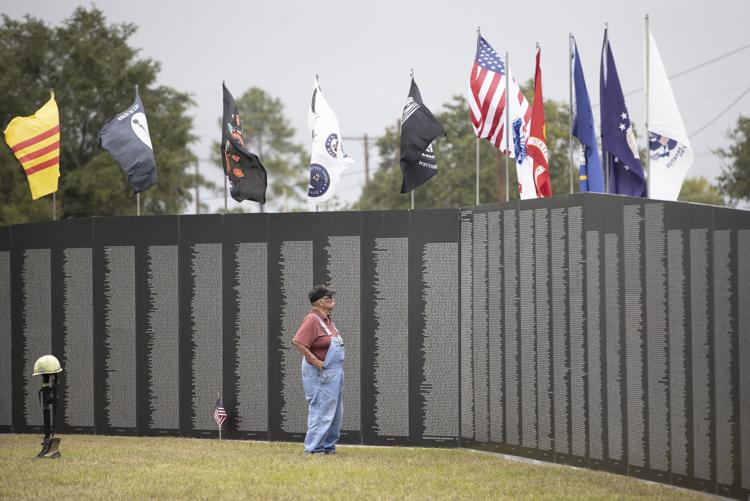 Schulze said the plans to bring the wall to Goliad began about 18 months ago, and thanks to numerous donors – most significantly Weesatche 4 Warriors – it became a possibility to bring the wall into the community.
The wall arrived in Goliad on Wednesday and setting up the wall began Thursday morning, Schulze said. It went up easily, and members of the public began trickling in to see it before noon, he said.
Schulze said he's seen the original wall in Washington, D.C., many times, but when he saw this wall in Goliad, he was "in awe."
Walking alongside the wall Thursday, Primrose appeared in awe, too. He said he has never seen the memorial in Washington, D.C., but the first time he saw it displayed on TV, he had to leave his house because he was so moved.
Primrose said he grew up in East Bernard and has lived in Goliad since 2008. He said he served in the U.S. Army for six years in the 1970s, and "narrowly missed having to go to Vietnam."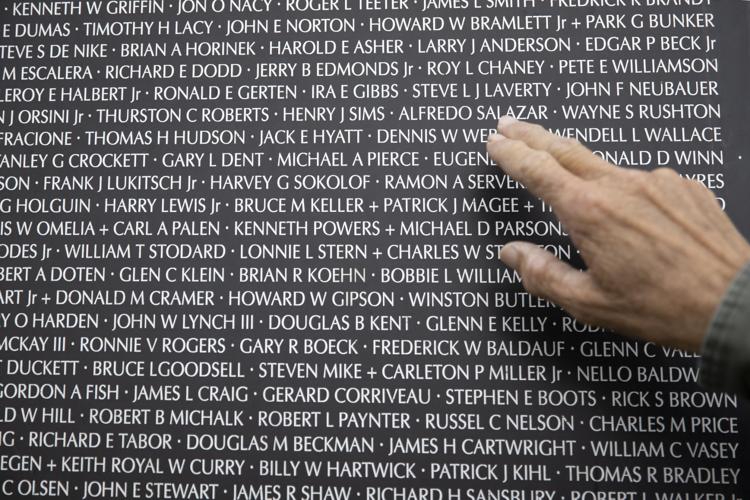 Raymond Kozik and Frank Michulka, who Primrose said he grew up with, both served in the Vietnam War.
Their names are engraved on the wall, something Primrose said is an honor to see.
"If you were old enough to see what the war was really like …" he trailed off. "This is the way we can remember our friends."
Within the first few hours of the wall's opening Thursday afternoon, a group of students from Goliad High School, led by U.S. history teacher Doug Williams, also visited.
As the students walked along the wall, stopping to take it all in, Allison Carbajal searched for one name in particular: the name of her great-grandfather. She found it with the help of Williams and Primrose.
Allison, 14, said finding her great-grandfather's name was meaningful to her, and will be "very special" for her mother.
Primrose, who helped other visitors find names of friends and relatives, too, said he felt it was his duty to help.
"It's a way for me to respect these fellow Americans who served," he said. "Now, they'll be able to carry this on with them, this memory of seeing the names on the wall."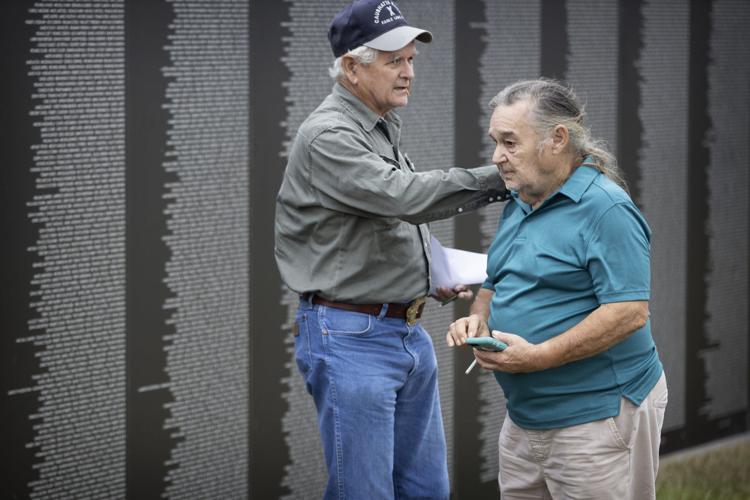 The wall is open 24 hours a day until 9 p.m.
Veterans Day, Schulze said, to allow members of the community to come and see it at any time they feel comfortable.
Two American flags have been placed in front of the panels that list the two Goliad residents who served and died, and another row of American flags have been placed along the entire wall.
Schulze said he hopes those who served can visit the wall to get closure.
He said having the wall in Goliad for Veterans Day is "an honor."
"I hope it touches a lot of people; I know it will," he said. "It's a chance for people to come, pay respects and make their peace."