EDNA — A fire destroyed a Jackson County Hospital District warehouse in Edna Thursday night, burning records and equipment kept inside.
About 9:07 p.m. the Jackson County Emergency Service District 3 Fire Department was dispatched to a fire at the hospital warehouse, 918 S. Wells St. Firefighters had the blaze under control in about an hour, said Fire Chief Kurt Janica, but the scene was not cleared until 9 a.m. Friday.
As of 3 p.m. Friday, there was still a small, controlled flame smoldering in the center of the structure.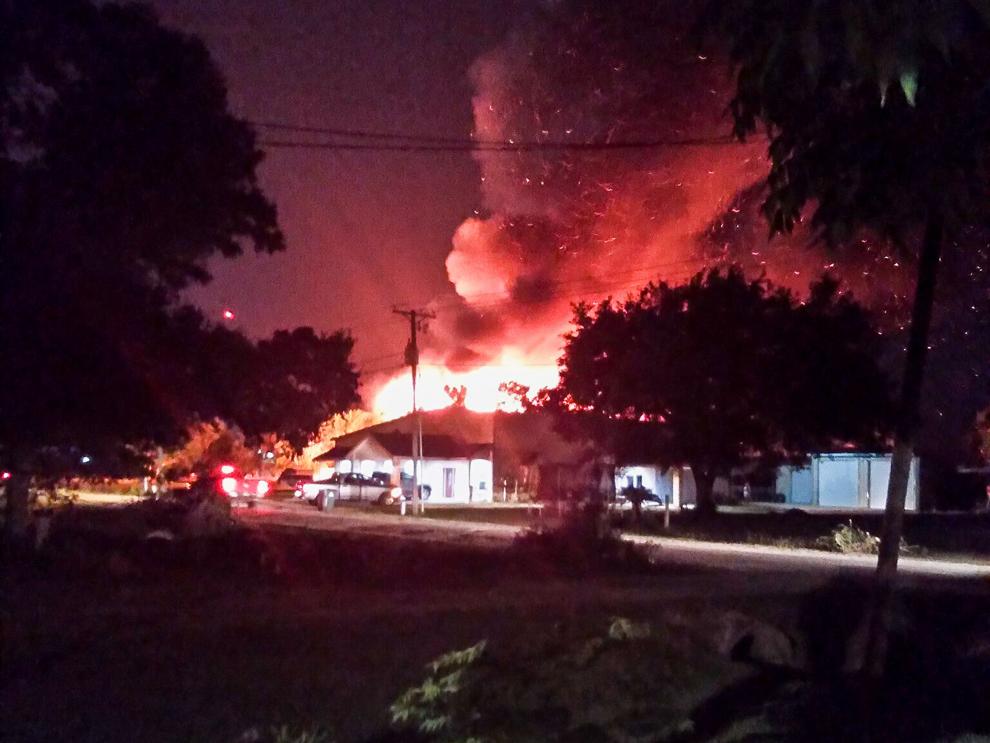 "Initially, the captain of the crew did open a door to attempt to make entry, and immediately went defensive," said Janica. "It was a total loss."
Roughly half a million gallons of water and 25 firefighters were required to combat the flames, according to Janica. Volunteer firefighters, Edna Police Department officers, public works, and hospital maintenance personnel also helped throughout the whole process, he said.
The Jackson County EMS station and Home Health hospital building, which are next door to the warehouse, sustained some heat, smoke and water damage, said Donna Coleman, spokeswoman for the Jackson County Hospital District.
EMTs were able to move their ambulances that were on sight away from the structure before they could be damaged, said James Sudeik, director of the EMS department. Some EMS equipment, including a power stretcher, were stored in the warehouse, said Sudeik, but it was all back up equipment that will not affect the staff's ability to operate normally.
Both EMS and Home Health have relocated across the street to the hospital.
The structure was about 31 years old and has been deemed a total loss for the hospital district. The warehouse stored business and medical records, equipment and supplies. The extent of the damage likely won't be fully known until next week when staff finishes going through inventory to identify what exactly was on the shelves and an insurance adjuster surveys the property, said Mayor Lance Smiga, who is also the chief executive officer of the hospital district.
All the paper documents generated by the hospital that may need to be accessed were kept in the warehouse, said Smiga, including medical, financial and day-to-day business records. Some of the records have been digitized, he said, but how many were permanently lost won't be known until each department finishes going through their inventory.
"Its a terrible situation and a huge unknown," Smiga said.
The State Fire Marshal's Office has been called to help investigate the fire, said Janica, who would not comment on a possible cause.
The structure had some standalone fire alarms, but no sprinklers, as that was not required by code, said Janica.
"We say this a lot, but it could've been a lot worse," said Sudeik. "None of the firemen got hurt doing their job, and we are operating at 100% as far as the EMS department goes. We never skipped a beat there."