Both fish and fishermen should be happy this summer with changes made to Lake Texana.
Now, they envision fish, big and small, are hanging out on the structures to either eat the phytoplankton growing on them or each other.
They built a total of 24 and dropped them at five places in the lake, which covers 10,000 acres.
Chad Kinsfather, the river authority's director of environmental services, said the agency chose to put most of the structures south of SH 111 because when the dam was constructed there, officials had to take out a lot of trees where fish would have naturally congregated.
"This is just trying to help things," he said.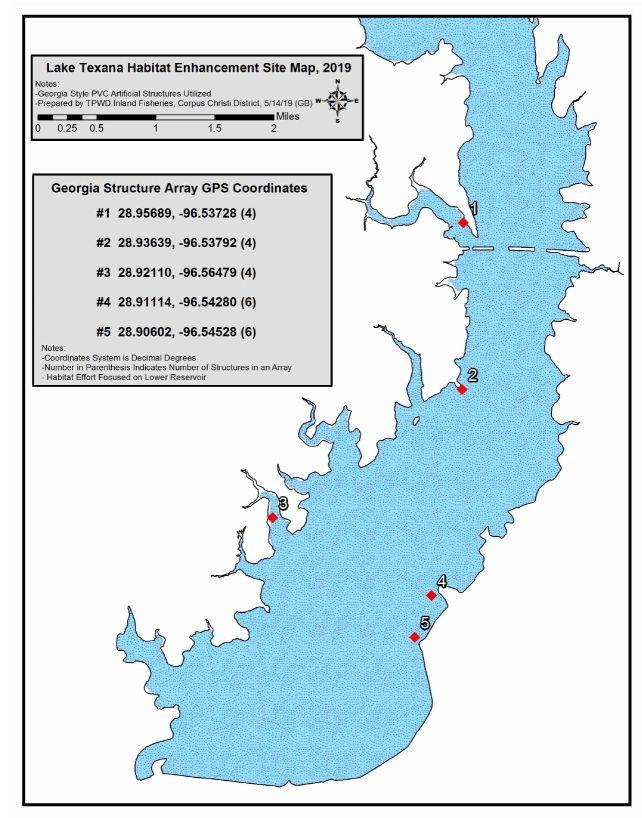 This project cost $5,000.
Sales of largemouth bass conservation license plates covered half of that amount, which the river authority then matched, said Aubry Buzek, a Texas Parks and Wildlife Department spokeswoman.
Lake Texana is a reservoir on the Navidad River that was formed by the construction of Palmetto Bend Dam, begun in 1968 and completed in 1979. It has catfish, bass and crappie. Records show that the Texas Parks and Wildlife Department has also stocked it with rainbow trout, shad fish and carp over the years.