BAY CITY – Wire traps sit submerged beneath the still surface of ponds on Herff Cornelius' Matagorda County property. Workers yank them off stakes holding them in place, hoping to find bright red crawfish waiting inside.
But on a cold, late-January morning, the second day of this year's harvest, the yield is coming up short.
Cornelius, who will spend the next six months checking traps, cleaning crawfish and sending them to local vendors, is among the area's few crawfish farmers.
Crawfish don't grow as big south of Houston, Cornelius said about the limiting factors to crawfish farmers in the area.
Additionally, it's difficult to find help. He employs people from Mexico using temporary agricultural worker visas throughout the season.
But the biggest factor, he said, is the soaring price of water.
Since a drought hit Texas in 2011, crawfish farmers and rice farmers, who use thousands of acre-feet of water to flood their fields, have struggled to make adjustments for increased water prices.
Rising water costs
| District | 2011* | 2016 | 2017 | 2018 | 2019 | 2020 |
| --- | --- | --- | --- | --- | --- | --- |
| Gulf Coast | $25.15 | $39 | $47.08 | $52.69 | $60 | $63 |
| Lakeside | $36.41 | $42 | $50.15 | $53.74 | $60 | $63 |
| Garwood | $37.71 | $44.42 | $41.64 | $38.30 | $38.14 | $38.74 |
| *Rates were calculated differently in 2011. The 2011 numbers in this chart represent blended rates that allow for apples-to-apples comparisons with the more recent rates. | | | | | | |
Paul Sliva, a rice farmer in Matagorda County, has been monitoring the price of water for the past 20 years. He said he's seen the price increase 300%.
"A lot of people have quit," Sliva said about the impact of rising water prices. "There's at least 20 I know that aren't farming rice anymore."
Scott Savage, a fifth-generation rice farmer at Triangle Rice Farms, said the water troubles began in 2011, when the drought led to increased prices.
Water used to account for 15% to 20% of their annual farming budget. Now, he said, it takes up between 30% and 40%.
Savage said farmers in the area are frustrated by competing interests between farmers and people upriver near Austin, who also buy water from the Lower Colorado River Authority, the nonprofit public utility that manages water from the lower Colorado River and Highland Lakes.
Clara Tuma, a spokeswoman for the river authority, explained that water supplies managed by the authority are divided into firm and interruptible water and require a contract with the authority for use. Firm water, like that used for municipal, industrial, recreational and irrigation purposes, is available even during a severe drought. Interruptible water is mostly used for agriculture, and is the authority's biggest water-user.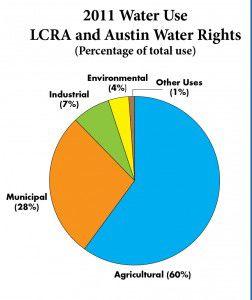 Farmers in three of the river authority's four agricultural irrigation districts, including Gulf Coast, which serves Matagorda County, were unable to buy water from the Highland Lakes for four years between 2012 and 2016.
During that time, Savage said his family switched to row crops for their primary source of income.
But even after the drought, Savage said high prices remain and continue to rise.
In 2011, the price of interruptible water in Matagorda County per-acre-foot was about $25. After water became available again in 2016, that price jumped to $39.
In 2020, the price is $63 per-acre-foot.
"As a farmer, we feel they're passing that on to us and trying to make up for lost revenue," Savage said.
Tuma said firm water customers generally pay higher prices for water than interruptible water customers.
"For comparison purposes, firm customers pay $145 per acre-foot for water, and $74.50 per acre-foot for the remainder of unused water they have under contract," Tuma said in a statement. "There is, therefore, a significant discount in place for interruptible water supply."
However, she said the price of water continues to rise for all river authority customers.
John Hofmann, executive vice president of water for the authority, said in a statement that in 2016, water rates for the Gulf Coast and Lakeside divisions began to include an allocation of river management costs, which include costs of daily operation, flood control, water supply planning, water conservation and environmental water management for the river and Matagorda Bay.
The Lower Colorado River Authority has been adding this fee to the price of interruptible water over an 8-year period. It's currently on year five.
Ronald Gertson, president of the Coastal Bend Groundwater Conservation District in Wharton County, said farmers object to paying this fee because the authority's gate-keeping has been the source of many of their hardships.
"We're paying them to make sure they cut us off when they need to," Gertson said.
Also contributing to the rate increase is the decrease in number of contracted acres with the authority, Hofmann said.
In 2011, the river authority had 52 contracts in the Gulf Coast irrigation district for the first rice crop and 18,316 acre-feet of water were used.
In 2019, the authority had only 18 contracts in the Gulf Coast district for the first rice crop and 6,253 acres were used.
"Since the drought, the amount of contracted acreage has been significantly lower than it was historically," Hofmann said. "Because the irrigation operations are operated on a cost-of-service basis with mostly fixed costs, that has contributed to increased water rates. Simply put, there are fewer units to spread those fixed costs across."
For Cornelius, soaring water prices have been alleviated by a well he has on his property.
He also pumps water from Live Oak Bayou, which borders his property.
Gertson said some farmers, particularly in Wharton County, skirted the rising costs of water from the authority by obtaining permits to drill groundwater wells.
But in Matagorda County, where it's harder to drill a usable well because of saltwater intrusion from the nearby Gulf of Mexico, he said many farmers are forced to rely solely on water from the Lower Colorado River Authority.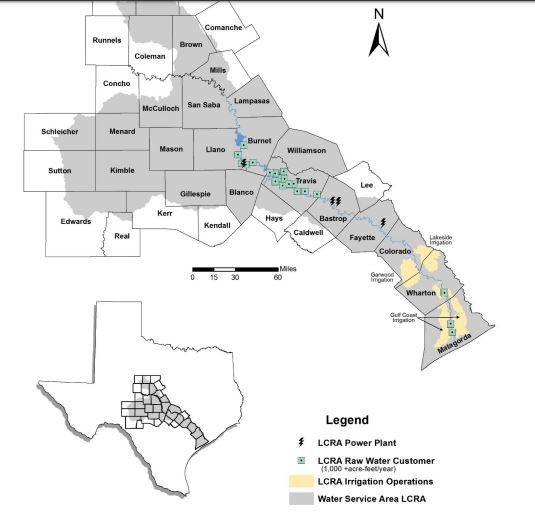 Cornelius said his own water would probably be too salty to grow rice. He stopped growing it in 2010, around the last year he stopped buying water from the river authority.
Although Scott Savage said farmers in Matagorda County could switch to crops other than rice, he worries that if the county's rice farming acreage is lost, the river authority will stop serving its Gulf Coast irrigation district altogether.
The river authority only provides water for irrigation in a district when it has orders from at least 1,000 acres ready to take water.
"If we don't buy enough water, they're going to stop serving Matagorda," Savage said. "The way water prices keep increasing, I fear that might happen."