A prolonged dry period is increasing the risk of fires in Victoria and the surrounding counties, leading some officials to take precautionary measures.
Refugio County officials enacted a burn ban on Tuesday and Victoria County fire marshal Richard Castillo said he plans to recommend one at Monday's Commissioners Court meeting.
"Everything is so dry," Castillo said. "The vegetation is dry, so any type of small spark and the prevailing winds we've been getting, we could get a major fire."
October is typically one of the wettest months in the Crossroads, but Victoria received just 0.49 of an inch of rain last month, more than 4 inches below average, and none so far in November.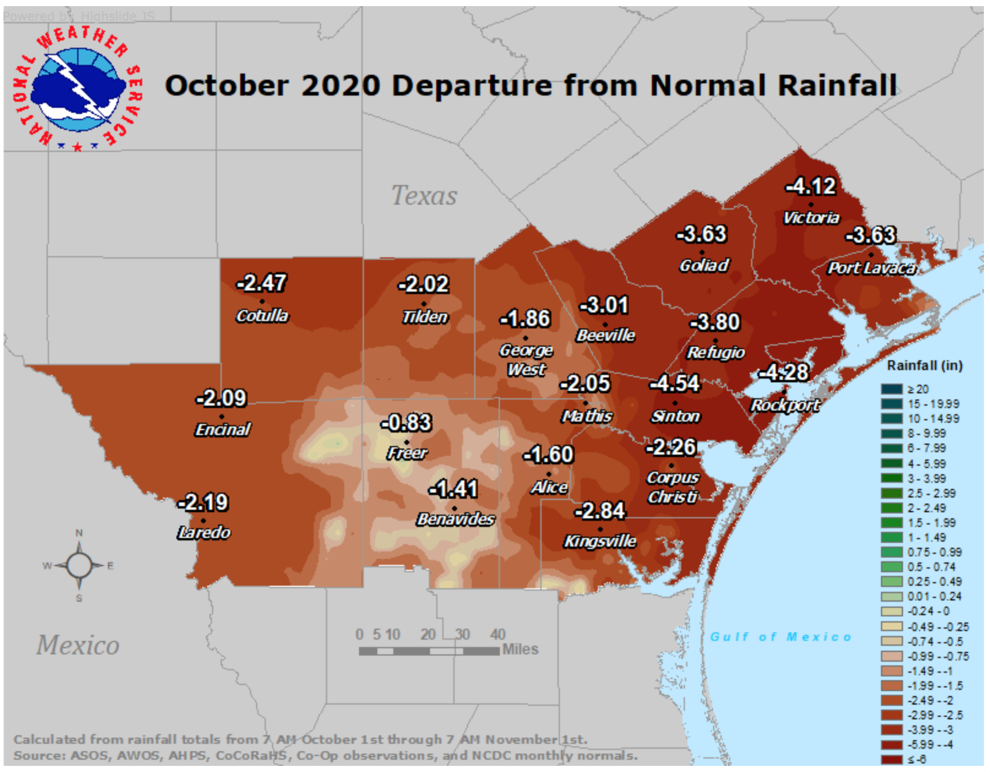 A climate phenomenon called La Niña is partly responsible for the dry spell, according to Penny Harness, a meteorologist with the National Weather Service office in Corpus Christi. Cooling of surface waters in the Pacific creates convection currents that decrease rainfall in South Texas.
There is an 85% chance La Niña will persist through the winter, Harness said. This increases the likelihood that dry conditions will continue into early 2021.
"We (usually) get a wetter period in the fall as we get moisture pooled into the area," Harness said. "This year just hasn't happened that way."
On Wednesday, the Keetch-Byram Drought Index, a scale that is based on the level of precipitation and moisture depletion in the soil, placed Refugio County at 597 out of 800. At an index of 600 and above, "intense, deep-burning fires with extreme intensities can be expected," according to the Texas A&M Forest Service.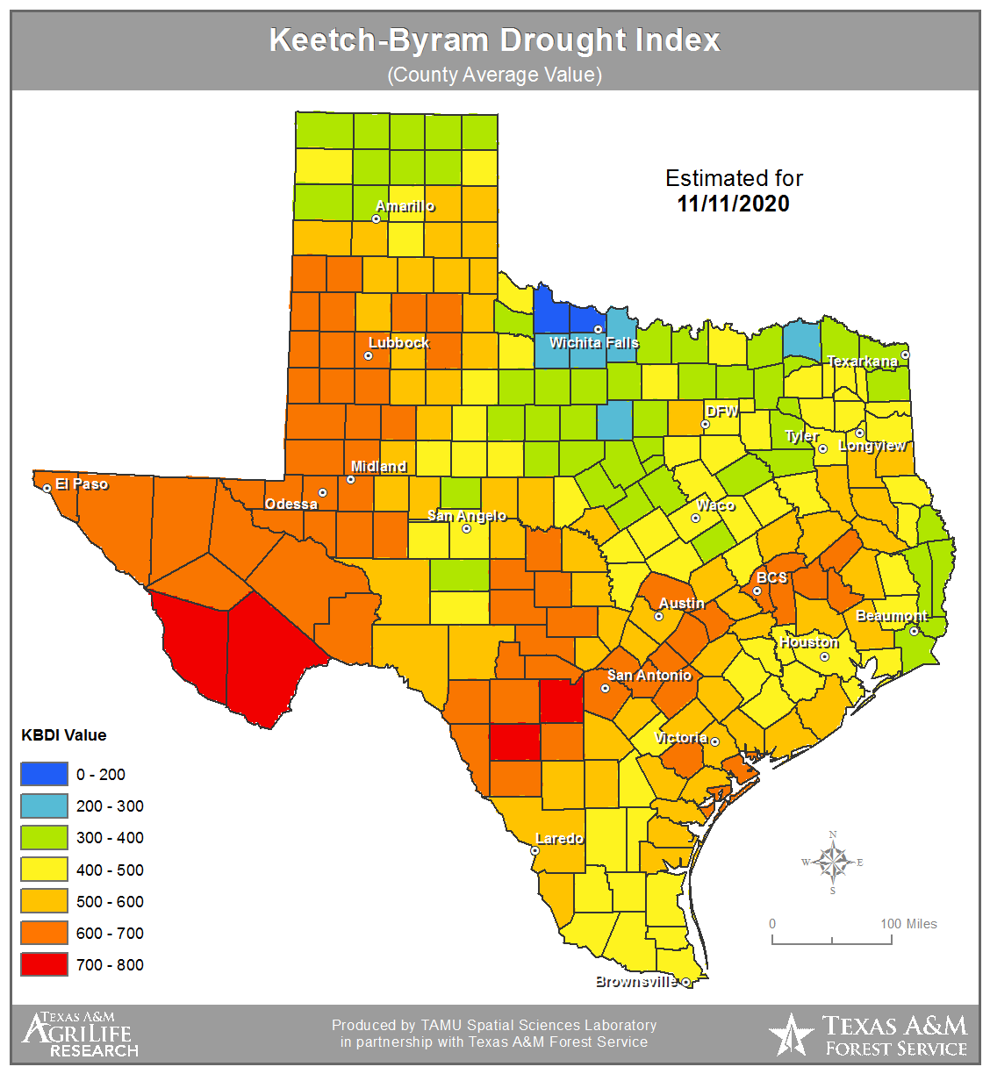 With drought conditions intensifying, Refugio County officials voted to enact a burn ban at the Commissioners Court meeting on Tuesday.
The ban will remain in place for 60 days, said Sheldon Wiginton, the county's emergency management coordinator.
"We are close to being in extreme drought," Wiginton said. "It was just a good time to do it."
County residents who want to burn on their property can ask County Judge Robert Blaschke for an exemption. The phone number for his office is 361-526-4434.
Most other Crossroads counties have similarly high scores on the index. Victoria County is at 592 as of Wednesday.
Fortunately, the Victoria County Fire Department has only responded to a few brush fires in recent weeks, Castillo said. These fires resulted from mechanical failures related to hay baling equipment or cotton combines.
Castillo said he is most concerned about fires resulting from people burning trash out in the open.
"Every one we're worried about," Castillo said, "but those can get around the urban area. Those are closer to homes, which pose a bigger danger to people in the area."
Even during a burn ban, farmers and ranchers may still conduct prescribed burns to clear dry vegetation from their property, so residents should not be alarmed if they see smoke in pastures out in the county, said Roel Esparza, Victoria's regional fire coordinator with Texas A&M Forest Service
Esparza expects other counties to enact burn bans because of the persistent drought conditions in recent weeks.
Farmers and ranchers should exercise caution when burning brush and clearing their pastures by monitoring burns closely and putting fire breaks in place, Esparza said.
Those who don't work in agriculture can still take common-sense precautions like avoiding leaving fires unattended and making sure chains on towing equipment aren't dragging along the roadway, he said.
"It looks like it's going to be a dry and warmer winter season," Esparza said.