A grass fire that burned more than 1,500 acres in Refugio County on Monday was completely contained by Tuesday afternoon.
Heather Gonzales, a spokeswoman for Texas A&M Forest Service, said strike crews returned to the blaze Tuesday morning to finish the containment, which was 60% complete by Monday night.
About 3:45 p.m. Tuesday, the crews had completely contained the fire and left the scene, which is north of Refugio between U.S. 77 and U.S. 183. The wildfire, which was named the Greta Fire, grew from about 800 acres Monday morning to a total of 1,568 acres, Gonzales said. No injuries or damage to structures were reported.
Investigators have not yet identified the fire's exact point of origin but are confident that the fire was caused by a lightning strike when storms rolled through the region Sunday, Gonzales said.
Tall grass and heavy brush in the area fueled the flames and made accessing the area for containment difficult, Gonzales said Monday. Hot weather combined with a decrease in humidity, and the wind picking up also caused the fire to spread.
Multiple agencies, including the Refugio County Sheriff's Office, the Victoria Fire Department, the Victoria Fire Marshal's Office, the Victoria Office of Emergency Management and the Forest Service, worked to control the burn Monday.
The Texas A&M Forest Service, which arrived about 7:15 p.m. Sunday, were the only responders to return to the scene Tuesday, Gonzales said. Two dozer strike teams and support personnel were on the scene. An air attack provided a survey of the fire to look for hot spots; however, no water or retardants were dropped Tuesday, she said.
The Forest Service is temporarily staging a dozer strike team composed of two bulldozers in Victoria as a precautionary measure for faster response time, Gonzales said. On a regular day, the nearest team is stationed in Smithsville – about 100 miles north of Victoria.
"Whenever the weather conditions and condition of the vegetation calls for it, we will stage resources closer," she said. "And there has been a lot of wildfire activity in the area lately, so it is just a precautionary measure in case another wildfire does happen."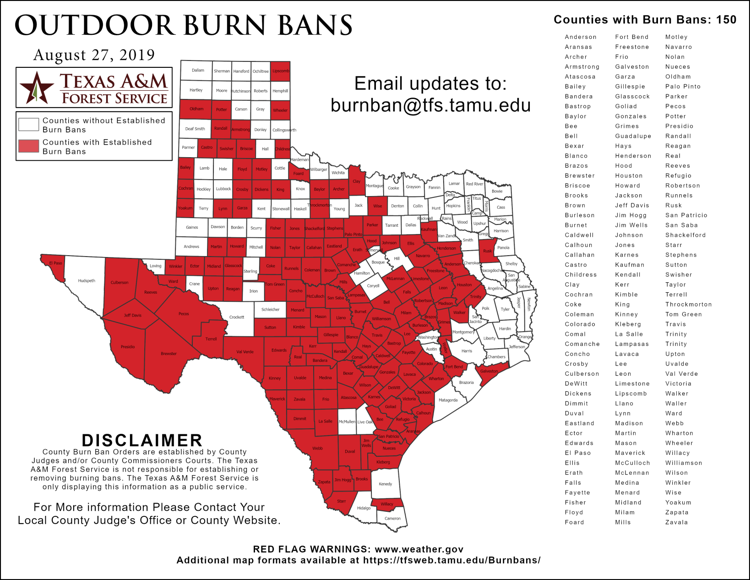 A dozer strike team was already stationed in Beeville, but an additional two engines will also be stationed in the nearby county, Gonzales said.
Burn bans remain in effect for 150 counties across the state, including Calhoun, DeWitt, Goliad, Jackson, Lavaca, Refugio and Victoria.
Gonzales urged residents to take precautions because of conditions favorable to fire in the region.
"We ask for people just to be careful right now and take precautions in any outdoor activities that could cause a spark," she said. "You know, idling on dry grass, welding, grinding – anything that could cause a spark can potentially cause a wildfire right now."