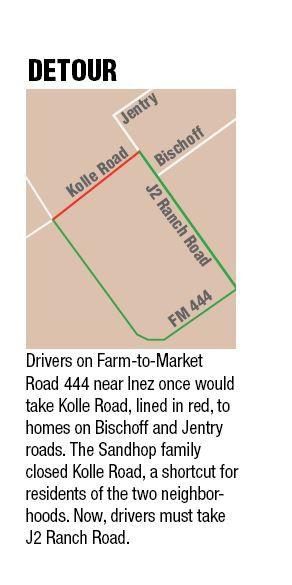 Some drivers accustomed to taking a shortcut to their houses near Inez had to switch into reverse Thursday.
That's because the Sandhop family closed Kolle Road, a small but increasingly important traffic artery in the community, by parking a trailer and a Suburban at either end.
Kolle Road can connect drivers on Farm-to-Market Road 444 at Benbow Road to homes on Jentry and Bischoff roads in less time than it takes to continue on until they hit J2 Ranch Road and turn left.
The only problem is Kolle Road has long been private, and the Sandhops are fed up with drivers dumping trash, speeding, hitting their livestock and vandalizing their property.
Victoria County Commissioner Clint Ives, who is sympathetic to the Sandhops' complaints, said Friday he has asked the county's attorney whether the fact the property owners opened Kolle Road to the public for so long makes the road public now.
Ives said he's also told the Sandhops that if they give the county Kolle Road, he will put up more permanent fences on either side to protect their livestock. He said the county can't afford to buy Kolle Road outright.
"My dad was open to it after talking with Ives," said Darryl Sandhop, whose father owns part of the property off Kolle Road, "but the other property owner wasn't open to it, and so that's kind of how it was left."
Darryl Sandhop said he didn't think the closure would be permanent, though.
Because he saw an uptick in traffic, Ives had planned to make Kolle Road, which is only a mile long, one of 12 miles Precinct 4 workers paved this year. It was estimated to cost between $50,000 and $75,000.
In the meantime, Precinct 4 workers are putting up reflective barriers on Kolle Road that were knocked over during a storm Thursday night to warn drivers about the closure.
"I talked with the sheriff's office and the fire marshal, and because first responders would be coming from Inez off U.S. 59, they really don't view (the closure) as a public safety issue," Ives said.
Ives posted about the closure on his Facebook page because he wanted to make it clear that the county wasn't behind the closure.
On the post, Darryl Sandhop explained his family's decision to close Kolle Road, and some posted criticism while others posted praise.
"Way more people travel Kolle than they did three to four years ago," wrote Heather Grantham, who lives in the 1400 block of J2 Ranch Road, according to records. "It's horrible. I'm the only one with a house actually right off Kolle, so I'm perfectly fine with it being shut down. My house has gotten a lot quieter and safer in the past 24 hours."
She wrote that she was concerned paving Kolle Road would encourage speeding. She said people are already speeding on J2 Ranch Road.