Amanda Page Thompson and her three sons left an Inez restaurant like they had many times before when their whole world changed.
After pulling out of the parking lot in Inez, Thompson crossed the railroad tracks in her truck without seeing or hearing a train approaching. She and her sons collided with the moving train, suffering injuries that could have resulted in fatalities. Thompson was told her youngest son would not be able to walk or talk because of injuries from the train-to-truck collision.
From 2010 through 2019, residents in nine counties across the Crossroads were 1.5 times more likely to be in a train collision than the rest of the state, according to Federal Railroad Administration records.
Thompson and her sons are part of those statistics.
After she and her three sons recovered, Thompson's life changed forever — professionally and personally, but also for the better in some ways, she said. She is glad she and her sons were not added to the region's train-related deaths.
According to Federal Railroad Administration records, from 2010 to 2019, the Crossroads experienced 107 train-related incidents, which includes collisions, and 10 fatalities. Both per-capita incidents and per-capita fatalities were higher than the state and national averages.
This Crossroads includes Calhoun, DeWitt, Goliad, Jackson, Lavaca, Matagorda, Refugio, Victoria and Wharton counties. Of those, Refugio County had the highest incidents and fatalities per capita during that decade with seven incidents and one fatality among a population of 6,948, according to 2019 estimates by the U.S. Census Bureau.
More incidents occurred in higher-populated counties such as Wharton, Matagorda and Victoria counties with 16, 18 and 45 incidents, respectively.
Victoria County ranked fourth in the Crossroads for incidents with 45 incidents and three fatalities, making the county fourth in the Crossroads in fatalities among a population of 92,084 — more than 13 times the population size of Refugio County.
In Inez, which is just inside Victoria County limits, Thompson and her sons didn't drive more than a block on a sunny day in August 2018 before experiencing the force of a moving train.
By the skin of their teeth
Thompson, of Vanderbilt, doesn't like to drive over train tracks.
In fact, she said she takes notice when driving over them more than anybody.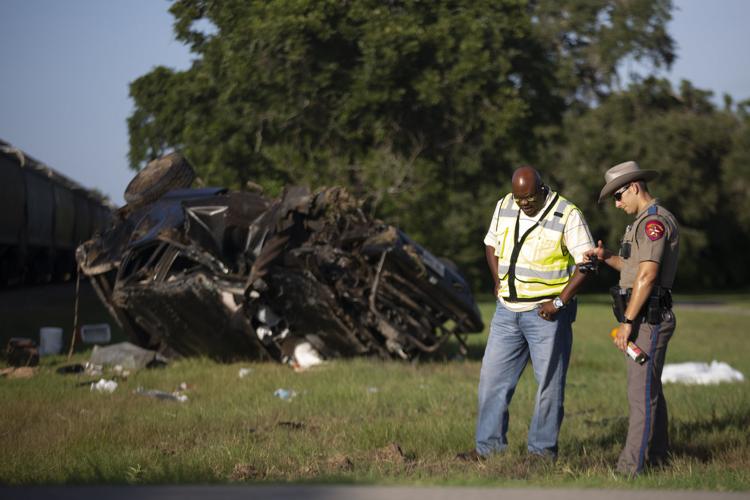 Thompson had driven over the tracks at the intersection of Kolle and Railroad streets many times whether it was while leaving work at The Bomb Diggity Bar and Restaurant late at night or driving around town in Inez.
During the day on Aug. 15, 2018, she stopped by The Bomb Diggity, where she worked as a bartender, to pick up a paycheck and feed her three sons.
After they ate and pulled out of the parking lot onto Kolle Street in the family truck, they crossed over Railroad Street and then went up to the railroad crossing.
The next thing she remembers is waking up in a hospital in San Antonio.
She had driven the truck past the crossbucks, or warning signs, at a crossing that did not have a protective arm and into a moving train. The train hit the truck's front bumper, changing Thompson and her family's lives forever.
The impact threw the truck off the tracks. The steering wheel was forced into the front seat and Thompson's lap. A tire was flung more than a block away. The truck flipped.
They spent 77 days in University Hospital in San Antonio after Thompson and one son were flown by helicopter from the collision in Inez. They dealt with brain injuries, a broken arm, cuts and even a tooth lodged through one son's tongue. Multiple brain surgeries also were needed for the youngest son after their initial time in the hospital.
"I don't even know how I have legs," Thompson said of her injuries.
Because of an allergy to iodine that was unknown to the hospital staff, doctors had to revive Thompson at the hospital.
Medical professionals told the mother that her youngest son, who was 9 years old at the time, would not walk or talk again. Two years later, he is doing both.
All four have recovered with some minor scars are still visible.
"There's nothing in the world that (would make) me try to beat a train with (my sons)," Thompson said. "I just didn't see it, didn't hear it."
She said one son removed his seat belt to help another with his seat belt when the collision occurred. Thompson said it might have been the sun's angle that caused her to drive onto the tracks.
"I'll take blame for them," Thompson said of driving without everyone being buckled in. "I don't know if it was a noise factor ... I think it was just kind of everything."
A new life and saving a life
Since the collision, Thompson has remarried and added three step-daughters and a husband, Eli Thompson, to her family. She stopped bartending and recently began a new career as a correctional officer with the Texas Department of Criminal Justice in Cuero. The family also put a down payment on a new home that they recently moved into.
The youngest son, who was flown by helicopter from the scene, is also back in school.
"I have no complaints," her husband Eli said. "Everything happens for a reason."
For other drivers who might come across railroad tracks, Thompson said to just be careful, don't take anything for granted and don't live your life in fear.
Education efforts exist to prevent collisions like Thompson's.
This is an ongoing endeavor for Texas Operation Lifesaver in Texas, the state with the most miles of train track at 10,539 miles, according to the Texas Department of Transportation.
Texas Operation Lifesaver is a nonprofit funded by short-line and major rail operators, such as Union Pacific, Kansas City Southern and BNSF Railway. Texas Operation Lifesaver aims to educate the public about railroad safety.
Trains don't run on a schedule, and a train can hang over the tracks by about 3 to 4 feet.
These two facts are what Executive Director of Texas Operation Lifesaver Jessica Devorsky said are key for pedestrians and drivers to stay safe.
Additionally, she said many people don't know that tracks are private property.
Because of this, about 95% of rail-related fatalities in Texas are considered trespassing whether they involve train-to-vehicle or train-to-pedestrian collisions.
According to the Federal Railroad Administration, there has been an 83% decline in collisions in Texas since 1972 — almost 50 years since Texas Operation Lifesaver began — yet trespassing incidents have increased in recent years across Texas.
Educating the public is no small task and has even included placing a vehicle that had wrecked in a train collision to show residents of Shiner and other cities what can happen with a train collision. Union Pacific also shares other educational information through its Operation Lifesaver chapters.
"Trains do not run on a schedule," Devorsky said. "You might think you live in a place where you know what to expect when it comes to train traffic, but really we don't know what's going on, on the rails."
Growing accustomed to when a train would pass, despite its inconsistent schedule, is a mistake Thompson said she made.
"I was so used to crossing that railroad track at 2 a.m., 1 a.m., 4 a.m. every night," Thompson said. "And I guess I got complacent with it not being there."
Incidents in the Crossroads
During the past decade, many counties in the Crossroads experienced higher per-capita incidents than the state and nation.
Refugio, Jackson and Matagorda counties ranked first, second and third in per-capita incidents among Crossroads counties, despite not having the largest populations.
This was followed by Victoria, Wharton, Lavaca, Calhoun, DeWitt and Goliad counties. Goliad County has fewer than 10 miles of train tracks and experienced no incidents or fatalities related to a train collision during the decade.
Crossings with only crossbucks have no physical barrier between drivers or pedestrians and the tracks, like one on SH 185 near SH 35, That crossing had one death and two hospitalizations.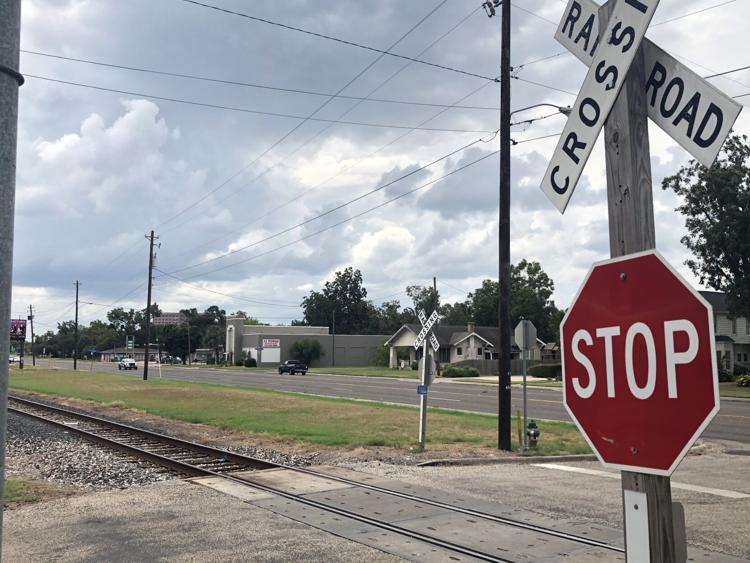 In the city of Victoria, there are crossings without gates, some near major highways like a crossing near the intersection of North Main and West Brazos streets in central Victoria.
Gonzales County experienced 26 incidents and four fatalities among a population of 20,837, making it about 4.5 times more than Texas' average for train-related incidents.
In Texas, 8,031 incidents and 588 fatalities occurred with a train among a population of about 29 million as of 2019.
Rail travel's safety measures are imperative for counties that have per-capita incidents many times higher than the state or national averages.
Crossbucks are a type of sign near a rail crossing with two white strips at the top of the post that read "RAILROAD CROSSING." This is one safety measure similar to flashing lights, reflective strips or crossing arms.
Devorsky said crossings with crossbucks aren't necessarily more or less dangerous than other crossings.
Victoria personal injury attorney Mike Crane said a driver's negligence at a crossing with only crossbucks, like the one in Inez, is unsafe.
He has tried train-related personal injury cases in the past in and around the Crossroads. He doesn't take them on now because, often times, drivers do not follow safety signs or they try to go around crossing arms.
"When you're running around the arm and don't see the train, you ought to be looking for it," he said.
Crane also said the amount of train traffic and train lines in the region also makes more incidents occur.
"In this area, it's called Crossroads for a reason," Crane said. "Everything pulls in here and goes someplace else on the train."
Regarding the speed of a moving train, Crane and Thompson both agree.
You won't beat it, they said.
"Even on a short train, if he can stop in 200 yards, that still does you no good," Crane said. "And people are not as cautious about crossings."
Train incident data 2010-2019
| County (ranked from highest to lowest by incidents per 1,000 people) | 2019 Population Estimate | Incidents | Deaths | Incidents per 1,000 people | Deaths per 1,000 people |
| --- | --- | --- | --- | --- | --- |
| Refugio | 6,948 | 7 | 1 | 1.005 | 0.144 |
| Jackson | 14,760 | 13 | 1 | 0.881 | 0.068 |
| Matagorda | 36,643 | 18 | 1 | 0.491 | 0.027 |
| Victoria | 92,084 | 45 | 3 | 0.489 | 0.033 |
| Wharton | 41,556 | 16 | 4 | 0.385 | 0.096 |
| Lavaca | 20,154 | 3 | 0 | 0.149 | N/A |
| Calhoun | 21,290 | 3 | 0 | 0.141 | N/A |
| DeWitt | 20,160 | 2 | 0 | 0.099 | N/A |
| Goliad | 7,658 | 0 | 0 | N/A | N/A |
| Crossroads total | 261,253 | 107 | 10 | 0.41 | 0.038 |
| Texas total | 28,995,881 | 8,031 | 588 | 0.277 | 0.020 |
| U.S. total | 328,239,523 | 114,772 | 7,532 | 0.35 | 0.023 |