Crossroads jails have no plans to release all their inmates, but many are guarding against the new coronavirus.
As the virus continues to spread throughout most of the Crossroads, sheriff's offices are working to prevent the disease from entering their jails, which house hundreds, including many with weakened immune systems.
To prevent inmates from catching the new coronavirus and its resulting disease, COVID-19, sheriff and court officials have increased personal recognizance bonds, isolated inmates, improved screening and increased cleaning among other decisions.
Throughout Texas, jail visitation has been canceled to protect inmates from the virus.
So far, no Victoria County inmates have been found to be infected with the new coronavirus, and no tests have been required, said Capt. Charles Williamson, jail administrator.
"The jail is basically a big incubator if you don't (disinfect regularly)," said Victoria County Chief Deputy Roy Boyd in March.
Screening for the virus begins when arrested people enter the Victoria County Sheriff's Office's basement sally port.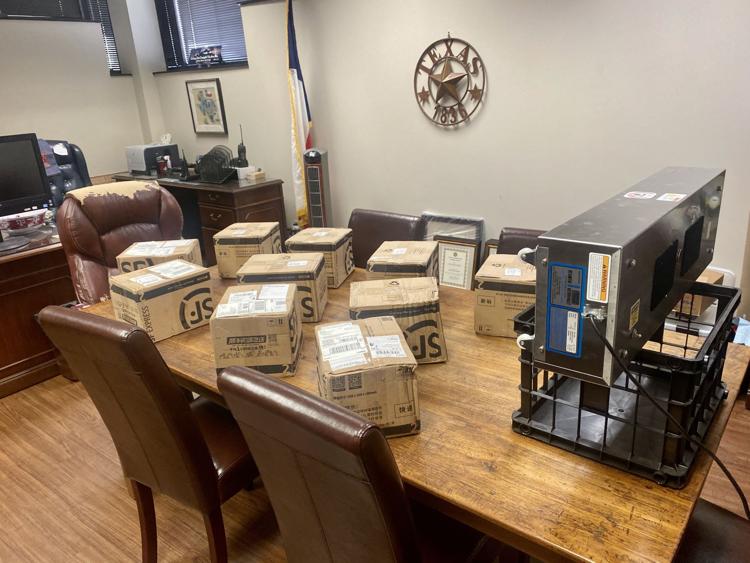 Inside the sally port, gloved and masked deputies take the arrested person's temperature, said Capt. Charles Williamson, jail administrator.
Deputies also provide a mask for the arrested person to wear in the patrol vehicle that takes them to jail.
Tuesday, an order of about 1,000 N95 masks arrived at the jail and were being decontaminated by an ultraviolet light on a desk inside the sheriff's office.
Those masks will protect the jail's about 200-member staff.
If an inmate has a fever, they are taken to a hospital to be medically cleared for booking.
Anyone showing COVID-19 symptoms but no fever is admitted into the jail but isolated in a single-person cell and monitored up to 14 days.
"Throughout this entire process, officers are going to wear their masks and gloves," Williamson said. "Inmates will have their masks on as they are being moved."
Inmates, he said, have been cooperative with the new safety measures.
With jail capacity at about half, Williamson said staff can house inmates in cells with at least 6 feet in between to meet social distancing requirements.
Crossroads jails, including Victoria County's, have also increased cleaning and disinfection.
In DeWitt County, jail officials have doubled the frequency of cell cleanings and ordered all out-of-jail work crews to clean inside the facility, said Sheriff Carl Bowen.
They also conducted deep cleanings of all jail areas and its kitchen, Bowen said.
"It smells like a hospital," Bowen said about the jail.
While Crossroads sheriffs said they have no plans to disobey an order from Gov. Greg Abbott that prohibits the release of violent criminals, some nonviolent offenders have been given personal recognizance bonds so they can avoid the jail while awaiting trial.
Trials and many court proceedings are on hold in Texas through May 8.
Additionally, the Texas Attorney General's Office has ordered the release of many people jailed for failing to pay child support, said Nora Kucera, Victoria County Pretrial Services coordinator.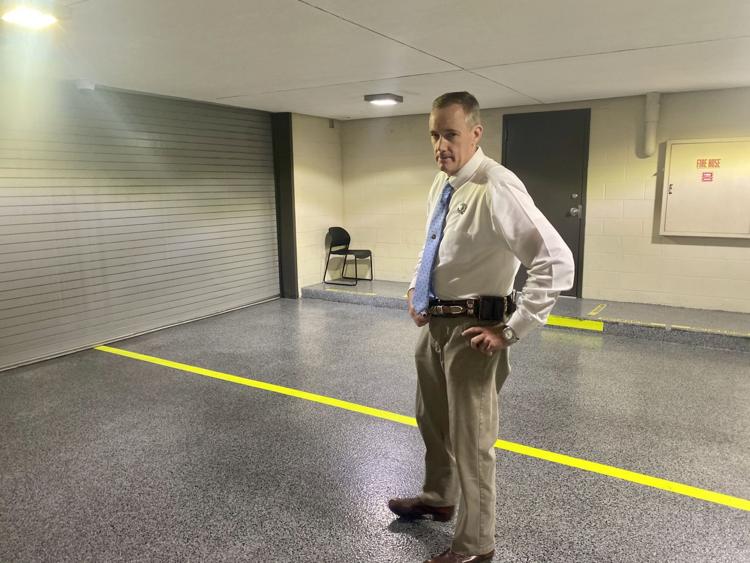 Authorities are also limiting their jail intakes by holding off on the arrests of outstanding warrants in part because of a temporary shutdown of most court proceedings in Texas, she said.
A court order on April 3 stopped Harris County officials from releasing 1,000 inmates after County Judge Lina Hidalgo described the jail as a "ticking time bomb."
A governor's order also has prevented the release of any inmate with a violent criminal record, prompting a lawsuit from Harris County judges, defense attorneys and the American Civil Liberties Union.
Crossroads sheriffs said they had no plans for a similar release.
Victoria County's chief deputy, who is acting as sheriff, said his understanding of the Texas Constitution means such an order would have to be handed down from a judge.
Although Calhoun County Judge Richard Meyer said his county's criminal judges are issuing personal recognizance bonds for offenders who are not violent, there are no plans to release everyone.
Calhoun County Sheriff Bobby Vickery agreed those with violent histories should remain in jail.
"I would not put our community in danger," Vickery said.