The Crossroads is expected to feel deep economic pains from the pandemic. How deep is the multimillion-dollar question.
Crossroads leaders are bracing for further economic impact as the novel coronavirus takes hold in the U.S. At Workforce Solutions of the Golden Crescent, executive director Henry Guajardo said the number of people filing for unemployment has been increasing since fear of COVID-19 began over a week ago.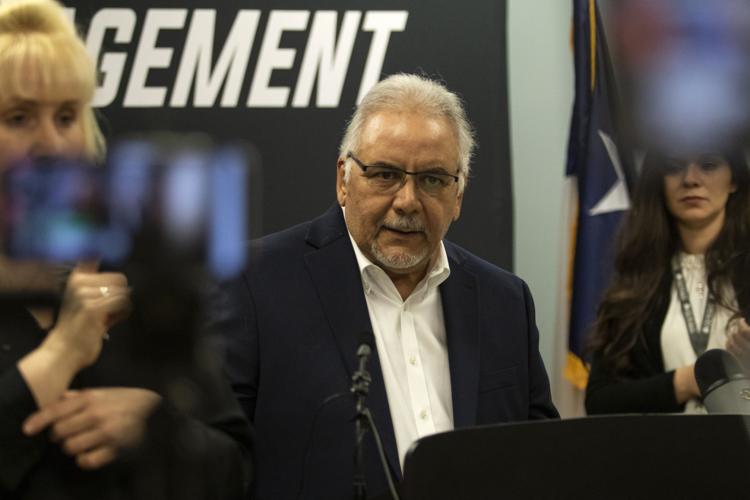 "They are, and it's growing," he said during a news conference Friday. "We have seen a significant increase in individuals applying for unemployment, and I believe it's going to increase. We've had these types of experiences before, but not quite like this."
He suspects that this is only the beginning.
"There's going to be a business slowdown and jobs are going to be affected," Guajardo said. "We're accommodating the people who come in, but we have a limit on the number of people coming into the office."
He said he doesn't yet have a count of where these layoffs are occurring, but he suspects them to be a result of restaurant and retail store closures.
"Just like everyone else, we know restaurants and retail are slowing down," Guajardo said.
Guajardo said it wasn't possible to compare the influx of people coming because of layoffs related to the virus to past events because "everything is unique."
"It's just we have never experienced anything like this before," he said. "We are helping where we can."
In the coming weeks, Guajardo said he expects to see people from across many local industries as a domino effect of collapsing businesses.
Dennis Patillo, owner of the The PumpHouse Riverside Restaurant and Bar, said the restaurant is having to make major adjustments in how it operates.
"We went from Sunday with a record number of people to enjoy the river and brunch to a shut-down with the exception of take-out and delivery three days later," Patillo said. "That's almost unheard of in any industry."
Gov. Greg Abbott signed an executive order Thursday, which limited restaurants and bars to take-out and to-go orders only starting Saturday.
Patillo said he had to furlough employees to account for the lack of in-house dining and social distancing recommendations.
The hit to restaurants extends beyond the owners, to the many employees not scheduled to work feeling the financial pains.
"We're exploring possibilities to mitigate the financial loss to people," he said. "The service industry across the nation has really been devastated."
To avoid putting staff at risk, shifts are staggered to limit contact and people in the kitchen are spaced at least 6 feet from one another.
"I'm less concerned about the business than I am concerned about people." Patillo said.
Patillo and his staff are going through the restaurant's inventory and donating most of its perishable foods.
"The supplies of food we have in stock is greater than the demand will be as we adjust to this new normal," he said.
The PumpHouse will continue to serve Victoria residents through takeout and its new delivery service. Patillo said he hopes it will be enough and residents find the value in those options.
"This is going to evolve as people are trying to understand how to best limit the spread of this," he said. "We're just going to keep on keeping on and roll with whatever comes our way."
Other businesses outside of the food-service industry also began to feel the pains of COVID-19.
Roland Rodriguez, owner of RCR Homes, said the construction industry has already started to slow down. He expects job sites to close, and layoffs to occur in the next week or two.
"As far as labor-wise, we're still moving forward," Rodriguez said. "But I'm getting tons of emails from vendors and suppliers. They're telling us, 'Hey there's a possibility things may slow down a bit.' "
Although Rodriguez isn't slowing down, he said suppliers, as part of the retail industry, are struggling, which in turn could affect his own business.
In the meantime, Rodriguez said his business is taking precautions to keep workers safe.
The many petrochemical plants south of Victoria are being mostly quiet about their workforce plans.
Brenda Wilson, senior director of communications and human resources for Inteplast Group's Lolita operation, said the plant has operated with new guidelines for the past week, which requires social distancing in the workplace.
Breaks and meal times are scattered to maintain the recommended 6 feet distance to avoid COVID-19 spread, Wilson said. There are no plans to close the plastic fabrication plant or halt production.
"Like every business, we are assessing it hour by hour, if not minute by minute," she said. "This is a very dynamic situation."
At Formosa Plastics, the region's biggest employer has not experienced any significant impacts to its ability to manufacture and distribute its products, according to a news release from the company.
"Our supply chain is intact, including strong relationships with our primary suppliers," according to the news release.
The news release did no address how the manufacturing plant is addressing employees scheduling, except to say the company has begun comprehensive "procedures to reduce the spread of the illness at our sites including enhanced guidelines for hygiene, social distancing, work scheduling and travel restrictions."
Attempts to reach Invista and Dow Chemical Company in Seadrift were unsuccessful. Questions for Caterpillar were sent to its corporate office.
Guajardo said more than 500 local jobs are currently listed on the Work In Texas website, but he isn't sure those listings are still current.
He worries that employers stopped hiring when fear of the coronavirus hit, and his staff is working to confirm those listings.
For those looking for work, Guajardo said he encourages people to call 1-800-939-6631 rather than come into the local Workforce Solutions office for an appointment. Even those trying to help people find jobs are practicing social distancing.