Before the new coronavirus pandemic, Lupe Cantu's family visited her every day.
And on Saturday, despite a lockdown at her nursing home, three generations of Cantu's family again visited the 88-year-old matriarch and Victoria native, talking to her through a closed bedroom window.
"We love you, grandma," said Cantu's granddaughter, Trina Hernandez, 50, kneeling in the wet soil outside the window. "We love you so much."
"I wish we could come in, but this is the best we can do," said a tearful Terri Balboa, Cantu's 68-year-old daughter.
Kaitlyn Hernandez, Cantu's 8-year-old great granddaughter, accompanied the women on the visit.
She described her great-grandmother as her "best friend."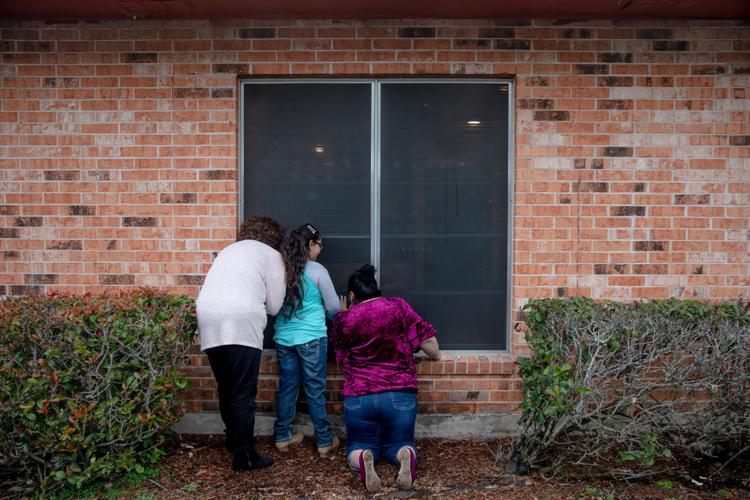 "They have such a bond. It's unreal," Hernandez said of her daughter, Kaitlyn, and Cantu.
Separated by glass, Cantu waved from her bed, smiled and blew a kiss to her family outside.
The four generations of women have always been "very close," Balboa said.
When Cantu's nursing home, Courtyard Rehabilitation and Healthcare Center in Victoria, began lockdown procedures more than a week ago on the recommendation of the Centers for Disease Control and Prevention, they found themselves desperate to visit the woman, whom they worry will physically deteriorate without contact with her family.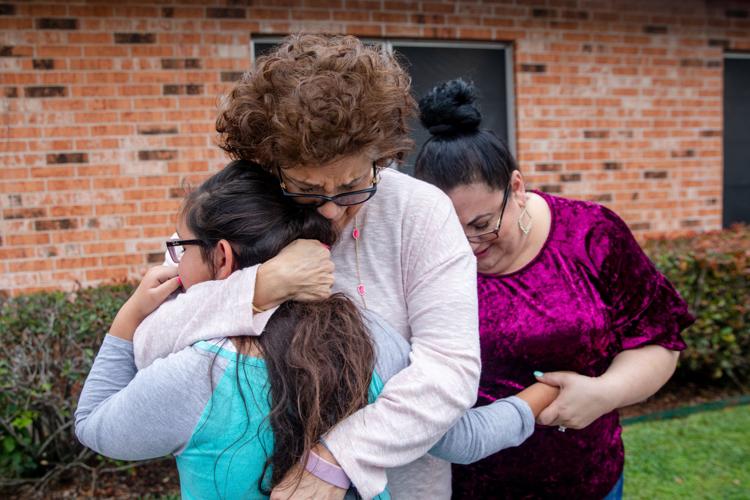 Cantu, her family said, suffers from acute arthritis and occasional short-term dementia.
"She asks every day, can you come in?" Hernandez said.
CDC recommendations advise all nursing homes to stop in-person visitation with residents to prevent the spread of the potentially deadly new coronavirus, which has proven especially dangerous for the elderly.
Balboa said she was devastated by the change in visitation, but the family understands the reason for it.
They said they were deeply disappointed Saturday when a nursing home staff member closed the blinds at the window during their visit.
A company representative said the nursing home allows visits through a shut window, but staff closed the blinds because they were unsure whether Cantu and her family had consented to being photographed by the Advocate. They had.
Before the virus, Kaitlyn, Hernandez and Balboa made daily visits to the aging matriarch to give the woman the physical contact they say she thrives on.
That contact, whether it be holding hands or face-to-face conversations, they said, are important parts of keeping her spirit up.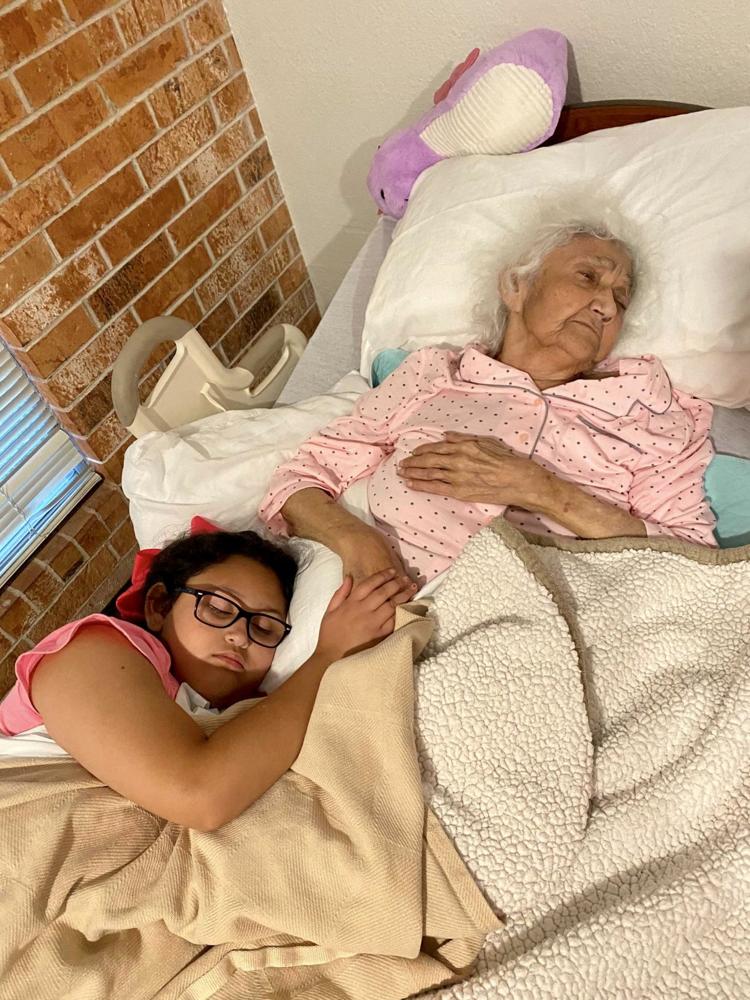 "We are her life," Hernandez said, adding, "A day didn't go by without me being over here."
Often, Kaitlyn sat on her great-grandmother's lap, had her nails painted by the older woman, and they snuggled in her bed for naps.
"She told me I bring her joy," Kaitlyn said.
"She wants to be touched," Hernandez added.
Despite the new lockdown restrictions, which require them to sometimes shout so Cantu can hear them outside, the woman's family have continued those visits, often stopping by twice a day.
"There's days that I will come, and she is asleep," Hernandez said. "I will just look at her through the window and know that she is OK."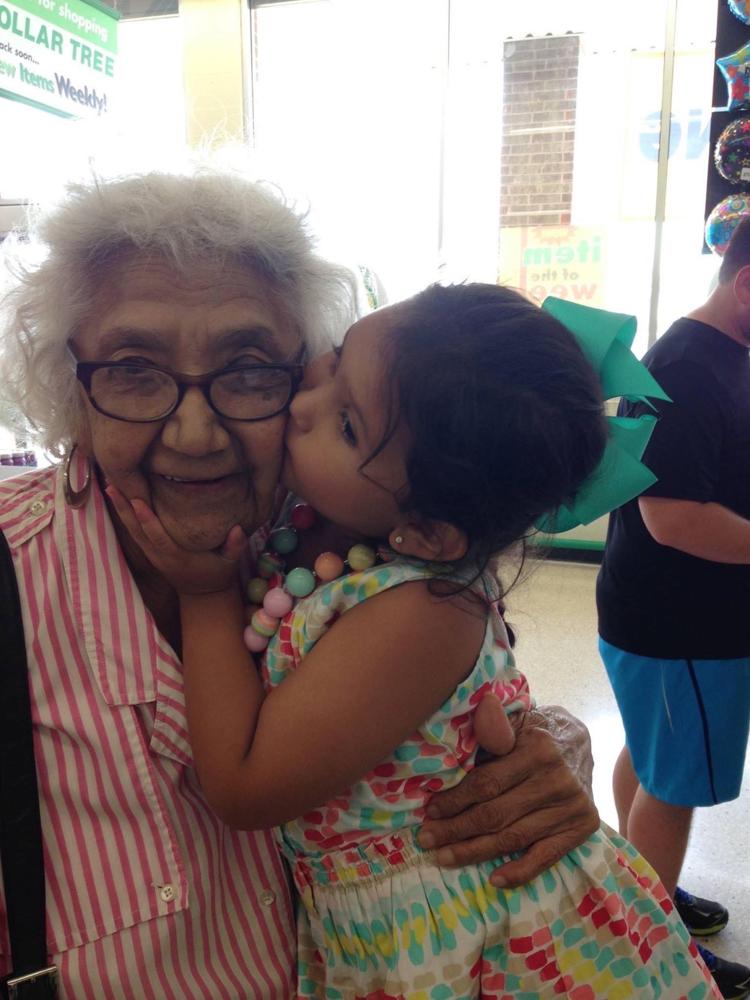 After all, for decades, Cantu has always there for them with not only an abundance of homemade food but also her compassion, her family said.
Hernandez and Balboa recalled how when they had brought their problems, sometimes even difficult relationship woes, to Cantu.
"She has been our rock," Balboa said.
Cantu, who raised eight children, was always willing to listen and offer sage advice.
"She is full of wisdom, and she doesn't lie to you," Hernandez said. "She is blunt."
For those reasons, Cantu's family said they had to visit the woman – even if a window separates them.
"At the end of the day, all you have is family," Hernandez said.