As Texas reopens, the people of the Crossroads are trying to find their bearings in their new normal.
The past three months have been a blur for many.
Community members are increasingly able to go out to eat, return to the office, exercise at the gym, get a haircut, a pedicure and have a beer at their neighborhood bar.
But Texas' unemployment rate has soared to a record 12.8%, and COVID-19 cases continue to mount.
Some residents have experienced more drastic changes to their lives than others, but no one has gone untouched by the global public health crisis.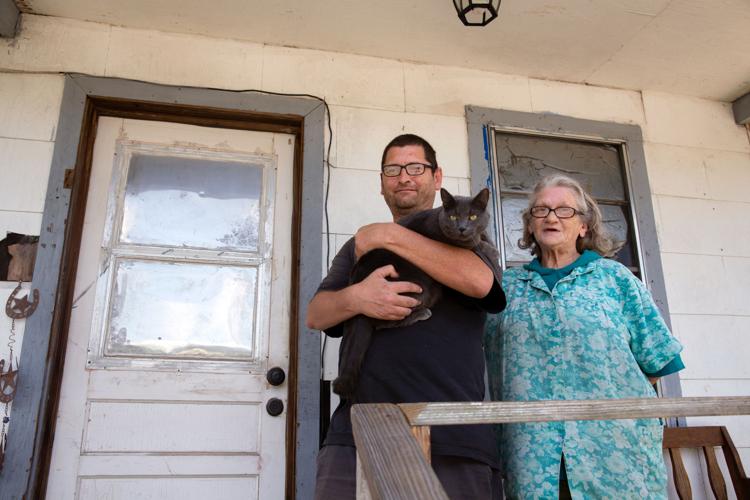 Virginia Greene, 68, and son Joe, 49
Virginia Greene took a long drag from her cigarette one afternoon last week and tried to ignore the chickens and roasters' bantering across the street from her home in South Victoria.
Inside, her son, Joe, played a video game. He had lost his job a few days before at the Formosa Plastics plant in Point Comfort, where he worked security for a contractor, he said.
"I haven't really looked into unemployment benefits yet," he said. "I do have VA benefits, but then again they aren't much. I'm not really sure what I'll do."
Aside from the job loss, Greene and her son said life looks a lot like it did pre-pandemic. They wear masks and gloves for protection when they go to get groceries, but otherwise stay home.
"You never know how antisocial you are until there is a quarantine, and your life doesn't change much," Greene's son said.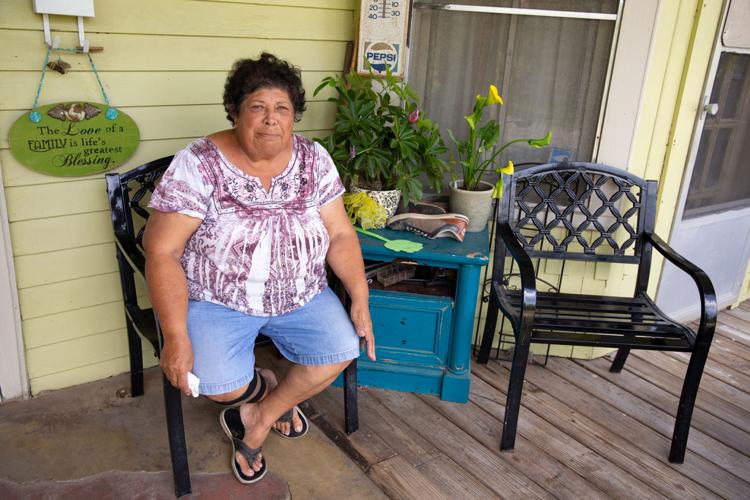 Villareal sat on the front porch of her daughter's home last week in the sizzling mid-afternoon heat. Lively music carried from the neighbor's house next door, where residents were busy making home improvements.
"Life feels a little bit different because we can't do what we used to," Villareal said. "You can't really go to the mall or this and that. You just have to stay home, stay safe.
"It has been difficult, but what else can we do? We can't blame God."
From the porch, Villareal can see her brother's home next door and her house across the street, where she has lived for more than 20 years.
"We just go to H-E-B and come back and stay around here," said the 72-year-old, retired Victoria native. "I visit with my daughter, come back home and take a nap, then wake up and go back over there. That is all we do – back and forth, back and forth."
Villareal tried going to Walmart once in the past few weeks, but went home because there were too many people.
She has no plans to go to the mall or anywhere, aside from H-E-B, for the rest of the year, she said.
"We're still not out of it … We're still getting cases around here, not just here but around the world, and people are still dying," she said. "It won't be over until the fat lady sings, and it will be a long, long time before she sings."
McKinney was one of thousands who lost jobs in the oil field as the COVID-19 pandemic wreaked financial havoc on the oil and gas industry.
"I've never filed for unemployment, and I still haven't filed. Luckily, we've saved our money pretty well, but things start to run out," he said. "How soon is the oil field going to come back? That is the scary part."
McKinney went from working for several days in the field and being home only a few to staying at his house in Victoria every day with his 10- and 16-year-old daughters.
"Learning the routine has been the hardest for me. It is trying to figure out getting them up on time, making their breakfast, doing things that I am not used to doing," he said. "The toughest thing, too, is having to see my kids home everyday and not getting to go anywhere."
McKinney said his new normal has had its perks. In between his daughters' school work, there are volleyball games and water balloon fights. His family also spent weekends remodeling their kitchen and repainting their house while under stay-at-home orders.
More family time has shown him what he has missed out on while traveling for work, he said.
"It isn't that I've neglected my kids, but I've had to work for them to go to private school and provide them with the things they want and need," he said. "I think it is really going to be tough … To actually have to walk out that door and go back to working an eight-, 10-, 12-, 16- or 20-hour day like I am used to.
"When that day comes, I am just going to have a piece of me that is missing."
West has spent every day of the past few months wondering how she is going to pay not only her personal bills, but also increasing tabs for Joe's Pizza and Pasta, a restaurant she runs with her husband.
"I'm trying to pay as many people as I can a couple hundred dollars to hold it off," she said. "This can't go on forever, and I understand that, but at the same time you can't squeeze blood out of a turnip."
Her sense of normalcy has been turned upside down since March, taking a toll on her physical and mental health, she said.
Anxiety keeps her up until the morning hours on most nights, and she has gained weight since grocery stores became the epicenter of panic shopping, she said.
"I had lost about 25 pounds and was really proud because I found Keto and still have some to go," she said. "But now, I've gained all that back."
The 49-year-old reopened the dining room at her restaurant on May 1 at 25% capacity and expanded to 50% capacity Friday.
"There have been a few brave souls, but honestly we don't even need 50% capacity because nobody is coming in," she said.
West's restaurant received a few grants and loans, but the assistance and slowly increasing profits "don't even scratch the surface" of what she owes, she said.
She feels as if her business is falling through the cracks with everyone watching and no one actively caring.
"The mental stress of all of this is what is going to be the asteroid effect," West said.
Life is a lot better for Bennett than it was in April, when she had to quarantine while waiting for her COVID-19 test results.
"It was like just one day ran into the other," she said. "I was not working and not going outside ... I would peak out when nobody was around, but there was just no sense of time."
Bennett works in housekeeping for the DeTar Healthcare System, where she disinfects rooms as part of the cleaning staff. In early April she started feeling ill and was advised to get tested for the coronavirus because of her work setting.
Her test came back negative, but until then she couldn't work or do much at all.
"It kind of just threw everything out of whack," she said. "I have bipolar disorder and have been on medication and good, so I never expected that, but it caused problems after the fact that I didn't realize would happen."
Bennett returned to work after she got her test results. The first week of May, she said, was the first time she felt normal in awhile.
"Sometimes I get anxiety where I feel like I can't go anywhere, but honestly that week was when I felt like I had all my normal back in terms of my schedule," she said. "Everything feels right, at least for now."
Still, visiting grocery stores and public settings makes for uncomfortable experiences, she said.
"People are very hyper-sensitive and hyper-aware of anybody that has any abnormal behavior," she said. "It is kind of sad that everybody is just scared. It is like everybody is looking to find it (the coronavirus) in other people."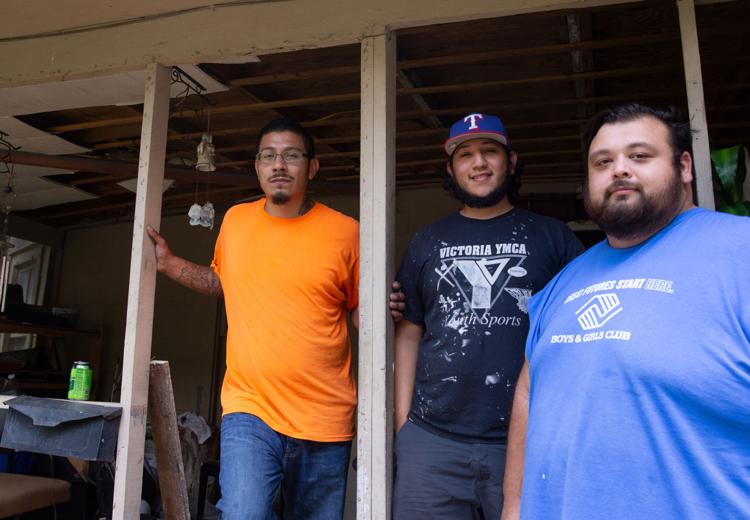 Isaiah Gonzales, 31; Abraham Salinas, 26; Michael Briones, 31
Briones and Salinas returned home to Victoria after they lost their jobs in Dallas, where they worked on apartment complex construction sites and commuted back to Victoria every other week.
"We got shut down right when it (the pandemic) very first started," Salinas said. "I don't know when they'll open back up. We're just waiting on the phone call."
Since then, the brothers have been completing home improvements with Salinas' brother-in-law and working on their cars to pass time.
"Every day is more of a struggle than it used to be," Briones said. "It has been a headache. I really don't do too much as far as going places unless I have extra money, but being inside all day sucks."
Even though businesses have reopened, Briones said, he still does not feel comfortable going anywhere but the grocery store, which he avoids at all costs.
"I just would rather be safe than sorry," he said. "It could pop up anywhere. ... Realistically, I don't even know when it'll be over. The virus might not ever go away."
Gonzales, Salinas' brother-in-law, is the sports director for the Boys and Girls Club in Victoria. With the club closed until the late summer, he also lost his job and had to file for unemployment, he said.
"Things have been slow, and I've been bored," Gonzales said. "It has given me time to take care of the stuff I've been meaning to take care of, but of course the club is not open so the kids who actually need it are not able to go.
"That is the only thing that I kind of worry about."
Three weeks into the local stay-at-home orders, Arlene Perez had to get out of her house.
"I went and took a walk at Riverside Park with my husband, my son and my dog after being at home for three solid weeks," she said. "It was a Wednesday, and I hadn't slept maybe two nights in a row. I think I was having cabin fever and was like, 'If I have to look at these four walls any longer....'"
Perez and her husband both teach at Victoria East High School, where their son is enrolled. After schools closed, home became their campus.
"Everything has drastically changed," Perez said. "I'm sitting at a desk all day long."
The 51-year-old Victoria woman put up a sheet behind her desk so her husband and son could walk back and forth without being seen during conference calls, she said. There is also an elliptical machine back there that the family bought after Planet Fitness closed under Gov. Greg Abbott's orders.
"Even when they reopen, we're not going because I am immunocompromised and so is our son," Perez said.
Perez's husband gets the groceries. Sometimes they use delivery apps instead of going out.
"We didn't do a lot of that before. We would just go," she said. "There is not a lot of going now."
The hardest part of the COVID-19 pandemic, Perez said, is not being able to see her five older children and grandchildren as much as she used to.
"I have seen them since the city said we couldn't get in trouble, but even now it is much shorter and I am having to wear a mask because their parents work and are essential employees, so we have to be careful about how much we expose ourselves," she said. "I don't do well with masks because I am claustrophobic, but I am learning."
Laura Arnold and her mother, Annie Tupa Lesak, smile for a photograph on Lesak's 102nd birthday in early March, before nursing homes closed to…
Arnold and her sisters are praying for the day they can hug their 102-year-old mother again.
Their mom, Annie Tupa Lesak, is a resident of the Ganado Nursing and Rehabilitation Center.
As at all nursing homes in Texas, visitations at the center in Ganado have been shut down until further notice.
"I don't sleep at night because I'm worrying about her, and wondering, 'Am I ever going to get to see her again?'" she said. "I'm hoping it won't be too long. Even one more day feels too long."
Arnold's mom has been living with vascular dementia for more than 10 years. Although she seems to understand why her children and grandchildren cannot visit when they call, Arnold said, she doubts her mom has fully made sense of the public health crisis.
"I'm not sure if she understands what is going on. She does when you're talking about it, but that is it," Arnold said. "Let's say, for instance, I went and visited her yesterday. She would never be able to say, 'Well, Laura came to see me yesterday.' That is the kind of dementia she has."
Arnold lives in Mount Belvieu, a small town about 10 miles from Baytown. Before the pandemic started, she would go to Ganado for a few days at a time and see her mom. She would take her to lunch at Dairy Queen or just on a long drive around town, she said.
Some of Arnold's siblings have driven by the nursing home to see their mom, but she said she is not sure she can bear to make the long drive by herself only to arrive and not be able to touch her mother.
"It is difficult because I want to see her, but I just don't think I can," she said. "l'll be so glad when we open back up and we take her out. I can't wait to take her to the beach or something – anything."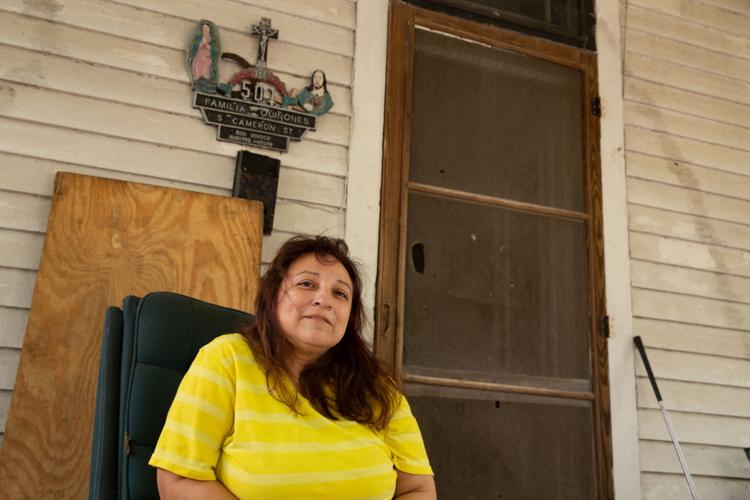 Quinonez is among the millions of Americans who lost their jobs in the past few months.
She moved back into the house she grew up in on South Cameron Street after being let go from two restaurants, where she worked as a server.
"I was staying close by with an elderly lady to keep her company and then things got tight for her, too," she said. "Since I've been back home it has gotten worse, and I've gotten depressed."
Quinonez struggles to get up in the mornings because of the difficulty of not being able to find a new job and make money to pay bills, she said.
"It is hard when you're used to getting up early, going to work, working one job part time and the other one in the evening, and getting paychecks every two weeks," she said.
Keeping the bill collectors from calling has been the most difficult part, Quinonez said.
"I'm bombarded, and it is stressful that I don't have any money to go pay," she said.
The 49-year-old Victoria woman has been killing time by repainting and fixing up her bedroom.
Without a car and with the social distancing guidelines in place, she said, she has felt trapped inside herself.
"It feels like prison," Quinonez said. "If you go anywhere, you're told where you have to go or where you have to be and it feels like no one wants to be around you.
"You can't communicate or really express how you feel or even say, 'Hey, hello,' and hug someone you haven't seen.''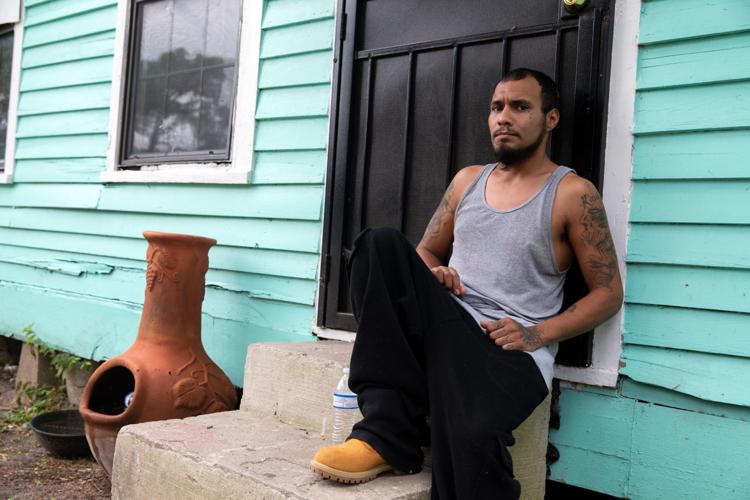 Flores relaxed on the front steps of his home last week and watched the slow, almost nonexistent movement in his neighborhood in South Victoria.
"It was unexpected," he said about the pandemic, which he at first thought was a hoax.
"I thought it was just a big joke," he said. "But then they started laying everybody off."
Flores is among those who were laid off in the service industry during the past few months.
"Lately, every day has been like a rainy day, stuck inside," he said.
The 26-year-old Victoria man has been trying to entertain himself by working on a group of art projects, focused on lowriders and automotives, he said.
"Art plays a big role in my life. I do pencil drawings, pens and poster boards. It is affordable," Flores said. "Now it is like trying to find the resources that are close by because you've got like a stampede out there, everybody rushing to buy things."
Even though businesses are reopening, he said, he won't be venturing out to them anytime soon.
"I'm not really trying to find anywhere to go," Flores said. "I'm pretty sure people are still trying to get things going and to go out.
"Those people are really brave, I guess."