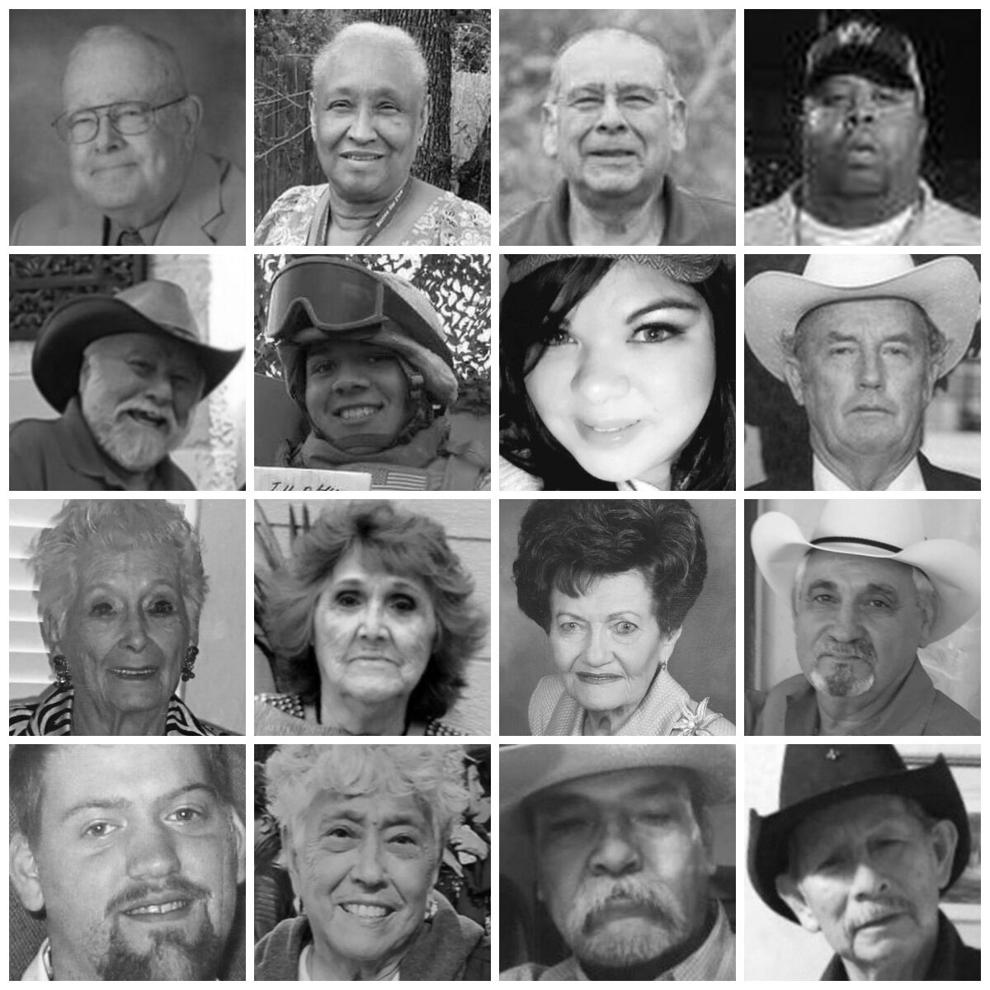 2020 is a year marked by immense loss. In less than 12 months, the number of Americans taken by COVID-19 surpassed the combined total of U.S. soldiers killed in combat during World War I, the Korean War, Vietnam War and the wars in Afghanistan and Iraq. The COVID-19 death toll was 330,000 people and counting in the U.S. as of Saturday, including 407 of our own family, friends, colleagues and neighbors.
Four hundred and seven people. As if a town greater than the size of Nordheim, population 308, was wiped away.
While families throughout the region prepared to spend their first holiday season with empty seats at the table, we asked them to tell us about the loved ones they lost.
We heard about a beloved grandfather who died days before his new great-granddaughter was born. We heard about sisters who spoke each evening on the phone. We heard about a daughter who sat next to her parents in church every Sunday. We heard about a nephew who followed his uncle into the military. We heard about hilarious, talented, loving and complicated people — prayer warriors, great cooks and heroic veterans.
We learned that a few words can never truly do a person's life justice. We were reminded that each person is more than just a number.
---
From left, Clarence "Bubba" Atzenhoffer, 88, of Victoria, longtime yardmaster at DuPont, devout Catholic and Korean War veteran who led the Victoria chapter of the Korean War Veterans Association. | Ora Fillmore DeLosSantos, 71, of Austin, nurse at a hospital for teenagers and young adults with behavioral and development diagnoses. They lovingly called her "Mrs. D."| John Briones, 67, of Victoria, worked for the U.S. Postal Service and Meals on Wheels. He loved to take his grandkids on adventures. "We would always let them choose," his wife said. | Billy "JoJo" Barnes, 46, of Victoria, dedicated dad to his 9-year-old son. He loved taking his son to and from school and sports practices, and watching football with him. | Daniel "Dan" Mozisek, 81, of Victoria, veteran and longtime auctioneer for the Victoria Livestock Show and several benefits. | Jose Mario "Rozzay" Lozoya , 36, of Victoria, served two tours in Iraq. He enlisted in the U.S. Marines to follow in the footsteps of his uncle. | Roxana Rae Rosalez, 40, of Victoria, smart, forgiving and beloved daughter who drove home every weekend to see her parents. "She was my best friend," her mom said. | Bohumir Pustejovsky, 92, of Hallettsville, loved his cattle, polka and waltzes. "He could out dance anyone." | Elsie Bailey, 94, of Point Comfort and Port Lavaca, avid artist and crafter. She created props and sets for plays at Point Comfort Elementary and would make papier-mache sandcrabs for pep rallies at Calhoun High School, where all six of her children graduated. | Antonia Longoria, 79, of Victoria, grandmother to 19, great-grandmother to 29, and great-great-grandmother to four. Anyone was welcome for dinner at her home, her son said. Her specialty was arroz con pollo. | Ella Bucek, 89, of Victoria, never met a stranger. People were drawn to her because she "just had a sparkle" about her, her daughter-in-law said. | David "BB" Garcia, 69, of Goliad, veteran and rancher. "He instilled empathy for everybody in all of us," his daughter said. | Ryan Michael Sims, 35, of Victoria, played poker, rescued animals and never stopped rooting for the Houston Astros. | Elida O. Robles, 81, of Victoria, played guitar and sang in her church's choir. She loved fishing, basketball and the Dallas Cowboys. | Roberto Garcia, 73, of Victoria, hilarious and generous former truck mechanic. "He was the best grandfather," his granddaughter said. "When I would struggle and not have money for diapers or formula, there he would be with his cane, diapers and formula." | Gilbert Luna, 76, of Victoria, longtime custodian at Victoria College who enjoyed a warm fire and cold Miller Lite. "We never had a dad in our life. He was the one that stepped up," his granddaughter said.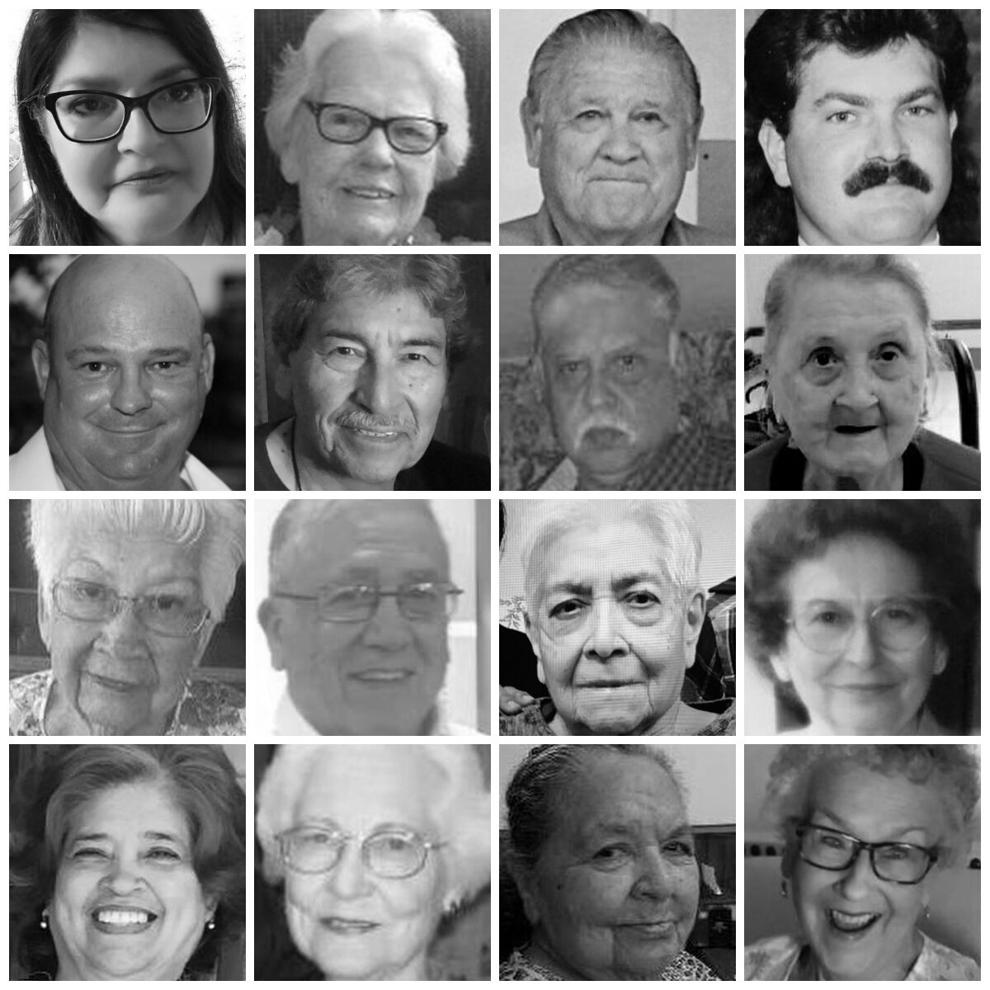 From left, Martha Bernal, 64, of Victoria, former cheerleader at Victoria High School. She met her husband, a football player, while they both were in high school, and married him shortly after her graduation. | Melvera Fossati, 96, of Victoria, loved games of any kind, but her favorite was Texas Hold'em. She drank her coffee black and always asked for it to be just a few degrees hotter. | Clifton Jacob, 83, of Yorktown, loved people and retired to a life of volunteer work. He was among the first to get a tetanus shot during the flood of '98 so he could help people. | William Johnson, 57, of Yorktown, worked as a truck driver delivering oil field supplies. He adored his four children, Seth, Dillan, Russell and Christopher. | James N. Vickers Jr., 60, of Nursery, owner of Vickers Auto Services. "I was incapacitated two years ago and had to learn to walk and eat again. He never left my side," his wife said. | John Robles, 75, of Victoria, met his wife on Valentine's Day at the Sun Valley Ranch dance hall. They were married 38 years. "We would dance all the time," his wife said. | Domingo Barron Sr., 66, of Westhoff, family man who deeply loved his wife of 45 years, Gloria, and their two sons, Domingo Jr. and Eddie. | Luisa Vallejo, 98, of Victoria, strong and steady woman known for memorable quinceañera, prom and wedding dresses she sewed from scratch. | Katie Martinez, 86, of Victoria, devout prayer warrior and incredible cook. Her fried chicken, dressing, carne guisada, homemade tortillas and iced tea were unmatched. | Victor Rendon, 74, of Victoria, first in his family to graduate from high school. He spent Fridays playing music at nursing homes and adult day cares after he retired. | Narcissa Moreno, 87, of Victoria, former custodian at Cintas and devout member of Our Lady of Sorrows Catholic Church. She loved playing bingo at the nursing home where she lived. | Ruth Brandt, 86, of Yorktown, relished taking care of her husband. Loved sewing, gardening, her family and visiting with friends, even if just for a Coke at the local Dairy Queen. | Genevieve "BB" Torres Hinojosa, 76, of Victoria, close to the Lord. "She was a beautiful friend who loved her family and grandchildren so much." | Mary Ann Jolly, 82, of Victoria, dedicated her time to helping widows, the elderly and the ill. "She was the love of my life," her husband said. | Rachel Martinez, 75, of Victoria, worked two jobs to raise three kids and helped raise several grandchildren, nieces and nephews who she loved as if they were her own. "You know that story with the old lady and the boot? Even though my grandmother was there, my mom and my grandmother were like that," her daughter said. | Lois Cooper, 80, of Victoria, always ready to feed anyone who walked in her door. She sent people home with homemade jellies, picante sauce or fried pies; apple, peach and strawberry were her specialties.
About this project
The Advocate spoke to dozens of families in the Crossroads who lost loved ones this year to COVID-19. The vast majority of people memorialized here lived locally while a few had moved elsewhere prior to their deaths.