LAVACA COUNTY – In-home caretaker Taffie Etoll was at a house on the outskirts of Yoakum with a patient and his wife when she heard about the first case of COVID-19 in the Crossroads.
She couldn't believe it was in her small town, population 6,000.
A Lavaca County man had tested positive March 13 for the coronavirus after he was transported from the Yoakum Community Hospital to an Austin hospital.
"Before that happened, I was concerned, but I wasn't having crazy anxiety or losing sleep," Etoll said. "Immediately, it was like, 'Oh my god, grab a mask and put gloves on. Luckily, I had not entered my patient's room yet.'"
Lavaca County's story illustrates how unprepared rural counties across Texas and the nation were for a pandemic. The county faced it with limited resources and sparse direction from federal experts, including the Centers for Disease Control and Prevention.
"We're all in uncharted waters dealing with this," said Lavaca County Judge Keith Mudd, who was in a meeting at the Lavaca Medical Center on the evening before when he got the news. "We weren't ready for this, and I think that would be every county."
Egon Barthels, the county emergency management coordinator, said the case staggered them so much there was "no time to be shocked."
"It was more getting actions of the response and saying, 'OK we have one. We have an official case in the county. How do we help slow the spread here?' That is what we shifted to that evening," he said.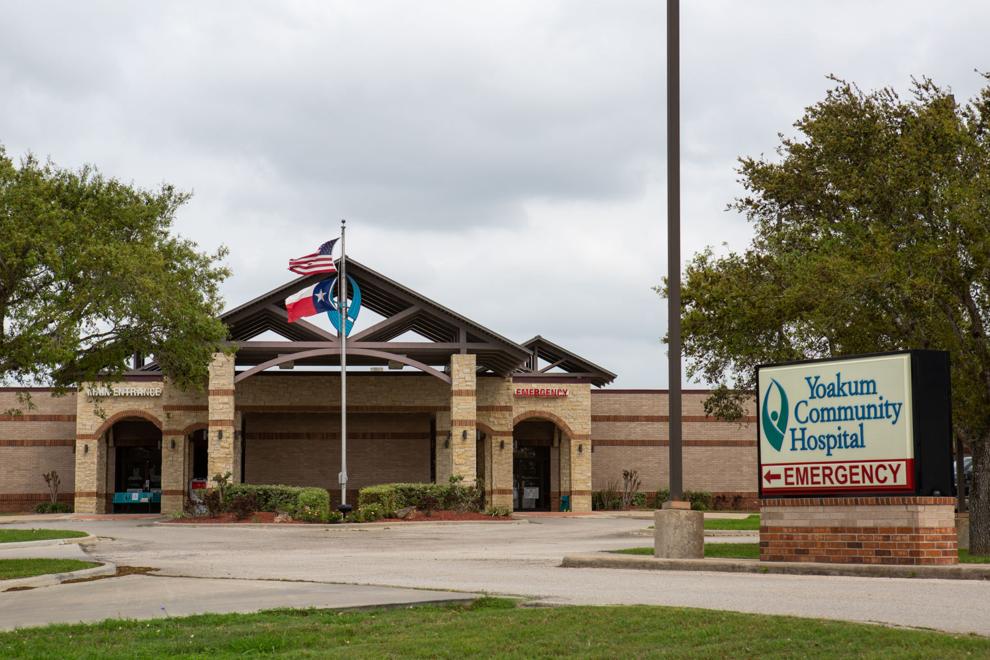 Questions unanswered
After the case was announced, Etoll called the Yoakum Community Hospital with questions.
She had been at the emergency room earlier in the week with her daughter and wanted to ensure they had not been exposed, she said.
The hospital would not provide her with any additional information, she said, and declined to answer any follow-up questions from the Advocate, instead referring them to the Texas Department of State Health Services, Region 8.
She said she understands federal patient privacy laws, "and I get it, but I truly feel like in a tragedy, a disaster or whatever, that we should have more information because of the seriousness of this virus," Etoll said. "They won't say where, they won't say who or when – it is just this many (cases) have been confirmed. It is like, 'He was at the Yoakum hospital on March 7? Well, OK what time was he there and why was he released?'"
A patient who was treated at Yoakum Community Hospital on March 7 and again a few days later…
Region 8 serves as the public health authority for 28 counties in Texas. Calhoun, Goliad, Jackson, and Lavaca are among 22 of them that do not have their own public health departments.
Counties with public health departments, such as Victoria, have their own epidemiologist to investigate infectious-disease cases, but those without share Region 8's epidemiology department.
Officials said the patient had been released from the hospital March 7 with mild, 'flu-like' symptoms and returned at an undisclosed date before he was transported to Austin five days later.
Information about his recent travel, age, condition or employment has not been released. Lara Anton, a spokeswoman for the state health department, said only that his case was travel-related and his test results were received March 12 by Austin Public Health.
Epidemiological investigations are confidential and not public information under Texas Health & Safety Code Chapter 81, said Anton, who is one of two public information officers who are currently handling all inquiries for the department.
The state limits the amount of information released to the public about specific cases to protect the privacy of the person, she said, "and more information might reveal their identity in smaller, rural jurisdictions."
The day after the case was confirmed, state officials decided to name the two locally owned restaurants that the patient visited in Yoakum and Shiner.
State officials said the risk posed to patrons who were there at the time was "very low," but they asked anyone who had been at either restaurant around that time to call the Region 8 department if they started having COVID-19 symptoms.
So far, no new cases of COVID-19 have been confirmed in Lavaca County, according to the CDC. In the week after Lavaca's news, though, a case was confirmed in neighboring DeWitt County, three more in nearby Matagorda County. A sixth Crossroads case was confirmed Saturday in Wharton County.
Rumors swept Yoakum about the identity of the patient as residents worried about their own exposure. Many speculated that he was a truck driver who had recently traveled to California.
Mudd, the county judge, confirmed that rumor to be true and said the patient was thought to have contracted the coronavirus while traveling.
"Nobody can say this is where he got it from," but Mudd said state officials think California is the logical conclusion because of his recent travel and how the virus incubates.
Symptoms of COVID-19 can take two to 14 days after exposure to appear, according to the CDC.
The state only released information on two restaurants he visited after going to the hospital with symptoms, which only raised more questions for Etoll and other Yoakum residents.
"Truck drivers have to eat, have to drink, have to get fuel, and he just went to two restaurants?" Etoll said. "There is no telling who all was exposed."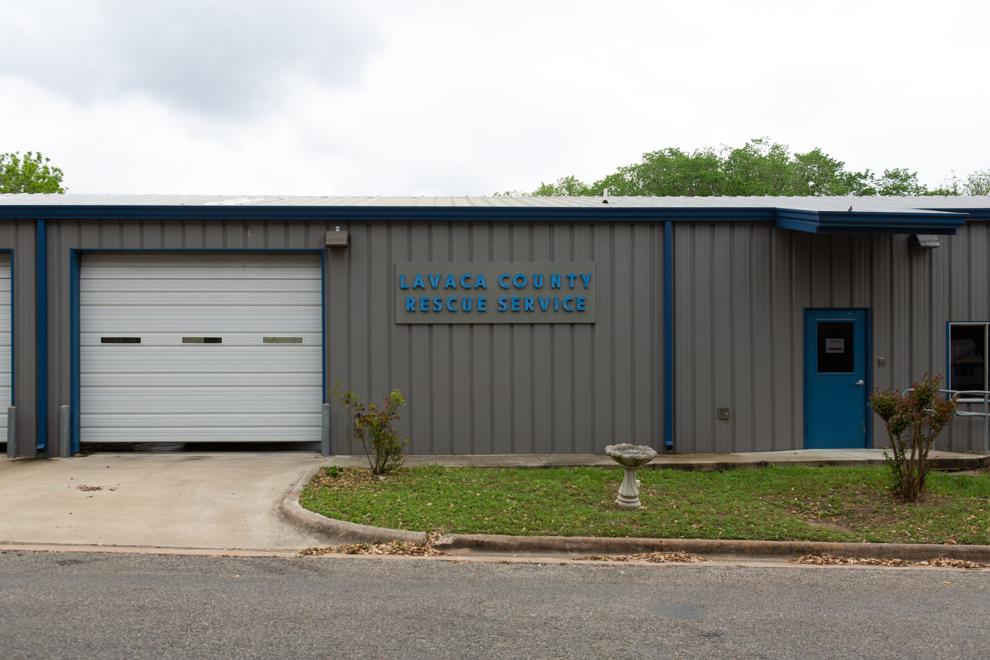 Rush to contain
The three EMS first responders who transported the patient to the Austin hospital were several hours into a CDC-mandated self-quarantine at the Lavaca County Rescue Service station in Hallettsville by the time his case had been confirmed and announced.
The nonprofit Lavaca County Rescue Service provides 911 transports for most of the county through billing and support from grants and donations. It also has mutual aid agreements with surrounding counties for services.
On that Thursday, Rescue Service workers transported the patient to Austin because the county's contracted service for out-of-town transports, Akin Ambulance, did not have enough oxygen on board to make the almost 100-mile drive, Mudd said.
Victoria was the original destination for the patient, but the two regional medical centers there were not prepared to receive him, the county judge said.
"When we're out here in the rural areas," he said, "we have to go with whoever will take us at the time."
The three first responders have not shown any COVID-19 symptoms and were in good spirits as of Friday, said Debbie Fishbeck, the Lavaca County EMS director.
All three employees chose to stay at work instead of going home and risking exposure to family members, she said.
"'Every morning I get a phone call saying, 'We're all healthy,'" she said. "They're under a great deal of stress, too."
At the time of the transport, they were under the impression the patient had pneumonia and there was no relayed suspicion of COVID-19, so Fishbeck is not sure whether her responders were wearing all recommended personal protective equipment, she said.
"When they transported this patient, it was still mostly not all in the United States, and I guess it wasn't expected to be in a little, small town that quickly," she said. "Now that this has been brought up and there are other cases, everybody gets treated like they have it until otherwise."
Restaurants in Yoakum and Shiner where a man with COVID-19 visited have been thoroughly clea…
With three of 10 full-time employees out, the department is taking only 911 calls for the time being, Fishbeck said.
"We learned from that (situation), and I think the state learned from that," Mudd said. "We don't want to do that again, where the EMS workers get exposed and taken out of service. You can't keep doing that, so new protocols got put in place."
The first lines of defense for these critical workers are face masks, respirators, gowns, gloves and eye protection, which are limited not just in the Crossroads or Texas, but around the globe.
The CDC said loose-fitting surgical masks can be substituted for respirators due to the inability to meet respirator demand, and has issued recommendations for reusing and conserving equipment.
Counties in the region obtained some protective equipment from the Strategic National Stockpile, but that supply is also short.
Fishbeck said the rescue service currently has about 50 masks, a few boxes of gloves, reusable goggles and three gowns.
"The lady said that all she got was three of the gowns, so she is trying to get more," she said. "We have a few in stock and the CDC is telling us unless they've been soiled we can reuse them."
During a White House briefing last Thursday, President Donald Trump said millions of masks were in production and the federal government was making efforts to address the shortages, but did not offer details. He added that dealing with the issue would largely be left to governors.
Getting priority for protective equipment is particularly difficult in rural areas, which are usually not prioritized like large metros, Mudd said.
"We're the last people on the planet, so to speak," he said. "We just kind of sometimes feel like we're out here on our own. It is the nature of who we are, and it is also part of why we like to live here, but also the consequences are that you're the last person who is going to get attention."
YOAKUM — While piling her shopping cart full with canned goods, frozen foods and other non-p…
The shortage concerns extend to basic sanitation supplies that have been emptied from the shelves and on back-order with vendors.
"We were told early on to do everything we can to rent and buy our own supplies," the county judge said. "I don't think our EMS is having to do this, but we have a neighboring EMS department that can't find sanitary supplies ... They had to resort to Clorox and make their own concoctions – it is like, what country are we in?"
Micheal Furrh, the director of rural Colorado County EMS who lives in Shiner, posted Thursday night on Facebook asking for the community's help after his department had only six canisters of Clorox wipes left.
"The community is really coming through today," he said Friday. "We've got quite a few Clorox wipes and Lysol wipes, even people bringing a gallon or two of bleach by."
Furrh has been trying to find sanitary supplies at local stores, but had little luck like other departments.
"You kind of exhaust resources really quickly, within two or three days of this, because we are kind of sitting into a spot of uncertainty of how long this is going to last," he said.
Banding together
Lavaca County issued a declaration of disaster about 6:20 p.m. on the day its first case was confirmed, not long after Gov. Greg Abbott signed the state's disaster declaration.
Local disaster declarations are a city or county's way of ensuring eligibility for state and federal assistance.
Yoakum followed suit on that Saturday, as did Hallettsville and Moulton on Monday and Shiner on Wednesday, during a special city council meeting held at Green Dickson Park.
County and city personnel and representatives from Region 8, the Yoakum Community Hospital, Lavaca Medical Center and Congressman Micheal Cloud gathered on Monday for a special commissioners court meeting, where they updated each other on plans for combating the COVID-19 pandemic.
Lavaca also has been working with neighboring counties, Mudd said.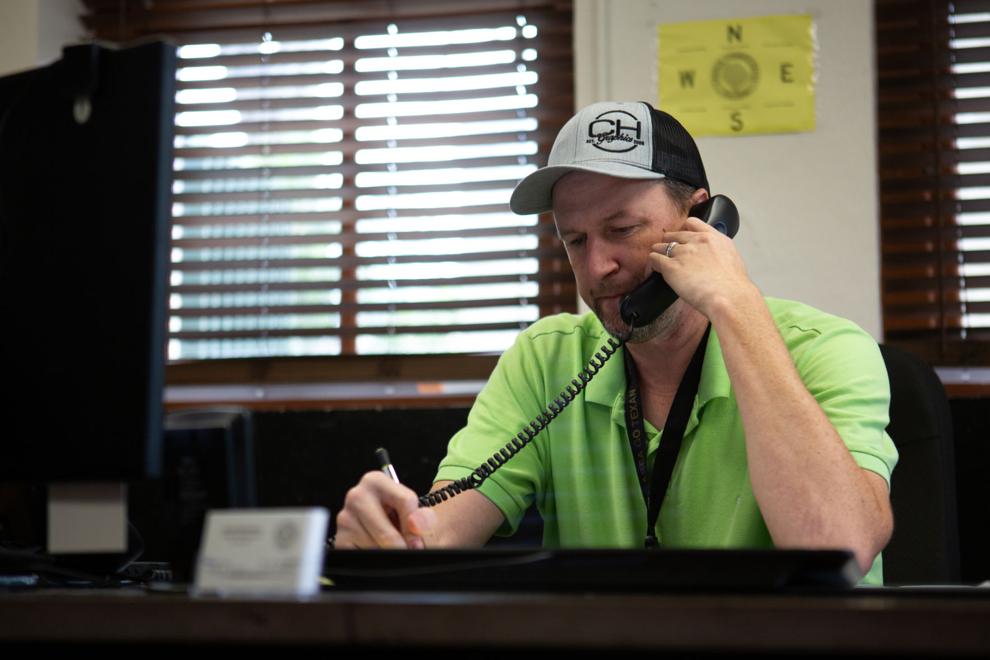 "You don't feel like you're so isolated by yourself," he said. "You've obviously got your brother and sister counties, and we're already working together because we have to."
By Thursday, Barthels, the county emergency coordinator, said he was feeling more comfortable about the situation because of improved local communication.
"Our hospitals are now more prepared," Barthels said. "They've got their procedures in place."
Both the Lavaca Medical Center and Yoakum Community Hospital are now screening anyone entering their facilities and following precautionary measures issued by the CDC. Visitation restrictions also are in place.
"They're trying to not get the hospitals overwhelmed and then not be able to help the people that really need it," Barthels said.
Public access to city facilities has been restricted in Yoakum until April 17. The city has reduced hours, postponed municipal court, suspended access to the library and fire department and begun screening in its police department lobby in an effort to continue to provide service while protecting public health concerns.
Several county and city offices in Shiner, Moulton and Hallettsville have taken similar steps to try to prevent the virus from spreading.
"That part I feel good about — that the message got out there," Mudd said. "Now can we contain it? That part, we will see."
Etoll, the in-home caretaker, worries it could be too late. She cares for some of the county's most vulnerable people and has spent the last week trying to convince friends and family to take the the pandemic seriously, some of whom aren't concerned, she said.
Like many Crossroad's counties, Lavaca County has a significant population that is at high risk for serious illness from the coronavirus. More than 20% are over the age of 65, according to the U.S. Census's Bureau latest data.
"I'm trying not to panic, but I'm scared," Etoll said. "I really am."