Two people are responsible for making the many difficult decisions lying ahead of Victoria County during the COVID-19 pandemic.
In accordance with state law, Victoria Mayor Rawley McCoy and County Judge Ben Zeller are responsible for disaster-related decisions, including those related to epidemics.
"We have to have a decision. It could be bad not to. … At the end of the day, you can't have to have a committee process when things need to be done," Zeller said.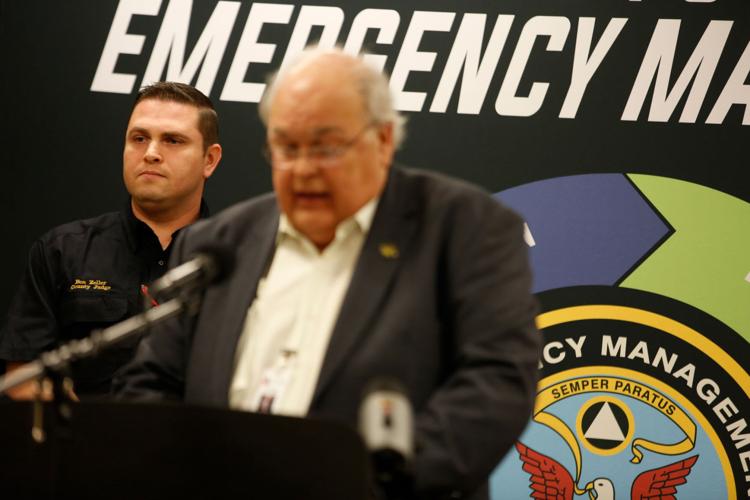 During a disaster, the ability to make quick decisions is important, and local government leaders in Texas are allowed special powers through Chapter 418 of the state's Government Code.
Normally, a county judge and mayor would work with elected commissioners and council members to hand down decisions through a public meetings process.
"Amid a disaster situation, there is often a need to make decisions sometimes quickly," Zeller explained. "Having a weekly meeting doesn't facilitate that process."
But Zeller and McCoy do have available the advice of numerous public health and emergency experts.
"Everything is discussed," said Dr. John McNeill, Victoria County's public health authority.
He is aided by the county's public health director and epidemiologist.
"I'm a piece of the puzzle," McNeill said.
Zeller and McCoy consult with McNeill and others at not only a daily conference but also periodically throughout the day.
Victoria City Council member Andrew Young said he is also consulted on a regular basis, although the mayor and judge have the final say.
So far, Young said, he has been pleased with the decisions made.
On March 21, McCoy and Zeller handed down one of their first local emergency decisions for the new coronavirus outbreak.
They signed two orders prohibiting gatherings of 10 people or more and detailed a number of exceptions for essential activities.
Days later, Victoria County public health officials announced they had discovered the county's first three people infected with the new coronavirus.
Those orders, Zeller said, were not easy, but they were the right ones to make.
"Our society is not built on staying away from your loved ones," Zeller said. " That's not how we are wired. That is a challenge for people."
Zeller and McCoy said other difficult decisions may lie ahead.
With the total number of infected people in Victoria County rising quickly, Zeller said, he and McCoy have, for the time being, decided against an order that would keep people inside their homes.
Similar orders have been handed down in counties near Corpus Christi, Austin, San Antonio, Dallas and Houston.
Zeller said he worried that such a decision may hamper the county's local economy, which has already suffered from the virus, without any benefit in slowing down the new coronavirus. He also said residents have done for the most part a good job isolating themselves from one another although he criticized some for playing golf and hosting house parties over the weekend.
Curfews have been approved in some cities such as Miami and Tuscaloosa, Ala.
Zeller said he saw no potential benefit yet in creating one in Victoria County.
A curfew was declared in Victoria after Hurricane Harvey, but Zeller said the situation was then different because of the lack of power and many displaced households.
Although state law allows the mayor and county judge to make decisions for their respective jurisdictions, Zeller said he can override the mayor's decisions if they are in disagreement.
That's because the city technically falls within Victoria County, which is his jurisdiction.
But Zeller said he sees no reason for that to happen.
"As a practical matter, we have worked closely together," Zeller said.