Long before the outbreak of the new coronavirus, Victoria Transit bus driver Irene Cortez began taking steps to help keep herself and her passengers healthy.
In her eight years as a public bus driver and more than 30 years as a school bus driver, she said she has always worn gloves to minimize the spread of germs and practiced general sanitizing techniques to keep her buses clean. Since the outbreak, however, she said she's increased those measures drastically.
"All of the drivers wipe down the seats, mop the floors throughout the day and sanitize consistently," she said during her route on a recent afternoon. "I want people to stay healthy."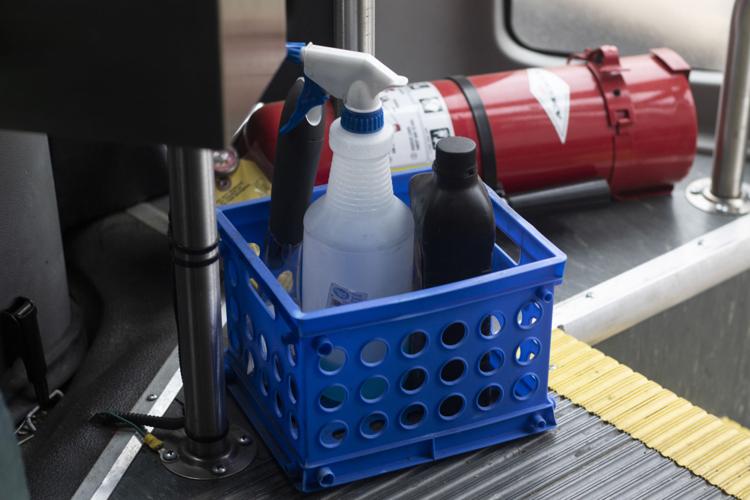 "In terms of our operations, (COVID-19) has had a drastic impact," he said. "It's undeniable."
Ada said depending on the route, the transit system, which also provides public transportation services in Calhoun, DeWitt, Goliad, Gonzales, Jackson, Lavaca and Matagorda counties, has seen both a decrease and increase in ridership.
Any increase in ridership has likely been because of spring break, Ada said.
To help mitigate the spread of the disease, several new procedures are taking place to sanitize and disinfect the buses, Ada said. Those include pre- and post-trip sanitizing and cleaning of handrails, fare boxes and passenger seats; pre-trip mopping and disinfecting of floors; additional sanitizing and cleaning throughout the day; driver safety and compliance briefings and more.
On one of her recent afternoon routes, Cortez picked up only one passenger, which she said has become normal. Having fewer passengers, she hopes, is a good thing.
"I'm hoping it means people are following the recommendations to be cautious and stay indoors and avoid crowds of people," she said.
Aside from the transportation system's efforts to help prevent spread of the disease, Ada said riders must do their part, too.
"What we can do as a transportation system is increase cleaning and make sure we care for staff so operations can continue, but other personal responsibilities fall on our riders, and taking it seriously is really critical," he said.
For example, if people are sick, Ada said, he hopes they won't put others at risk by getting onto a public bus.
Because the virus is thought to spread mainly from person to person, the Centers for Disease Control and Prevention has recommended people take steps to avoid being around others, especially within 6 feet of other people.
It can be tricky to follow such recommendations on a bus, Ada said, because the ability to practice social distancing is limited.
"We understand that you might not be able to sit 6 feet away from everyone else, but if you can create any distance, especially if the bus is not full, please do," he said. "That guidance from the CDC and local public health officials is critical."
Dr. John McNeill, Victoria's local health authority, said during a recent news conference with government and health officials that like grocery shopping, public transportation for many is an essential task.
"There are people on public transportation that are going to their doctor, or they're going to get food for their family, so that's just going to have to happen," he said. "But we would once again strongly encourage people to take care of themselves and please don't get onto the bus if you're coughing or have a fever. Those are just the common sense approaches that we need to stress."
Cortez said she recently picked up a passenger who said she was only taking the bus to go see her doctor, and was still thankful that the bus was operating. Cortez said she is glad to help serve the community as a driver.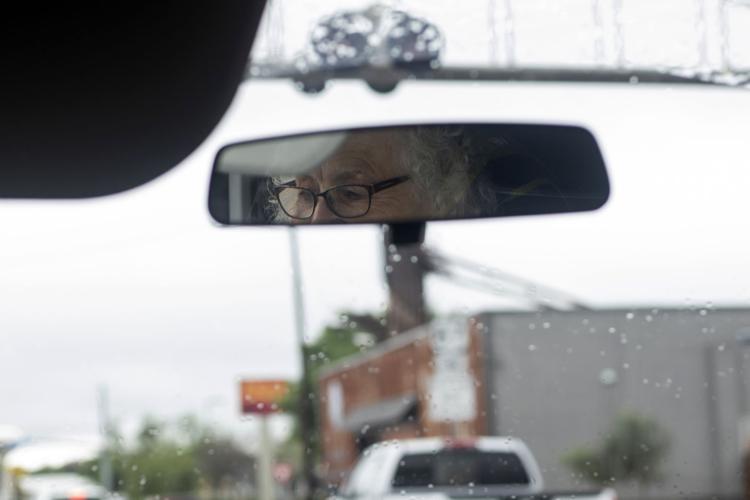 "It's nice to have this service in Victoria because some people really rely on it, and so they're thankful for it," she said. "I enjoy driving those people. I'm just praying that we can stay healthy, too."
Ada said the bus drivers deserve commendation. He said there are a number of older drivers who fall into the vulnerable population category, and they've been "superb" doing their jobs.
"They have not skipped a beat in the face of this outbreak and I'm really proud of them," he said. "They care for their riders and understand how critical public transportation is for the community."
Despite making changes in light of COVID-19, the mission of Victoria Transit remains the same – to provide safe, courteous and reliable transportation services in a cost efficient manner, Ada said. The last thing he hopes to do, he said, is decrease accessibility for those who rely on public transportation. But, he said, "if this crisis gets to the point where our service is not assisting in the mitigation, and we are directed to stop service, we would."
"Right now, our mission is to try to maintain service throughout this event," he said. "We'll serve our community as long and as well as we can."