Victoria airport commissioner calls for task force to examine management of Harvey money (w/video)
An airport commissioner called Monday for the creation of a forensic task force to examine the steps taken during the rebuilding process for the Victoria Regional Airport after Hurricane Harvey.
Victoria County commissioners had a joint meeting with airport commissioners Monday to address concerns raised about how insurance money designated for the airport was managed.
During the meeting, Eric Magee, of Allison, Bass and Magee, a private Austin law firm representing the county, cautioned against "Monday-morning quarterbacking" of such projects unless it's done to learn about how to improve.
Airport commissioner Dennis Patillo said he respectfully disagreed with Magee, saying he does find value in "Monday-morning quarterbacking."
"In all of my business experience when I've taken on a big project, I always bring everybody together in a room and critically assess what was done along the way," he said. "What could we do, or did we do everything right?"
He said he thought the county should "forensically take a look at everything that happened" and attempt to create general guidelines that address defining an emergency as well as the time to "cross that path" from remediation to repair to reconstruction.
"This isn't going to be the last time that Victoria County faces an emergency," he said, "and I do hope that we have the ability, through public focus groups or through another task force, to sit down and forensically look at everything, because it's not necessarily what happens that causes the damage in public perception; what causes the damage in public perception is the thought that all things weren't considered."
Monday's joint meeting between the commissions was called by County Judge Ben Zeller to "set the record straight and to dispel any inaccuracies" regarding concerns raised by airport commissioners at their meeting June 27.
The standing-room-only meeting saw the courtroom filled with community leaders as well as members of the public with questions about how work at the airport was managed after Hurricane Harvey hit Aug. 25, 2017.
In regards to the creation of a forensic task force, Zeller said, "There certainly will be and has been a review of this to ensure that the money was spent where it should be, that the money was accounted for, so that effort will definitely take place."
Patillo said that although the questions asked at the airport commissioners' June 27 meeting might have appeared "harsh," they created dialogue that led to Monday's public meeting.
"There has been a lot of comments for months and months bubbling under the surface," Patillo said, "and now that everything is up, I think that we can move forward, and I really do hope we have a task force or something that can help with that."
Early in the meeting, County Commissioner Kevin Janak reminded the courtroom that several county employees retired between the time Harvey hit and now, including former county director of administrative services Joyce Dean, former county auditor Judy McAdams and former interim auditor Susan Gabrysch.
Janak, who has been reviewing the process with a small group of people including Sarah Hamman, a compliance specialist with the county's administrative services office, said those departures required them to "reinvent the wheel." Janak said since February, the group has been verifying the work performed, the quality of the work and who performed the work to protect the taxpayers' money by doing their due diligence.
Jim Hartman, the vice chairman of the airport commission, said to him, "a red flag occurred in relation to that $500,000 that was sent out." At their June meeting, airport commissioners questioned why $500,000 the county paid to the Virtus Group, which did both the remediation and repairs at the airport, could not be attributed to specific repairs.
Janak said the "vague invoices" from the Virtus Group "did raise some flags." However, Janak said, he learned this is the normal process during a meeting July 5 with a representative from the Texas Association of Counties and the Virtus Group, and he thought any concern was adequately addressed. He said the county has requested itemized billing now.
Janak said the county remains in negotiation stages on the projects, but when the county has the final, factual numbers, those will be available to the public. He estimated about 70% of the work has been done.
Zeller explained how the Virtus Group, now called Commercial Restoration Company, was initially chosen for both the airport's remediation and repairs and said that the company was recommended to the county by the Texas Association of Counties.
Previously, Cary Roberts, the association's media relations officer, told the Advocate the association does not recommend contractors, but Zeller referred Monday to two separate emails from the association that recommended Victoria County use the contractor.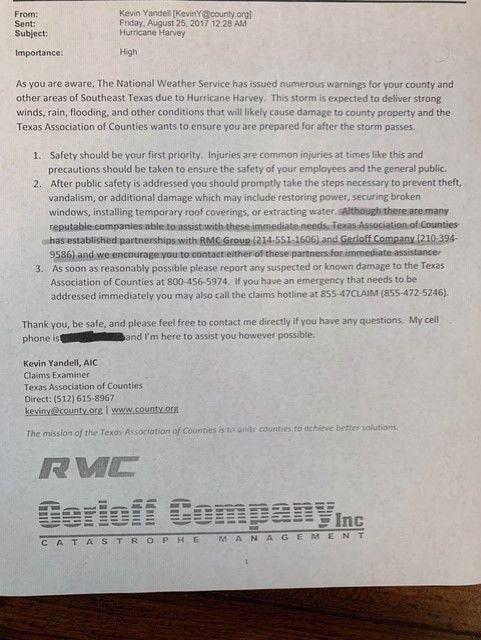 The first email Zeller referred to, sent Aug. 25, 2017, from Kevin Yandell, a claims examiner formerly with TAC, said, "Although there are many reputable companies able to assist with these immediate needs, Texas Association of Counties has established partnerships with RMC Group (214-551-1606) and Gerloff Company (210-394-9586), and we encourage you to contact either of these partners for immediate assistance."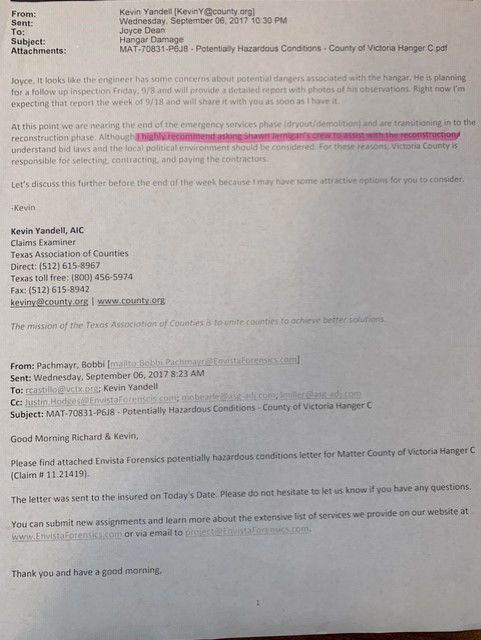 The second email, sent Sept. 6, 2017, also from Yandell, said, "At this point we are nearing the end of the emergency services phase (dryout/demolition) and are transitioning in to the reconstruction phase. Although I highly recommend asking Shawn Jernigan's crew to assist with the reconstruction, I understand bid laws and the local political environment should be considered. Victoria County is responsible for selecting, contracting and paying the contractors."
County Commissioner Gary Burns maintained Monday his opinion that work done at the airport under the bidding exemption surpassed the reasonable state of emergency and should have been available to local businesses. He said he didn't suspect any fraud or embezzlement in any step of the process but said, "We just could have managed it a little better.
"I kind of disagree that we were all on board and all really well-informed during this whole process," he said. "We weren't. We all had our own fires to fight."
County Commissioner Clint Ives told the courtroom to recall what life was like around the time and immediately after Harvey hit. He said while Victoria County was in a state of emergency, the Virtus Group arrived equipped to begin work, and it would have set back the timeline to stop to allow bids by local companies.
"We would still have buildings down if we would have stopped and bid each individual of those 70 projects; it just wasn't realistic," he said. "It's nice to consider, in hindsight, but it's not reality. The resources weren't here."
Burns also said a Sunday Advocate story that outlines the reasoning behind bidding laws from a government expert provided guidelines that Victoria County can follow "to look out for so we don't abuse the privilege."
Another concern Zeller addressed was airport director Lenny Llerena's role in the project, explaining that the choice to have Dean spearhead the project was decided by the commissioners' court. Llerena said previously that on more than one occasion he was told to "stay out" of the decision-making process but added Monday that he was involved at later stages.
"It's not surprising to me that if someone thinks the airport manager should have been the court's designated project manager, if somebody felt that should've been done, then they would also think the level of involvement that the airport manager played was insufficient," Zeller said. "There may be folks who believe that, and that's fine, but this was the direction of the court."