Independent brick-and-mortar bookstores have seen fierce competition with mega-bookstore chains and online options such as Amazon, but in Victoria, one has survived for 35 years and another just opened.
Texian Books opened in March and helped fill the void left by Hastings when it shuttered in 2016. Shelves and tables filled with more than 1,500 books, mostly bestsellers and new releases, are spread throughout the first floor of the meticulously restored historic home in Old Victoria.
Redbird Books, originally Maranatha Books, has been in business for more than three decades. The tan stucco building on North Navarro Street stocks about 50,000 mostly used and vintage books.
"My favorite thing when you walk into a bookstore is the sense that you're surrounded by ideas and great thoughts and stories and other people's lives and adventures that you can't get on an internet page," said Evvy Bethune, owner of Texian Books, who lives in Beeville. "They make themselves the beacon of ideas for the local community – this is what's going on in the world; we're bringing it to our local community; let's get together and have discussions about how we fit into all these events and things happening."
How often do you read a book for fun?
The American Booksellers Association, a trade group for independent bookstores, reports that sales at independent bookstores rose almost 5% in 2018, with an average annual growth of 7.5% over the past five years, according to a New York Times article in June. The article also states that membership in the American Booksellers Association has grown to its highest participation since 2009, from 1,650 indie bookstores to 1,877 at 2,524 locations.
Bethune reviews the New York Times list of best sellers and the Indie Next List every Friday and purchases the titles not yet in Texian Books. She carries one of each title and reorders them as they sell. She stocks genres including biography, nonfiction, fiction and poetry. She sells books from the Great American Read list, books about Texas and books on topics ranging from finances, cooking and parenting to science, history and religion.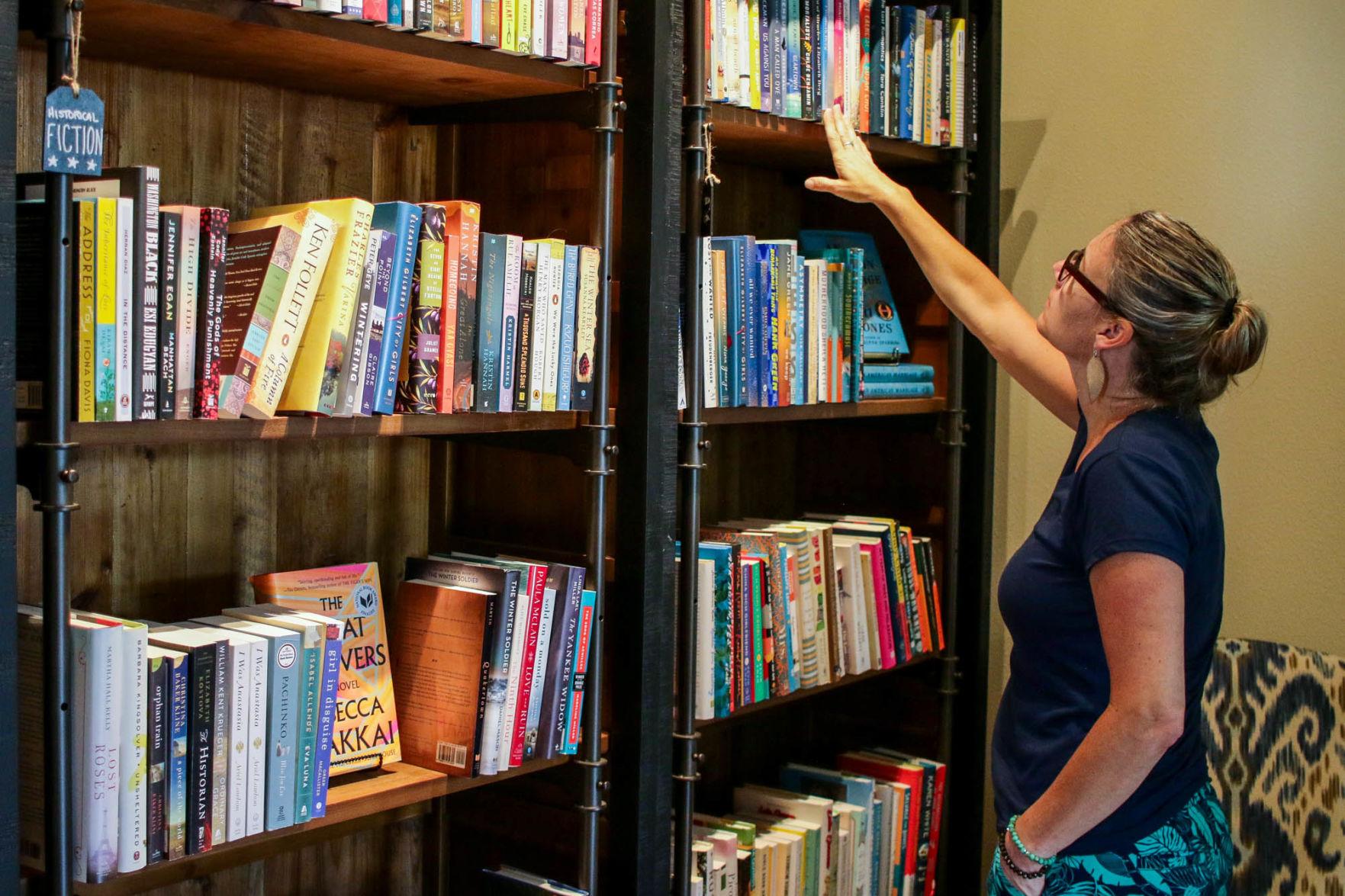 "Every town I go to, I find the indie bookstore because it gives you the feel or the vibe of the town," Bethune said. "I think one of the reasons there is a resurgence is because they are focused on community building ... and if you were to go to some of the more successful ones like the Strand in Manhattan and BookPeople in Austin, they all do community building events."
Elizabeth Jordan, CEO of BookPeople in Austin, said the events program is vital to their success.
"We give Austinites the chance to meet and hear from their favorite authors and introduce them to new authors who may become new favorites," Jordan said. "We've always had a vibrant selection of gifts in the store, and that helps make us a one-stop shop for gift-giving season, and they help us with the terrible margin that bookstores operate on."
Bookstores are unlike other retail businesses because the price of the product and profit margin are set by publishers, she said.
"I believe independent bookstores have a promising future, but I also think we are at a tipping point in the industry," Jordan said. "We need our publishing partners, who control our margin, to work with us to reimagine the way of doing business for indie bookstores so that we may survive and continue to provide shelf space for their books."
In 2003, the city of Austin offered economic incentives to Borders to put a location across the street from BookPeople and Waterloo Records, and a civic economics study commissioned by the former CEO of BookPeople showed that money spent at local businesses instead of national chains kept 3.5 times as much money in the local economy, Jordan said.
Steve Bercu, the former CEO, began a very successful "Keep Austin Weird" campaign to educate Austinites about the importance of supporting local businesses, and the campaign was vital to BookPeople's success during the Borders and Barnes & Noble years and has continued to help during Amazon's dominance.
Texian Books is emphasizing "the community touch and feel people are really craving these days" with a book club, story time and a summer reading program for children and a personalized subscription service. Complimentary coffee and tea are served to customers daily, and mimosas are served Saturdays.
"Amazon can't provide that human touch and connection that a small independent can," Bethune said.
Members of Texian's book club meet monthly at the store around a long wooden table surrounded by tufted fabric chairs. About 50 men and women of different ages are signed up for the club, and about 10 typically show up to visit. Past books include "Wunderland," "Lillian Boxfish Takes a Walk" and "A Gentleman in Moscow." The selection for August is "Killers of the Flower Moon."
"Some books appeal to some more than others, so they come one month and not the next," Bethune said. "We drink wine, and the conversation always takes an interesting turn."
And the books on the summer reading list for Victoria school district Advanced Placement students are stacked on a table in the center of one of the rooms. "Mister Pip" sits next to "How to Read Literature Like a Professor," and "The Boy Who Dared" is next to "The Lions of Little Rock." Summer reading books for Trinity Episcopal School students round out the collection.
"There is such a nice variety of diversity here," said Sarah Bradley, an Edna resident and secondary curriculum coordinator of English for the Victoria school district. "It's so important that kids can see themselves in books, and she has a little bit of everything."
As she shopped at Texian Books, she called walking into a bookstore a "sensory experience" with the colors, shapes and textures of books that cannot be experienced online.
"If I'm looking for something new to read, looking to discover something, I would want to come to a place like this to discover," Bradley said.
Texian Books also sells books online with free standard shipping. Bethune can also order any book for customers. Audiobooks are available through Libro.fm, a service that allows customers to share books, unlike competitor Audible, and e-books are provided through Kobo Inc.
Sherita Miller moved to Victoria from New Orleans and purchased Redbird Books, formerly Marantha Books, from Terry and Betty Dibrell. She has owned the bookstore for 10 years and has turned a profit every year. Redbird Books sells paperbacks at half the list price and hardbound books at one-quarter of the manufacturer's suggested retail price. Additional savings are available through book trades, and the store carries five to six copies of the majority of each title.
About 30% of the books are donated, and about 70% of sales are in-store purchases. Thirty percent of sales are through Amazon and eBay.
Miller tracks the books read by many of her customers through a computerized system. She pulls as many as 50 books at a time for some of them based on their reading histories. She ships a box of 20 books at a time to one of her customers who moved to Austin, and she ships books to nursing homes at the request of some residents' families. She also pulls books for disabled customers so they can pick them up without leaving their cars. Winter Texans who visit Victoria continue ordering books when they return home, and three foundation libraries send book lists and order regularly from Redbird Books.
The most popular genres are mystery and romance. Miller carries about 15,000 children's books. She also stocks more than 500 vintage books and more than 1,000 audiobooks.
Her customers are both men and women and range in age from children to the elderly. Mothers and their children come in to read together, and some of her customers come in during their lunch breaks with snacks, prop their feet on the coffee table and read.
"Ordering online is not the same as being able to go into a bookstore, read the back cover and hold the book in your hands," Miller said. "I go to work happy every single day, and when I'm off, I wonder what's going on there – it's the best place in the world to be."