Victoria Islamic Center
Victoria Imam attends White House anti-hate crime summit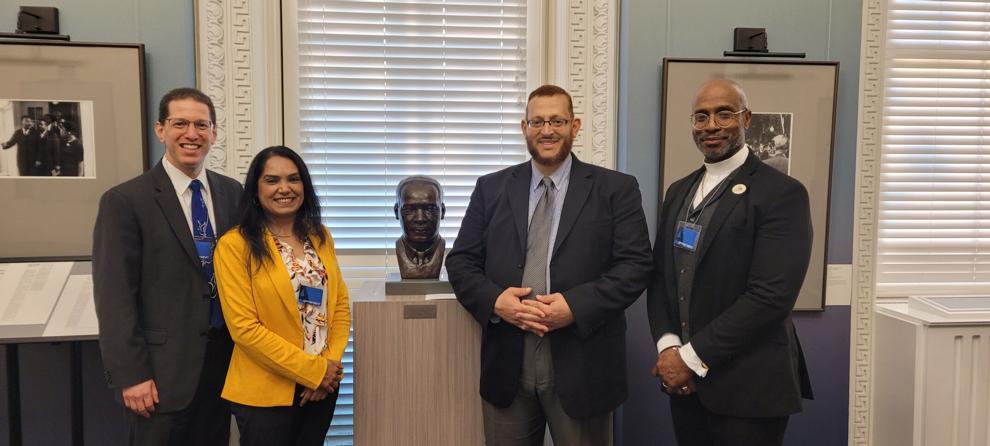 Osama Hassan, the imam of the Victoria Islamic Center, was in the nation's capital last week attending a White House summit designed to counter violent hate crimes.
Participants in the summit included people from across the country who had survived and been exposed to "hate-fueled violence," like the arson attack against the Victoria Islamic Center in January 2017.
The White House wanted to recognize the Victoria mosque's leadership and support which it received from the Victoria community and across the country after the fire, Hassan said.
"I feel like this was an honor to Victoria, Texas," he said.
After the fire, the center raised over a million dollars in just a few days, allowing them to rebuild the mosque by August 2018.
Later that year, the arsonist was sentenced to 24 ½ years in federal prison.
While it was sad to see examples of hateful violence from across the U.S., Hassan also said the summit was a positive and inspiring experience.
"This was amazing to get together from different places, to be shown that united we stand together, and we reject any hate crime and all of us are human beings and we should care about one another," he said.
During his remarks at the event, which was titled the United We Stand Summit, President Joe Biden emphasized that hateful violence is a threat to the United States, and that it's necessary to consciously confront that threat.
"We need to say it clearly and forcefully: White supremacy, all forms of hate fueled by violence have no place in America," Biden said, according to the transcript of the summit. "Failure to call it out is complicity. My dad would say, 'If you're silent, it's complicity.' We can't remain silent."
Hassan also had the chance to address the other participants in the summit.
"About six years ago our beloved mosque was completely destroyed and burnt down to the ground as a result of a hate crime. It's been a long journey to recovery — we still have painful memories and miss our special mosque," he said in his remarks.
"It's never been the same, but with the love and support of our exceptional interfaith community and neighbors, we are able to build a new mosque and stand again in worship. We all pray for unity, safety and salvation."
Hassan is hoping to stay in touch with some of the people he met at the summit to continue their work against hateful violence.
"There was a lot of support and I'm hoping this would be continuing to stop the hate," he said. "Or to give the message to those people who have this problem in their mind — there is no space for you, for what you do."
Ian Grenier covers K-12 and higher education for the Victoria Advocate. You can reach him at igrenier@vicad.com.