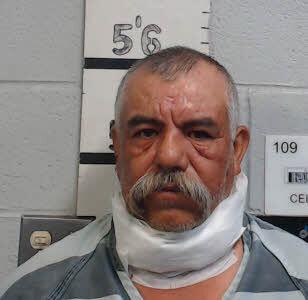 A Ganado man who authorities said strangled his wife and then slit his own throat remained in the Jackson County Jail on Tuesday with his bail set at $750,000.
Leonardo Martinez Baez, 53, walked into the lobby of the jail Saturday morning after slitting his own throat, Jackson County Sheriff Kelly Janica said. Martinez is charged with murder in his wife's strangulation death.
Baez told authorities at the jail he was there to turn himself in because he had killed his wife.
A large, gaping wound was visible in Baez's neck, Janica said.
"He had blood all over his chest, and you could see his jugular pulsing out blood," he said.
Baez's wife, Augustina Corpus Baez, 50, was found dead of strangulation in a home south of Ganado, authorities said previously.
Janica said that Baez was still recovering from his wounds at the jail on Tuesday.
"He's all stitched up and just sitting there," Janica said.
The case will go before a grand jury, which could return an indictment, but no date has been set, Janica said.