Shannon Tesch said becoming an electrician is his calling in life.
Tesch, 18, graduated from Industrial High School in June and began working for Hall Electric three weeks ago. This fall, he plans to attend the Mid Coast Construction Academy.
He is furthering his education "in something I can do for the rest of my life," he said. "It's more than common sense. It uses a lot of your brain and (involves) a lot of physical labor. It's a good trade, and you always have a job and good career."
Associated Builders and Contractors Texas Mid Coast Chapter plans to open its academy in the fall at the previous Victoria Electric Cooperative building, 102 S. Ben Jordan St., offering pre-apprenticeships and apprenticeships in plumbing and electrical trades. Chapter officials want to bring the academy to the Crossroads to address the trade worker shortage that's been going on for decades, said Kristi Stevenson, chapter president.
High school students and adults can apply to the academy program, Stevenson said. High school students will attend classes for two hours a day, while adults will attend classes at night and work a paid full-time job during the day with an electrician or plumber supervisor. The academy will take four years to complete. When students finish, they will qualify to take the journey-level test. If they pass, they'll be recognized as journey-level in their trades and be awarded their apprenticeship certificates.
The chapter plans to graduate 50 students by 2022 and add more trades in the future, Stevenson said.
The chapter is partnering with Victoria, Cuero, Calhoun and Ganado school districts. The academy is the first regional program of its kind in the Crossroads, she said.
The chapter set up a nonprofit for the academy and continues to seek donations and apply for grants. The most current need for the academy is funding, Stevenson said, and about $138,000 is still needed. The chapter has about $18,000 in committed donations.
Stephen Turek, Hall Electric owner, is sending three of his employees to the academy, including Tesch. He's funding their trade educations, which will be about $2,000 per year per student. Whether companies fund their employees' attendance at the academy depends on the employer, Stevenson said.
"We've had a shortage of electricians for 20-plus years due to the fact that the high schools have quit vocation training as of the early '80s. That's where we used to get our up-and-coming electricians," said Turek, who has been on the Associated Builders and Contractors Texas Mid Coast Chapter board of directors for more than 20 years.
The shortage of electricians affects the jobs Turek is able to bid on and makes it difficult to complete projects, he said. The shortage in construction trades is national and not just local, he said.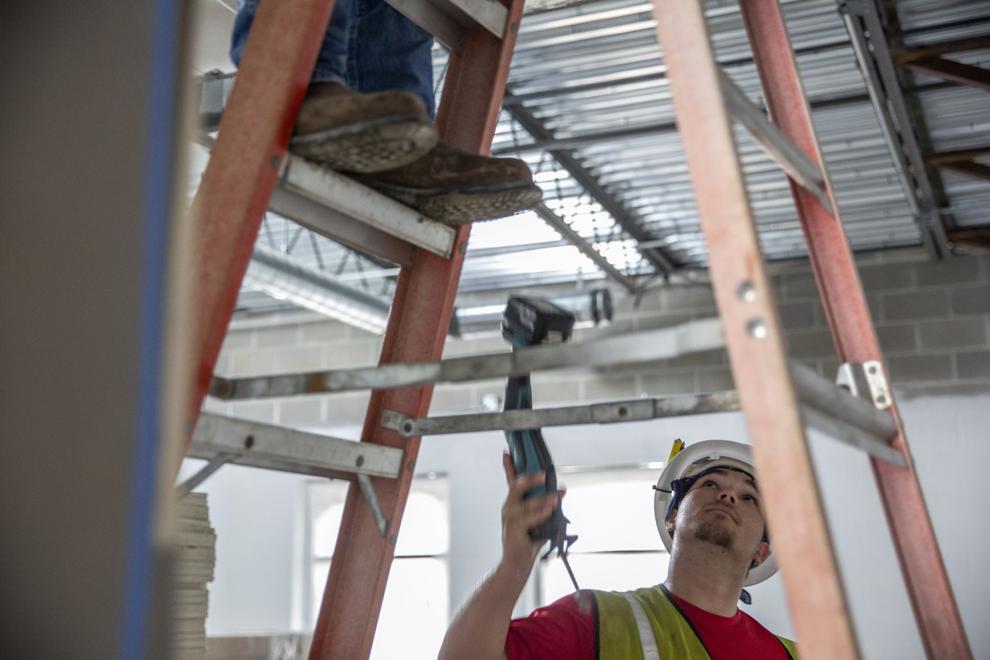 "Because this is being brought to the forefront on a national level, it will be at least a 10-year turnaround before the crisis is averted and work goes back to being level, where industry (needs) and our community needs are met," he said.
Some employers in the Crossroads have to pay per diem because they have to hire their trade employees from outside the area, Stevenson said.
"That drives up the cost, which would be passed on to the customers," she said.
Turek said the chapter has tried to partner with Victoria College in the past for trade vocational education, but the training has been industrial-based instead of commercial-based.
Victoria College President David Hinds said the college isn't partnering with the chapter right now for the academy, but conversations continue regarding a partnership. The college offers training for electrician and plumbing trades, but the vocational programs won't compete because they're targeting different groups, Hinds said.
Workforce Solutions Golden Crescent officials are working with the chapter to find grants to help fund the academy said Mike Milson, agency director of business services and planning. The local shortage of trade and construction workers is critical, he said.
"When it really hit home is when Hurricane Harvey struck," he said. "When you experience it firsthand, just how the pipeline isn't meeting industry demands even under normal circumstances."
Home builder Steve Klein said he's excited the chapter is starting the academy but wishes it were established 20 years ago.
"They're going to talk to the kids and have events where kids can come and learn about the construction industry," he said. "It's going to create awareness, and it's going to kick the door wide open for a lot of kids to be able to pick a career."