On a brisk day, Vanessa Balli spent her afternoon outside playing catch and talking about her desire to change the public's perception of animal control.
"We want to encourage people to not think about animal control like they used to," she said while tossing a ball to a energetic dog. "We are here to help the community, to encourage adoptions, not be a killing machine."
Balli, who is Victoria County's new animal adoption coordinator, said there has been an increase in adoptions since she began her job in the fall. David Gonzales, the county's public health director, proposed adding the job last June after explaining that it would be beneficial to have someone dedicated to handling adoptions.
Balli, who also works as a pet trainer at PetSmart, said she spends her time at the shelter highlighting dogs on social media, answering calls from people interested in adopting animals and playing and caring for the animals.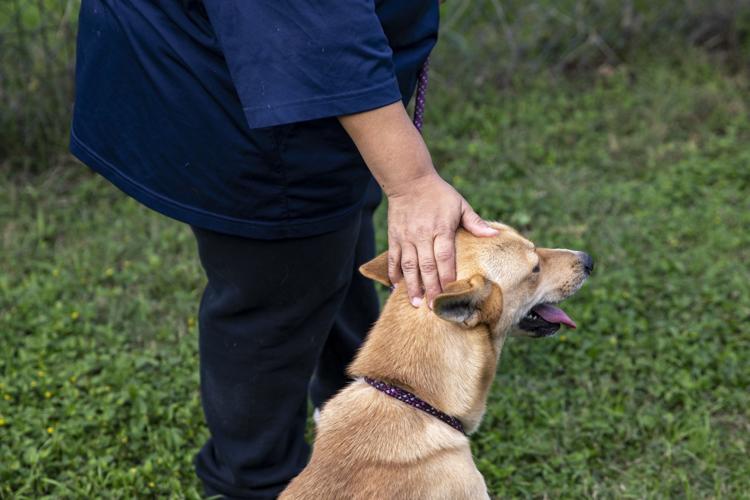 "This job was made for me," she said.
Balli said she tries to give each animal that comes into the shelter a story.
"You don't always know a dog's full background, but you know it from its time here," she said. "I've found that it helps increase adoptions sharing pictures and a story, so people can relate to the animal they are going to adopt."
The shelter also works with other rescue shelters and sanctuaries to transport animals where there is need to keep the adoption rate high.
"Adopting a pet gets it into a home," she said. "For a lot of people, it meets a need and fills a hole for them, too."
As Victoria County is making strides to increase adoptions, just over an hour away, a woman in Taft won the Petco Foundation's 2019 Unsung Hero award for her work to bring the kill rate at the local shelter in Taft from almost 100% to nothing.
"I want the shelter to be an inspiration to others," said the winner, Kayla Denney.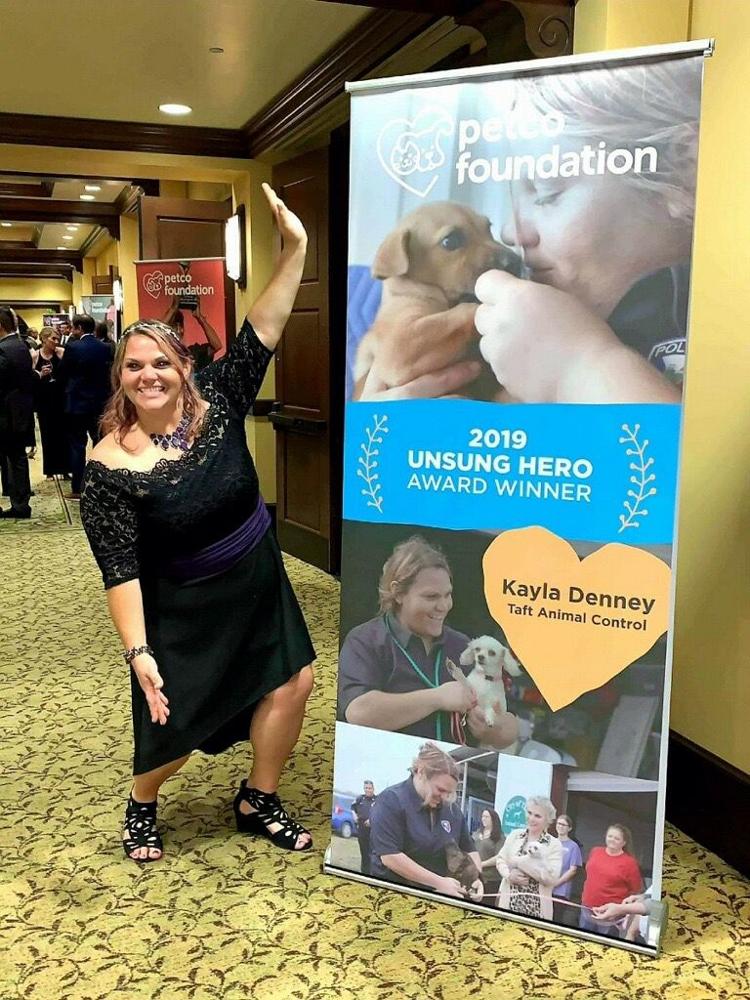 Denney said she began working with animals when she was a teenager. Years later, when she was working in accounting, she quit her job to pursue a field she was passionate about and began working as the animal control officer in Taft.
When she started the job in November 2018, the shelter was struggling: There wasn't working electricity, there was only one running hose and dogs didn't have dog beds. She said a friend came to her and told her to make a list of everything the shelter needed, and then posted the list on Facebook. Soon after, Denney said, the post went viral.
"I had people locally and from all over the world reaching out – truly, from countries I had never heard of," Denney said. "We got hundreds boxes of donations that just kept coming in."
Denney was nominated unknowingly for Petco's award, and was presented a $10,000 check for making it into the top five nominees in the country. Petco then produced a video about the top five nominees, and a few months later, she got a call that she was the winner.
Denney won another $25,000 and said all of the money will be used to improve the shelter.
Since she started the job, Denney has worked with many shelters, including Victoria County's. She said she went to Victoria about once a week over a course of two or three months in 2019, taking up to 10 to 15 dogs at a time and transporting them to shelters that were accepting animals. Denney said it takes commitment, volunteers and consistent work to make adoptions happen.
"It isn't easy," she said.
Denney said "it's extremely positive" that Victoria County has a designated animal adoption coordinator. But, she said, it's a "full community effort."
"There is never, never such thing as too many volunteers," Denney said. "Every shelter needs help. Go there and tell them what you can offer. The worst thing they can say is they don't need that kind of help, but the majority of the time, they won't turn you down."
In Victoria, to help ensure that animals in the shelter are best cared for and adopted, Balli said the shelter always appreciates volunteers.
"If an animal is here and not adopted, it just means the right family hasn't come in yet," she said. "We're going to do everything we can to give each one of these animals a forever home."