Fans of Bush's Chicken took to Facebook on Monday evening to warn their favorite fried chicken purveyors of a new joint with a (chicken) bone to pick.
In light of the imminent arrival of Raising Cane's Chicken Fingers less than 2 miles up the road on Navarro Street, Bush's Chicken fans worried about the restaurant's continued closure.
"They have to do something because Raising Cane's is coming!!!!!!!" wrote one Facebook user, Kevin J. Heil, on a post about the restaurant's closure.
Victoria's lone Bush's location at 4209 N. Navarro St. closed Sept. 18 for renovations.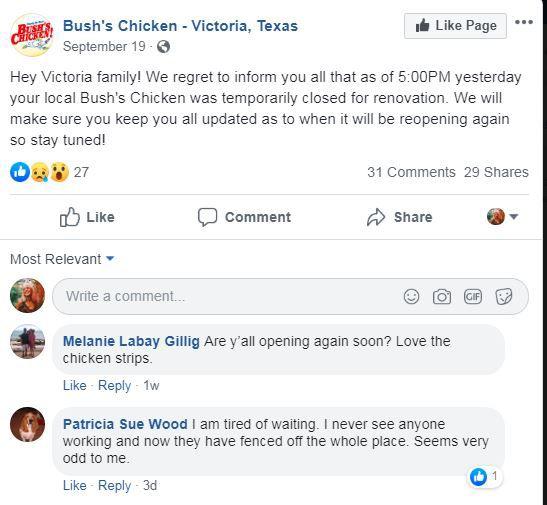 In a Sept. 19 Facebook post, the location cited the need for renovations as the reason for the closure.
The location was built new and opened in 2016.
A spokeswoman for Bush's Chicken, Annette Elliott, said Tuesday afternoon that the company would release a statement this week with news of the company's plans for the location.